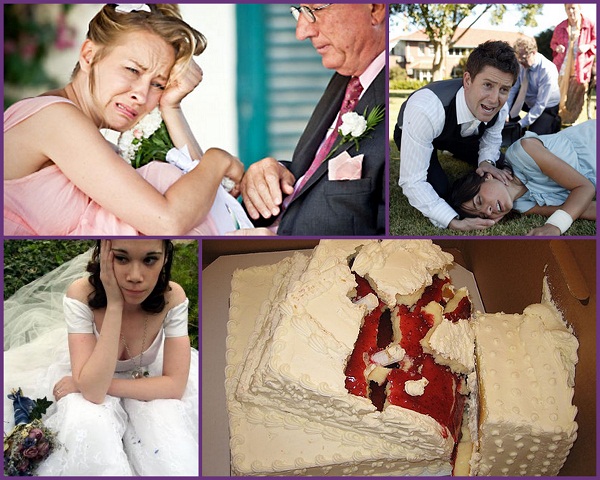 Weddings are definitely eventful for couples and looked forward to, by their families as well. A lot of planning and preparations precede these wedding and reception parties.Unfortunately, there could be a few mishaps despite your entire effort. Getting yourself and your partner to foresee these unexpected debacles will make you a little less panic-stricken and can reduce the level of commotion. Here, we have put together 9 unexpected wedding reception disasters that you have to watch out for, and how to tackle them stoically. Read on, take precautions and plan a foolproof wedding.
1. Uncivilized children
You cannot avoid having children at your wedding, unless, you decide that you don't want flower girls or a ring bearer. They are imperative in such joyous events and you have no choice, other than putting up with them. They may be angelic and calm during the wedding ceremony but, could turn into little monsters at the reception party with so many attractions around. Screaming, crying and racing around the reception area are some of the nuisances you will have to tolerate, if you have a few children at your wedding. Kids are kids after all and you can't force them to be formal all through the time. To make sure they don't make a mess, you could follow some protocol. For example, give them a separate table with no fancy center-piece which they could ruin. Give them story books and crayons that will keep them entertained all the time. If you have the option of hiring another room in the hotel, then you can have a child-minder in place and have a couple of kids' movies handy to keep them occupied. Also make sure, you serve kid-friendly food like chicken nuggets, mac and cheese, instead of a fancy five star menu, as a hungry kid is even more painful to be handled. Hiring a magician or a clown to entertain the kids is also a great idea which will solve the problem of children going berserk at the reception.
2. A ruined wedding dress
You have the perfect gown, all puffy and pretty, that will make everyone gasp. However, the rain gods might decide to shower their blessings upon you on the fateful day. The wedding ceremony and reception could be held inside but the bride with her voluminous dress needs to reach the venue. It's a dilemma that every bride faces, when she is left with a rainy wedding day. One option would be to spread out a red carpet and have the bride graciously walk on it, in order to, prevent her gown and gorgeous shoes from being damaged. You can also hire a large golf umbrella and get the bride completely protected against the harsh rain, waiting to ruin the hairdo, make-up and gown. Have the bridesmaids hold it for the bride to escort her from the limo to the church and then the reception. The large umbrella can come in handy for your photography session as well. Make the groom kiss blushing bride under the massive umbrella in the rain and the picture could go on your Christmas cards.
3. Drinking and driving
Alcohol runs freely at weddings and most of the adults would have a drink or two. The problem arises when you want to return home post party but no one's in a fit state to drive. Don't worry, as the solution is right at hand! Most of the brides and grooms would have booked buses or shuttles to carry their guests from and to the reception, hotel and church. Speak to the designated people and make sure that you have a seat ready for everyone, to be taken home safely. Also make sure, that you don't let any inebriated person take the wheel.
4. Wilting wedding flowers
Another major disaster can occur in the form of the wedding flowers, wilting before the party has even started. This is a problem you need to tackle while you are shopping around for the flower decorations. Stick to hardy blooms that don't bruise easily and can stay fresh for a long time, especially, if the wedding ceremony and reception are to be held in a hot and humid place. Flowers like dahlias, lilies, gerbera's and sunflowers are ideal for such occasions and would not wilt as much as the fancier ones. Tulips, gardenias and lilies of the valley are prone to wither fast, but if you really want to have these at your wedding, then find out ways to prolong their lives. Keep them away from radiators and other heat outlets and also ask your florist to feed and cut them properly to avoid damage.
5. Missing vendor contracts
A lot of alterations might happen in course of your wedding planning. But, it is only human to not be able to remember all those meticulous details that you and the vendors had exchanged over the phone. This may become an issue when you are about to pay your bills. In order to prevent spending more than what you had planned, make sure you put everything in writing. If you don't want to keep asking your vendor to change the contract every time you amend it, then send in a quick email after your telephonic talk to corroborate the details of your conversation. Make sure, the vendor acknowledges the mail and save all the copies in your drafts. Taking a print-out of the messages and mails, followed by a filing to make everything convenient for yourself.
6. Scattered guests
Unless your wedding and reception are at the same place, you will have to deal with the logistics of getting the guests around. You don't want them arriving at the reception late or in scattered clumps. So, have a small map with the directions clearly printed at the end of your wedding programs which would help them locate the reception venue easily. If you don't want to change the wedding program sheet, then print out smaller leaflets which would give venue directions and appoint some helpful folks hand these out to the guests on their way out. This would prevent the disaster of your guests arriving late and famished at the reception.
7. Blinding sunsets
Nobody wants to be blind at the reception. Instead,everyone clearly wants to admire the extravaganza. Too much of a blinding light can also be uncomfortable to guests. So, make arrangements to inspect the reception venue at the time, you would be having your event. If the light is too brilliant, then make arrangements for drapes or fabrics that could be hung around, so as to, tone down the glare. On the other hand, if you think it would be too dark by evening, then get some beautiful lanterns or candles and strategically place them to add resplendence to the venue.
8. Unexpected weather
Weather circumstances are quite unavoidable and rather unexpected. What the bride and groom need to do is to be prepared, in case, everything goes awry. Rains can be tackled by arranging for umbrellas but what would happen, if the indoor reception area really gets messy with all the guests marching in with mud-caked shoes! The solution is, to have parlance in advance, with the tent company and have them organize mats, that can be laid around the entrance, so that, the guests can wipe their feet properly. If the rains grace your occasion, then you can immediately ask a family member to have the vendors lay down the mats, leaving your reception area and the dancing-floor spotless.
9. Burned out candles
You don't want your beautiful candles burning out before the party ends. So, what you need to do is to get one candle of each variety and test it before the wedding date. Light them all up at the same time and see which of these lasts longer. Once you have figured out the results, purchase the long-lasting variety. That way, you would not be left in blindness all through the night.