Wedding tiaras transform the brides into princesses. The tradition of wearing tiaras began long time ago and is still a fashion among brides. They add a special touch of elegance and beauty to the brides and make them stand out from the crowd. All the brides look forward for the special day to wear the most beautiful tiara suiting their dress. Most of them can be purchased from your local showrooms. If you are unable to get the right ones locally, they are easily available online too. Just choose the best design and order them online. If you were to choose one, given below is a list of 10 most beautiful wedding tiaras.
1. Annabelle Bridal Tiara
Price: $325.00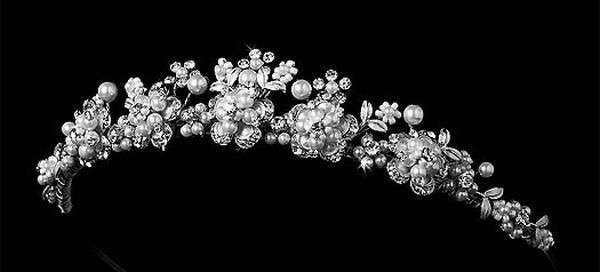 Description: If you are looking for a beautiful tiara made of crystals to match your wedding gown, choose the Annabelle wedding tiara. The Tiara is handmade with Swarovski crystals. It is about two inch high in the center part and about ten inch long at the base of the tiara. Some of the versions even have accents made of shiny glass bugle beads and Swarovski faux pearls. The tiaras can be easily attached to the hair with the help of two metal combs in place.
USP: The best part of the tiara is that it is made of Swarovski crystals and is suitable for the brides who need to add a touch of class and sophistication to the overall looks. The tiaras come in various colored crystals. You can easily purchase a particular style according to your wedding dress.
Pros: The Swarovski crystals give a stunning look to your face when matched with appropriate hairstyle and veil. Along with the crystals, the tiaras have different types of accents like glass beads and flowers in various colors and shades from white to golden, silver, and ivory. These can be easily purchased online too.
2. Carolina Amato
Price: $250.00

Description: If you are looking for something unique and classic, then choose the tiaras by designer Carolina Amato. She makes very beautiful tiaras that are chic looking. If you wish to pursue a gothic style one, then you have special designs in that particular style too. The tiaras can make any bride look extremely beautiful. The best thing about these tiaras is that you can find a number of traditional models too.
USP: Brides who are looking forward to have a traditionally themed wedding can decide to wear one of the Carolina Amato tiaras. They are designed in a special way to enhance your traditional attire and beauty. Amazingly, brides looking for a chic look can find their patterns too.
Pros: Whatever be your style, you can find a design specifically made for you. Though said to contain mostly traditional patterns, the tiaras are also designed keeping the latest trends in mind. Brides who are not able to decide what they are looking for can have a look at these models and choose the best one.
3. Bel Aire
Price: $175

Description: One look at the name suggests that it denotes quality. Bel Aire tiaras are very popular among the brides today. Most of them come with stunning patterns and designs. If you are looking for explicit tiaras to transform you into a princess and be the center of attraction, then go with one of the Bel Aire tiaras. Check a number of patterns and you will be able to find the one according to your wedding theme and dress.
USP: The Bel Aire tiaras come in stunning designs that match to the latest trends. If you are looking for simple varieties, you can find them also. Since they come in a wide variety you can easily pick the one that goes well with your wedding dress.
Pros: Bel Aire tiaras are known for their quality. Most of them are simple looking and unique. Brides looking forward to have simple and elegant tiaras can choose one of these and look absolutely stunning on the special day.
4. Emma
Price: $99.00

Description: Emma stands for inventiveness, spirit, and purity. If you represent one of these, then Emma tiara is the one for you. Feel like the Jane Austen's most well known and loved lady on the special day waiting for your Mr. Knightely at the altar? Wearing this tiara is surely going to make you the attention grabber. The tiara has about nine inches of decoration and is 1 1/4 inch wide at the center. Pin loops make it an easy wear.
USP: The beautiful tiara can be used for different kinds of hair styles. It is made of real Austrian crystals and rhinestones made of leaded glass. They sparkle very brightly and impart a special brightness to the brides' facial features.
Pros: The price is affordable and can be purchased by anyone looking for simple and beautiful tiaras. The tiaras are made of crystals and other glass stone accents making them suitable for any kind of dress. The biggest advantage is that the tiaras suit any kind of short or long hairstyle.
5. Baby's Breath
Price: $49.00

Description: This is one of the best tiaras that have delicate and expressive patterns. They come with dainty golden flowers that are embedded on a wine twist along with tiny leaves. Each flower is decorated in gold and helps to reflect your internal beauty. The hand wired pattern measures about 11 inch long and 1/2 inch wide. The band is gold toned and just perfect for your gold toned wedding gown. You can wear it easily with the help of pin loops.
USP: The golden shades of the tiaras make them more interesting and exciting by adding a special touch of sophistication. The tiaras suit any kind of hairstyle. The fragile style makes them suitable for all blushing brides and for the bridesmaids too. They suit the dainty flower girl too. The ivory pearls make them adorable and suitable for off white wedding gowns. They come in silver color also.
Pros: These tiaras are fragile looking and perfect for those who prefer to have such tiaras. They can be worn by the bridesmaids, junior bridesmaids, and the flower girl. The ivory pearl tiara on gold can also be available in silver if you prefer to wear a silver accented wedding dress.
6. Rosina
Price: $195.00

Description: The tiara comes with clusters of ivory colored freshwater pearls and gold toned leaves along with gold-plated crystals from Austria. Each cluster has an interpretation of a berry or a flower. When you look closely at the hand crafted jewelry, there is a champagne colored clear crystal in the center that adds a special richness to the tiara. The richness of pearls and golden hues attract brides who love to wear silver tiaras. They are available in silver finish too.
USP: The tiara is 3 inches wide all around and about five inches in the center. The comb helps you to wear it perfectly according to the shape of your hairstyle. The wire comb is very soft on your hair and does not hurt you.
Pros: The golden tinted tiaras with pearls can be obtained in silver too. They go well with different kinds of wedding dresses. The soft comb on the tiaras makes them easy to attach. The best part is that you can get same patterns in silver and gold.
7. Lauren
Price: $225.00

Description: This is a special tiara with double bands in silver. It has accents of ivory colored fresh water pearls and flowers that branch across the headband. The shining Austrian pearls make the center flower glow beautifully. The jewel is one inch in the middle and six inches long. The tiara can be easily made to fit the shape of your head.
USP: The lightweight nature and the two band design make them the favorite of most of the brides. They sit well on your head and suit any kind of hairstyle. The tiaras can just be used for all kinds of formal occasions. You can also find the same patterns with a single band. Be slightly different from other brides by wearing double band tiaras.
Pros: These versatile tiaras are lightweight and make you feel like a real princess. They come in both gold and silver overtones. They can be worn very easily and they are suitable for all kinds of hairstyles made with long, short, or medium hair lengths.
8. Butterfly
Price: $89.00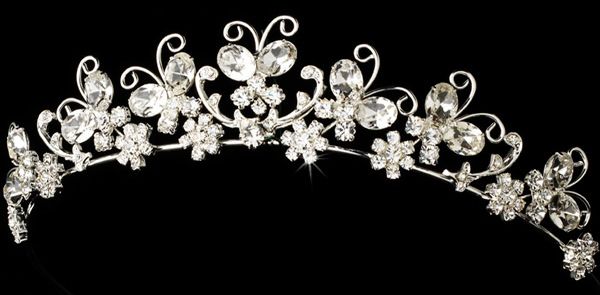 Description: Want to feel like a butterfly princess? Wear the butterfly tiara, that is available at an affordable price. The tiara is filled with butterflies that are made of tiny, sweet, and small white pearl wings. You can display your love for animals by wearing this special tiara for the function. The tiara is just 1 1/2 inches tall in the middle. It can be best worn with white wedding gowns. The end loops are easy to fasten.
USP: Butterflies for the animal lovers! These tiaras are lightweight and attractive. The tiara can be paired with butterfly necklaces. If you are looking for a simple yet elegant design with white pearls, then choose this butterfly tiara.
Pros: The simple and elegant designs make them perfect for any special occasion. The white pearls are the right match for your white wedding gown. The small tiaras are suitable for most of the hairstyles, too.
9. Damsel Garland
Price: $99.00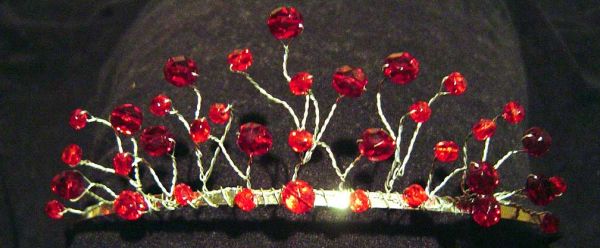 Description: Love red? Then this stunning red tiara will never go unnoticed by you. The Damsel Garland tiaras are gorgeous pieces of jewels that can adorn your hair in style on the special occasion. The floral garland will add a special touch to your feminine gait. The band is about 12 inches long and about 3/4 inch high in the center. It is made of stunning red Austrian round crystal beads and crystals. The flower in the center is accented.
USP: The bright red color of the tiaras makes them desirable by most of the brides who love colors. The brightly colored crystals bring out the feminine beauty in you. There are pin loops at both the ends that make them a comfortable wear.
Pros: The best thing about the red tiaras is that they can be worn on any kind of hairstyle. They can be bent suitably to make bun rings as well. The tiaras are silver toned and can match any kind of wedding gown. They go well with gowns that come with red accents.
10. Infamous
Price: $99.00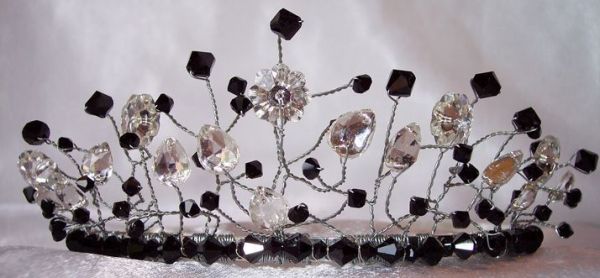 Description: Want to feel like a queen? Wear the Infamous tiara made of black and white pearls. If you are looking for a glamorous and stylish poise, then don't let go of this model. It is sure to captivate the whole crowd around you. The black and white headband is silver toned and can be paired with any kind of wedding dresses. The tiara spans 13 1/2 inches. Wear it with the help of pin loops.
USP: The very special color combination of black and white pearls make them very special. The tiaras are designed with special wedding themes perfect for all kinds of brides. They are mostly made of Austrian pearls, quartz, and beads.
Pros: There is nothing more appealing than the black and white combination of pearls and beads on a silver band. Brides who have style and need to display their creative personality can use these special tiaras for the special occasion.
Choose the tiaras according to your wedding dress and the accents used. Since you will be wearing it for the special occasion only, it has to be unique. Most of the tiaras are made of pearls and crystals. Some of them have other accents with glass beads and other precious stones. Since you will be wearing them only once, you can choose from cheaper models than the designer varieties. But, if you are looking for sophisticated models, there is a wide variety of designer models to choose from. If you are looking for genuine crystals and pearls it is better to get them from a reputable jeweler. You can be sure of style and quality.