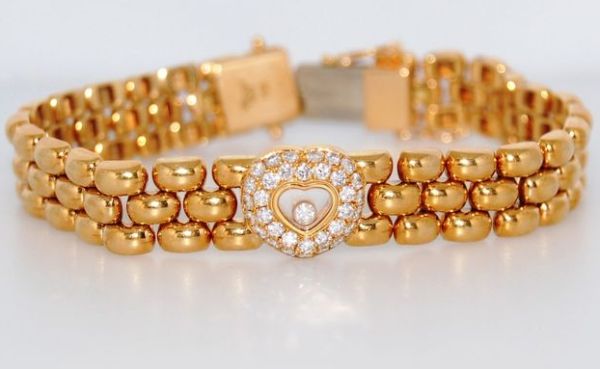 Every beautiful wedding dress is incomplete without nicely crafted jewelry pieces that make the bride look all the more ravishing. These glittery pieces further accentuate the overall look and help fulfilling the dream of looking perfect as the bride walks down the aisle. Chopard, a Swiss based luxury watch, accessories and jewelry brand, is known for its high level of quality and amazing designing. It has over the years become one of the finest jewelry and watch brands, which is trusted by many. Below is a list of Chopard jewelry pieces that can make any bride look elegant on her wedding day.Chopard Clover Bracelet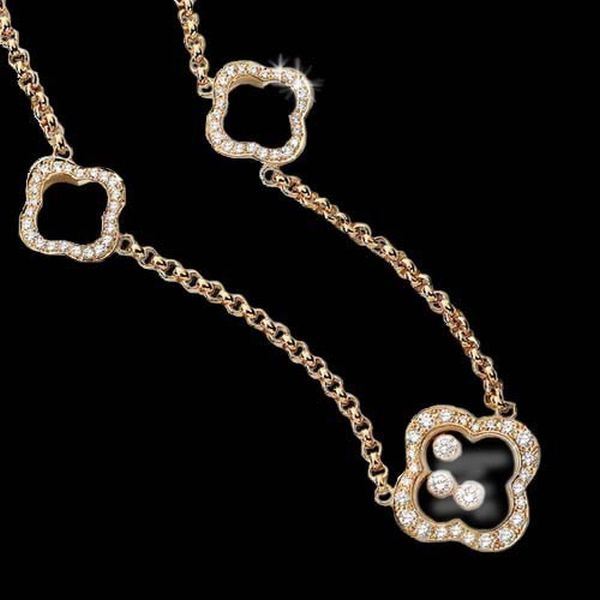 The Chopard Clover Bracelet is a part of Chopard Happy Diamond series. The elegant piece has been crafted from 18K yellow gold and features 0.61 ct white diamonds. The bracelet is also available in 18kt white and rose gold, which is also very eye-appealing. It can be worn for almost all kinds of occasions and will decorate your wrist in utmost style.
Price: $10,560.00
Buy Here: Jrdunn
Chopardissimo pendant


Get ready to fetch unending praises as you adorn the Chopardissimo pendant that looks like band and walk down the aisle. The pendant is part of the Chopard Chopardissimo Collection and comes with a 30-Day JR Dunn Satisfaction Guarantee. The beautiful pendant has been made from fine 18K White Gold and has a polished finish. It can also be crafted using other metals, if a buyer wants. It has 0.05ctw Genuine Hand-set White Diamonds that have an excellent GH VS quality. The pendant will come nicely wrapped in gift box and is 7mm wide. It has a side diameter of 10mm and will be accompanied by a 16″ chain.
Price: $3,600.00
Buy Here: Jrdunn
Chopard 18K Diamond Ruby Sapphire Earrings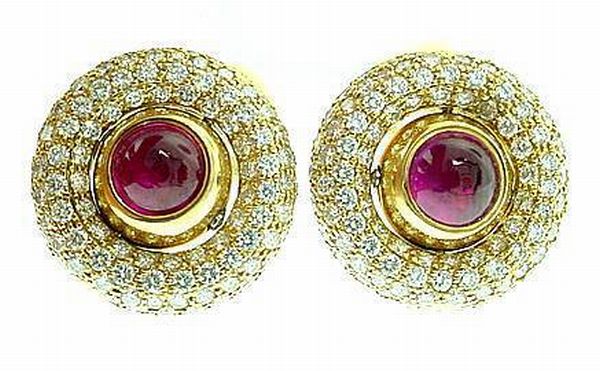 These stunning Chopard Ruby Sapphire earrings have been set in 18K yellow gold. The round jewelry item has a Cabochon Ruby and Sapphire center, which is surrounded by diamonds. The center can be flipped, which will endow a wearer with the flexibility to adorn either the ruby side or the sapphire side. The earrings weigh 21 grams and measure 5/8 inches. The dazzling earrings have clips at the back, which make them easy to wear. So, enjoy the charm of two stones at the same time with these designer earrings as you hold the hand of your loved one.
Price: $8,550.00
Buy Here: ebay
Chopard Heart Floating Diamonds Necklace & Earrings Set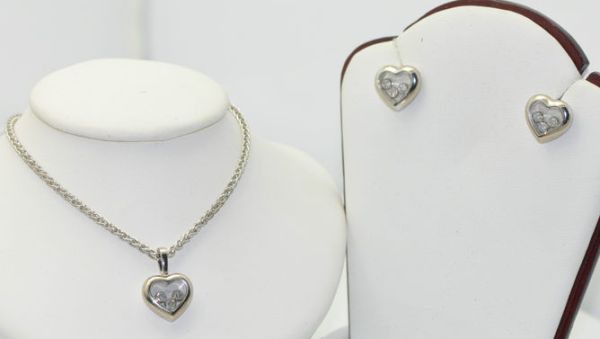 Chopard Heart Floating Diamond Necklace and Earrings set will be a perfect Valentine's or Wedding Day gift for your sweetheart. It has been made in 18K white gold and both the necklace and earrings have three floating diamonds. The earrings have screw on the back and have a width as well as length of 0.4 inches, respectively. On the other hand, the necklace comprises of a pendant and a chain. The chain has a length of 0.6 inches and its width is 0.4 inches. The pendant is very captivating and is 0.4 inches wide and 0.6 inches long. The signed Chopard set weighs 20.2 grams and is just perfect for romantic evenings.
Price: $4,795.00
Buy Here: ebay
Chopard Diamond Heart Necklace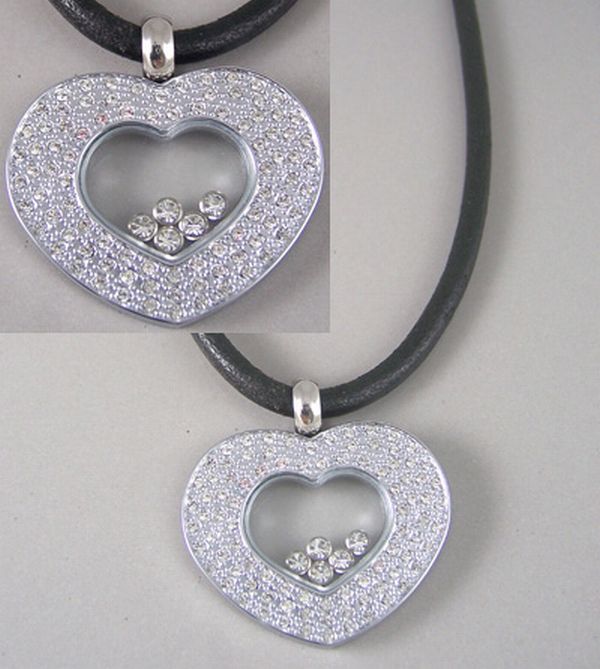 Chopard Diamond Heart Necklace is absolutely stunning and a perfect expression of love. The inside of the heart shaped pendant has five cubic zirconia diamonds. The heart pendant has a diameter of 2.8×3.3 cm, which will be well complemented by a high quality silk chain. The chain is adjustable with a diameter and length of 0.15 cm and 46 cm, respectively. The dainty necklace comes with a serial number and warranty card and has been crafted from high quality stainless steel titanium. So, wear it on your wedding day and look absolutely gorgeous.
Price: $111.86
Buy Here: Kuoutlet
Chopard Happy Amore Diamond Hearts Pendant Necklace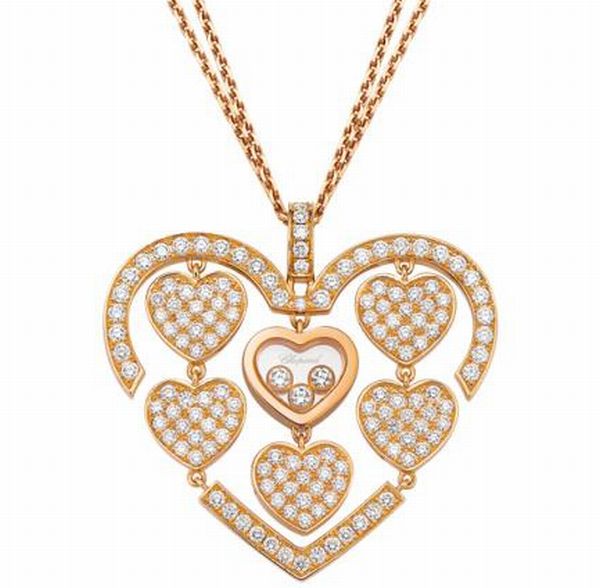 Look your best on your wedding day with the Happy Amore Diamond Hearts 18K Rose Gold Pendant Necklace. This Chopard jewelry piece has been created in an attention-grabbing way and has a radiance that will leave onlookers stunned. The pendant will dangle on a rose gold chain and has six gold hearts. The design consists of five small micro pave hearts and a sixth gold heart with three moving diamonds. This Chopard Rose Gold Pendant Necklace is one of its kind and without a second thought very attractive.
Price: $16,800.00
Buy Here: LuxuryBazaar
New Chopard Happy Diamond Ladies Ring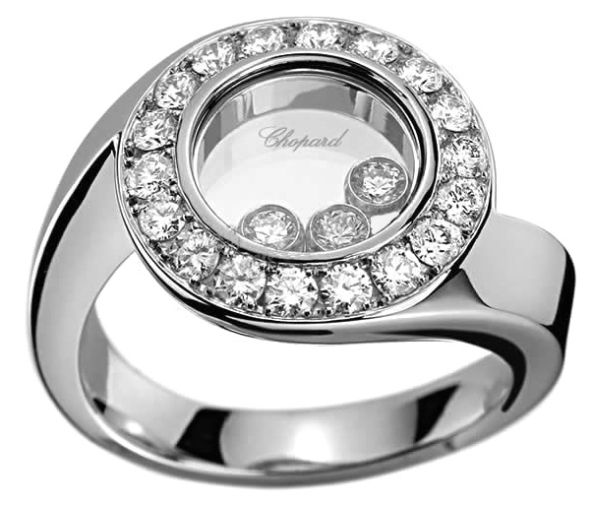 If you have a passion for wearing rings, then you can't afford to miss the New Chopard Happy Diamond Ladies Ring. The spectacular ring has been made from 18K white gold and will make your hand do all the talking with its beauty. The ring has a polished finish and has a round shape. A total of 21 diamonds have been used to give it an eye-catching appearance. The total diamond weight is 0.53 carats and they have VS clarity. So, give your lover an exquisite gift on your D-day in the form of New Chopard Happy Diamond Ladies Ring.
Price: $4,995.00
Buy Here: Authenticwatches
Yellow Gold Chopard Geneve Wrist Watch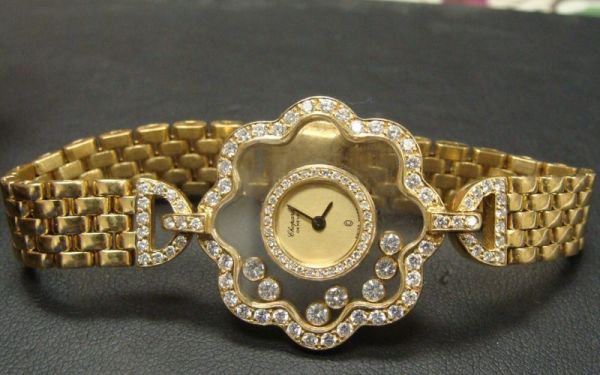 Here is a wristwatch that will decorate your wrist like any other piece of precious jewelry. The Chopard Geneve wristwatch has been made in 18K yellow gold. The Swiss made stunner has a diamond bezel that flaunts 30 diamonds. Apart from this, 7-5 point diamonds keep dancing around the dial, while the outer trim has another 66 diamonds. The absolutely breathtaking timepiece weighs 43.8 grams with a band size of 6 3/4mm.
Price: $8,000.00
Buy Here: ebay
Chopard 18K WG Pearl & Diamond Earrings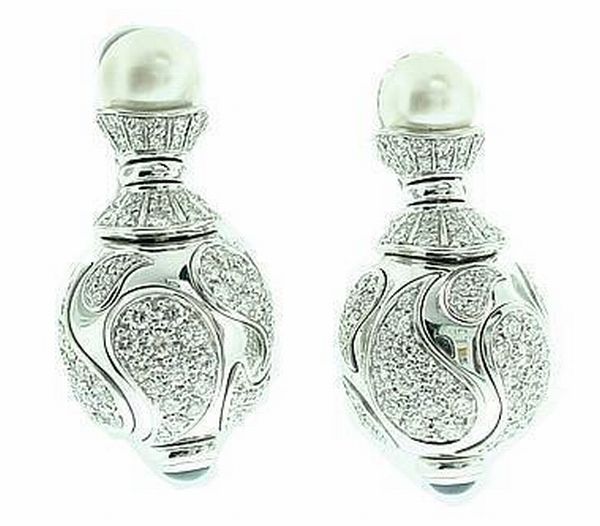 Chopard Pearl and Diamond Earrings have been made in 18K white gold and have a very appealing shape. These will blend perfectly with all kinds of wedding dresses. The top of the design features 9.5mm white pearls that blend perfectly with the diamonds that sparkle with all their brilliance. The earrings feature 262 brilliant cut diamonds that will in no time become your best friends.
Price: $22,550.00
Buy Here: ebay
Chopard 18K Happy Diamond Bracelet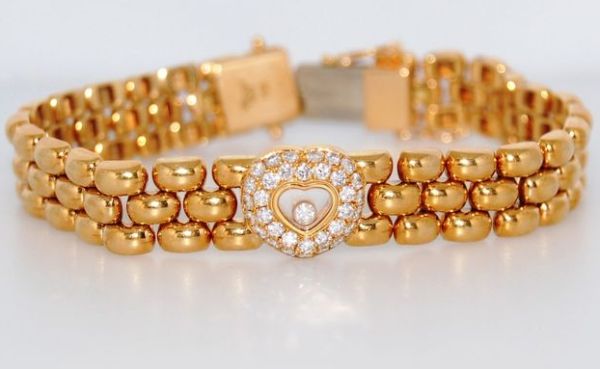 Beautify your delicate wrist with the Chopard Happy Diamond Bracelet and get set to craft a classy style statement. The bracelet has been made using 18K yellow gold and has three rows that link heart center. The heart shaped center is surrounded by diamonds, while a single diamond keeps floating inside it. The spectacular piece of jewelry measures 7 inches in length and is 10mm wide. It further has a double safety clasp to ensure it never falls from your wrist.
Price: $7,900.00
Buy Here: ebay