When you think of a wedding and wedding attire, you thought immediately shifts to the bride with a flowing white gown, a veil on her head with a bouquet of flowers in her hands! Seldom do we pay attention to the groom's attire. However, what the groom wears on his wedding day is as crucial, if not more. Now, if it is a formal wedding, it is easy to pick up a nice tuxedo. However, when it comes to beach weddings, grooms may find themselves in a spot. So, what is the ideal beach wedding attire for a groom? Read on to find out.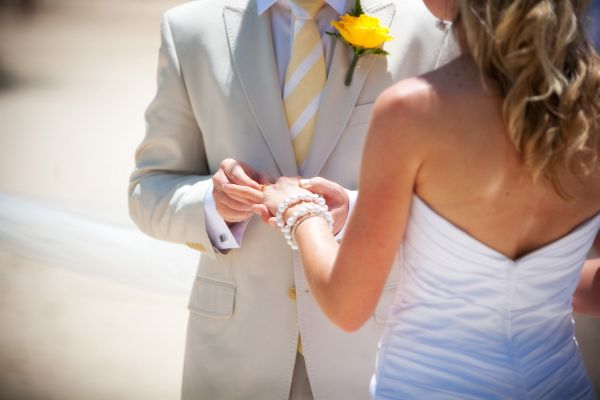 1. Floral shirt: This is a very casual, although the perfect attire for a beach wedding. A floral printed shirt worn on loose fitting trousers paired with beach footwear is the perfect beach wedding outfit for the groom. There is also the option of not wearing any footwear.
2. Cuba style: If you are not comfortable with or do not like shirts with floral prints, that's OK. Having a beach wedding does not necessarily mean that you must wear floral prints. You can go for a more sober look by donning a plain button-down shirt in white. Make sure it is a loose-fit shirt. Pairing it with comfortable cotton pants will complete you attire and make you look perfectly dressed for that perfect beach wedding.

3. Casual, yet formal: If you are not so adventurous but do not want to dress up very formally, you can settle for a casual yet formal wedding attire. Instead of a floral or a white shirt, go for shades of blue, green, or turquoise, to match the colors of the ocean. Pair it up with white cotton pants to give you a formal look, yet suitable for a beach wedding.

4. Casual beach attire: You can also make a variation in the above mentioned casual beach wedding attires. Since the bride usually wears white for the wedding, it is only appropriate that the groom's attire is also all white. Wear a white loose-fitted cotton short with white cotton pants and go barefoot for the ideal beach wedding attire.
5. Quirky: If you are daring enough why not play it up a bit and dress up in a quirky fashion. While your bride can dress in a white bikini you can opt for white torn shorts paired with a bow tie. Make it fun and eventful, something which you and the guests will remember for a long time.
6. Semi-formals: Who said you must only wear beach attire for a beach wedding. You can always choose to go midway and wear semi-formals for your beach wedding. If you do not want to look very formal also, choose a light-colored suit, may be the color of sand, and team it with a white shirt. Let go of the jacket and the tie and roll up your shirt sleeves to the elbows. Your semi-formal beach wedding attire is ready.
7. Formal wedding attire: So, you are one of those who thinks one must wear formals on their wedding day be it a church wedding or a beach wedding. Nothing wrong with that at all. Wear your black tuxedo, if you must but lighter shades would be a better choice for your beach wedding. With a formal suit in sandy colors, you are sure to impress one and all present for your wedding.
8. Hawaiian attire: A beach wedding screams for the perfect beach attire; bright colors, floral prints and loose fits. Go with the beach wedding all the way and wear a bright floral printed shirt with cotton shorts. Accessorize with a lei for that added Hawaiian touch and you are dressed perfectly for a beach wedding.

9. Stylish: Now we know some people are not comfortable with casuals. They like to make a style statement with their clothes. If you fall under this category, going stylish with your beach wedding attire is the perfect solution. Choose stylish beachwear and add to the beach factor by accessorizing appropriately.


10. Funky: Mix and match both casual and formal and go funky on you wedding day. Wear a formal jacket, with a tie and everything with a pair of cotton shorts and beach footwear. Alternatively, you could also wear a bright floral shirt with fitted formal trousers and leather shoes. Get creative and dress up funky for your beach wedding.