Wedding is like a dream day in a woman's life. She wants everything to be perfect in her wedding day from her wedding dress, hairstyle, wedding venue and to every other thing. She wishes to look beautiful like a princess on that day. The wedding season has become more of a fashion trend as today's brides are a way forward in creating dramatic looks, for their D-day. The most recent bridal trend is the wedding jewelry trend. The bridal accessories are turning into the hottest trend of the year. Necklaces, bold bracelets, chandelier earrings, stud earrings, beautiful bangles are all part of wedding jewelries. It depends on the bride to choose what is best for her because only a single piece of jewelry is enough to make you look strikingly fashionable. Here is a list of the 10 most elegant wedding jewelry trends of the year 2011.
1. Statement necklaces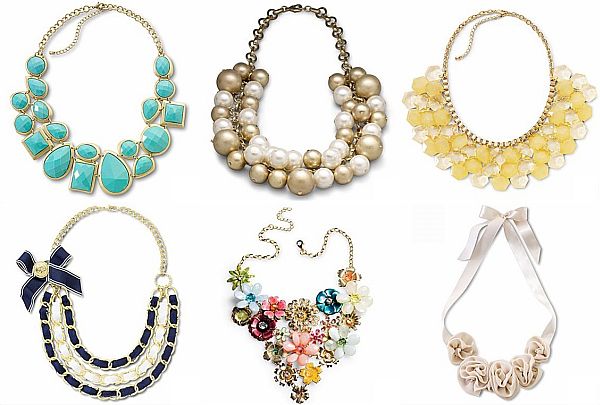 Bigger and bolder jewelry trend is in vogue, this wedding season.The statement necklace is a funky and sophisticated piece of jewelry with big stones and creative designs. Wear a statement necklace on your wedding day to give your bridal look an extra edge. Adjust the necklace in such a way that it perfectly sits on your collar bone. Necklaces with stones and multi layered chains are the biggest trends in this wedding season.
2. Eclectic natural look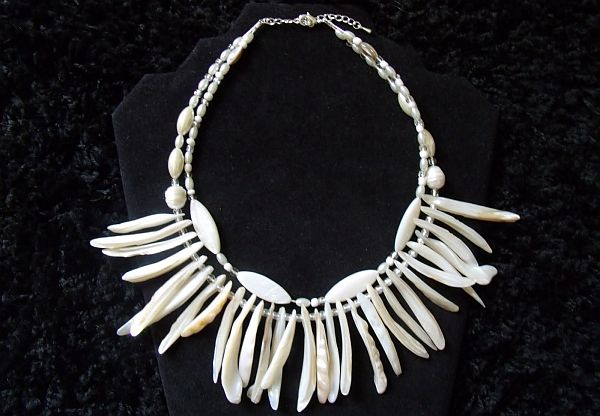 The eclectic and the tribal jewelry pieces can give a natural look to the style. Native jewelry pieces are gaining popularity more and more in the fashion trend this year. The ethnic pieces from different native groups can be very fashionable as they are unique in designs and are very stylish. You can mix and match different kinds of tribal jewelries to get a funky look. For looking this jewelry you can go even into the places where one does not expect to get something beautiful and apt for the bride.
3. Ornamented and bold bracelets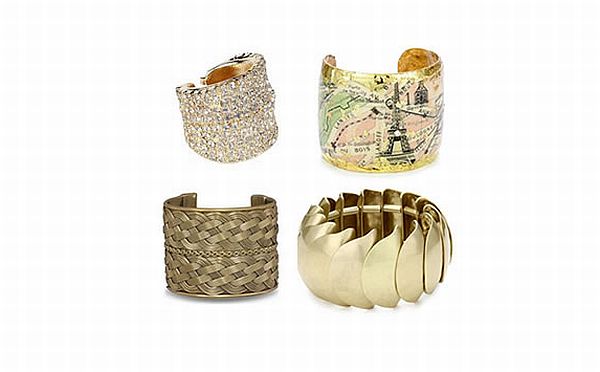 Big and oversized bracelets are a must have accessory in this wedding season of 2011. Many designer brands such as Louis Vuitton, has launched the trend of ornamented and bold bracelets which is becoming the hot favorite of the brides and even Hollywood celebrities. Wear a piece of a bold bracelet and get ready to glam your entire look this wedding season. These bracelets just look perfect and give that extra bit of charm to your wedding jewelry.
4. Chandelier earrings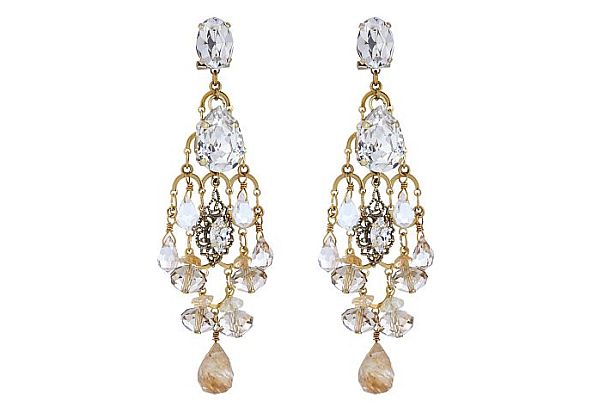 Chandelier earrings are never out of fashion and this wedding season, it is bigger the better. Chandeliers enhance the beauty of the face. Large, long and over-sized chandeliers add glamour and uplifts the glow of the face. It is becoming the latest trend to wear something big in the ears. They also go fine with the brides of all shapes and color. You may find a huge variety among these type of the earrings. Just have a good lesson in carrying them with pride when you take your bridal steps, in-front of your wedding guests.
5. Cocktail ring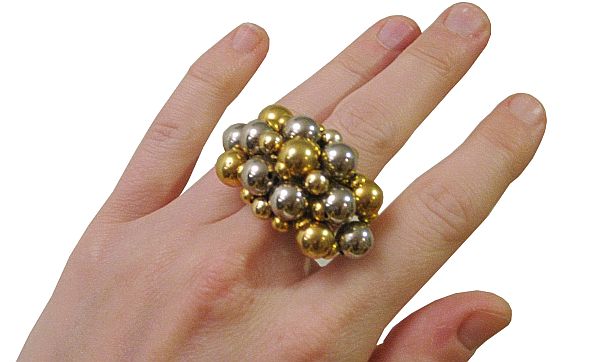 A cocktail ring is a must have in every 'fashionistas' wardrobe. The cocktail ring alone can attract all the attention, if the cut and design is sufficiently funky and unique. A cocktail ring can be of any color which suits the color palettes of your wedding or compliments the season. But it mostly looks chunky and bold in metallic colors. Sometimes, brides even like to have a fusion of sorts with their bridal jewelry and thus a cocktail ring is something that they should look forward to wear for.
6. Best bridal necklace trends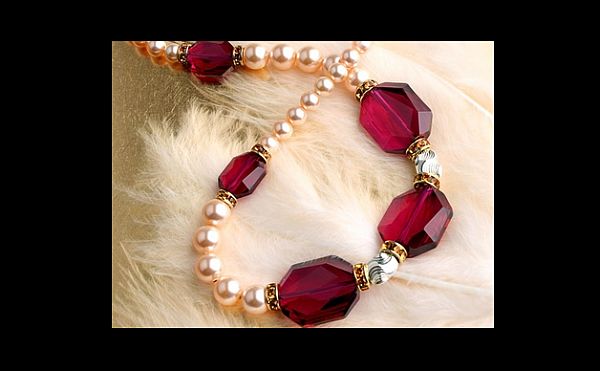 Rather than wearing the traditional pearl strands for your wedding, choose something interesting like the jewel toned regal necklace. This season, it is the jewel toned bridal necklace which is high in demand. The regal necklace is a piece of richly hued bright stones with an antique brass chain and pearls attached to it. This will add a glorious exquisiteness to the bride's beauty and will have many a eyes looking at her at her wedding day without a blink.
7. Elaborate stud earrings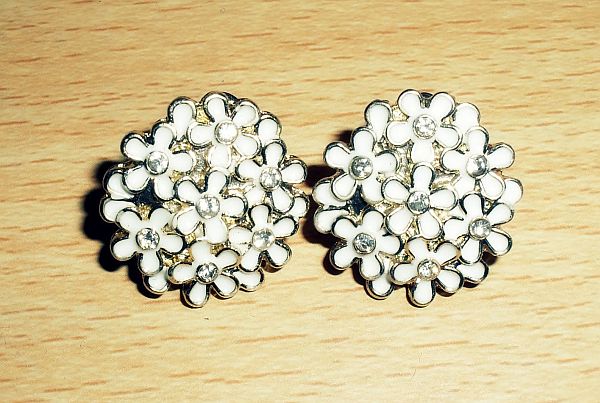 Earrings are the prime accessories which influence the overall look. Apart from the chandelier earrings, stud earrings are also high in fashion, this wedding season of 2011. The stud earrings are elegant and consists of pearls, stones or crystals mainly. These earrings are much a bridal ornament to have with you as these are not something all choose for. Do ensure that these match to your wedding dress or the wedding gown, so that they look just perfect when you put them on.
8. Vintage bridal jewelry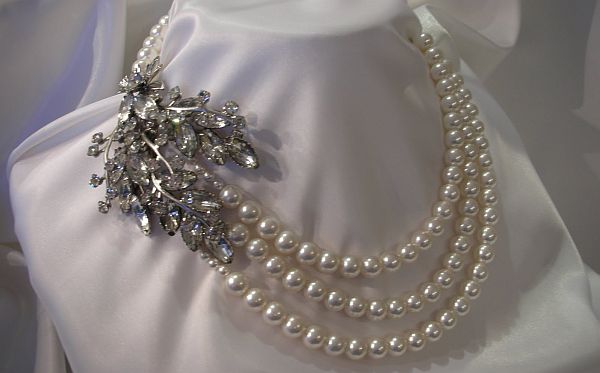 Vintage jewelries are also another favorite among the brides and is one of the best wedding jewelry trend. Jewelries like hair brooches, flowery combs, hair clips, birdcages, veils can be added to the vintage factor.The vintage bridal look is never out of fashion as it unleashes the true beauty of your inner side.
9. Cheap wedding jewelry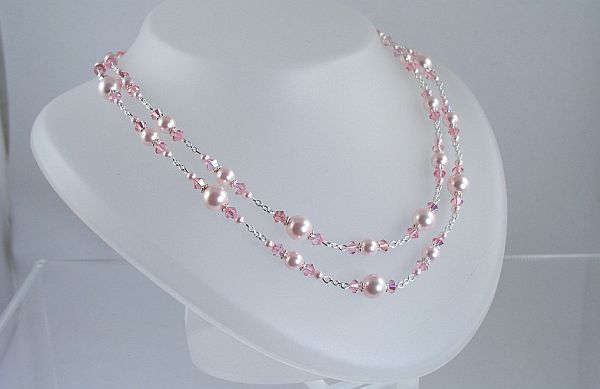 For colorful and a trendy weddings, you can play with your jewelries by choosing cheap wedding jewelry. You can develop your own jewelries with different colors of gemstones, pearls and crystals. Cheap wedding accessories trend is getting fashionable where you can still look radiant at a reduced price.
10. Pearl bangles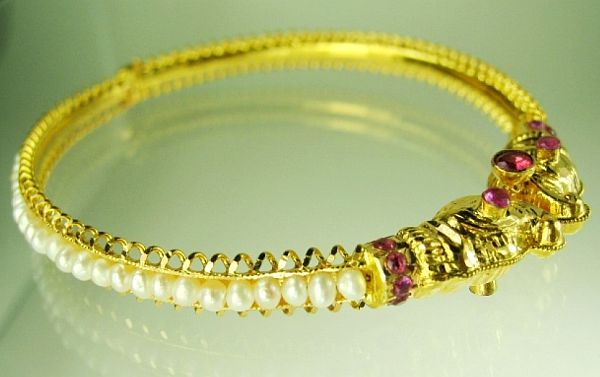 To enhance the beauty of your hands, all you need is a piece of jewelry which will complement the entire look. The bangles are embedded with fresh water pearls and other precious stones skilfully and creatively inorder to make your hands look attractive. The beautifully studded pearl bangles can be seen as a big trend in this wedding season.