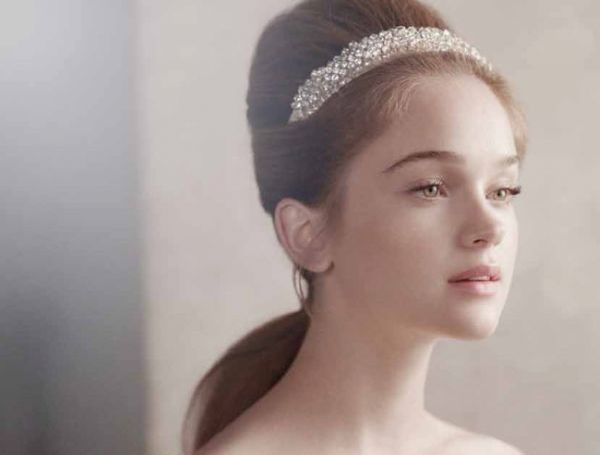 Bridal headpieces are a must have accessory that completes the bridal trousseau. It enhances the bride's look, by highlighting the contours of the face, neck and shoulders. These headpieces offer casual, formal or contemporary look, according to the choices that you make. Woo one and all, on your big day, with these exquisite bridal headpieces brought for you. So, let these headpieces sparkle your wedding garb and make you the cynosure of all eyes. Scroll down and pick the one you like the most.
Crystal Structured Headband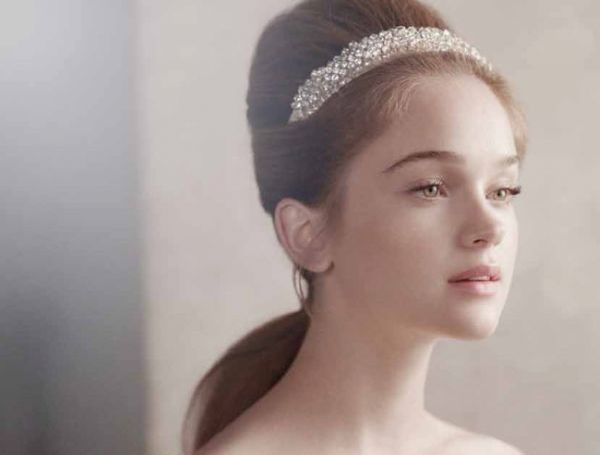 Designed by Vera Wang, this ornamental headband is embellished with sparkling crystals. The "en tremblant" crystals' bears a resemblance to that of estate jewelry. And the subtle movement adds just the right amount of sparkle. To ensure maximum comfort and sleek placement in the hair, the head band has been designed in such a way that the crystal beading stops at the end of the structured band.
Designer: Vera Wang
Price: $168.00
Buy Here: David's Bridal
Crystal Orchid Clip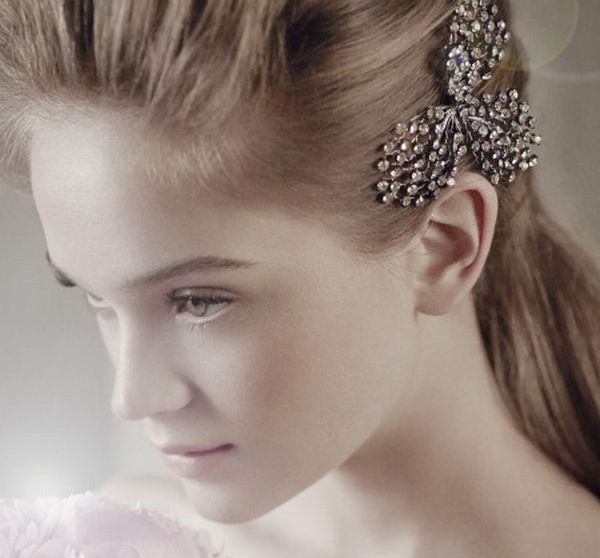 A must have accent for any bride; it is a versatile piece of jewelry that can be worn as a headband or a brooch on your dress or as a sash on the waist. The potentialities are endless. Made from antique inspired crystals, this headband has been set together with a flexible wire. It is done so as to mold the orchid's petals in any shape so that it follows gentle curves of your hair. Make this headband an unforgettable memento for your big day
Designer: Vera Wang
Price: $98.00
Buy Here: David's Bridal
Flower Tear Shape Wedding Headpiece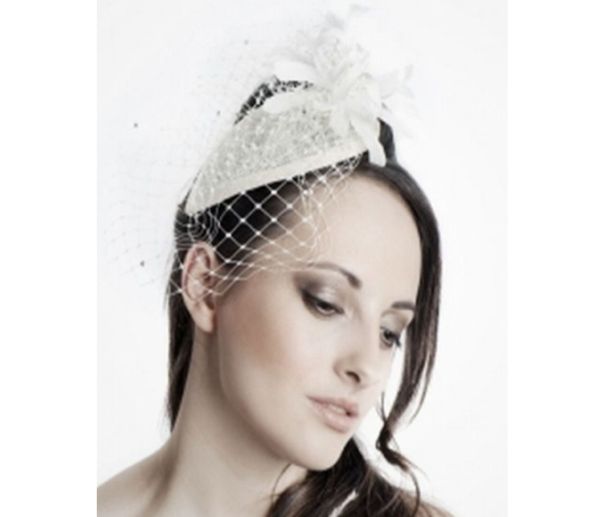 If you want a sophisticated vintage chic wedding look, go for the exquisite handmade bird cage headpiece designed by Jane Taylor Millinery. It has been decorated and made from ivory colored fabric. The veil has also been accented with tiny sparkling clear crystals. Adorn this bird cage headpiece at the side of the head for that uber look.
Designer: Jane Taylor Millinery
Price: $148.615
Buy Here: LibertyinLove
Gatsby Vintage Jewelled Bridal Headband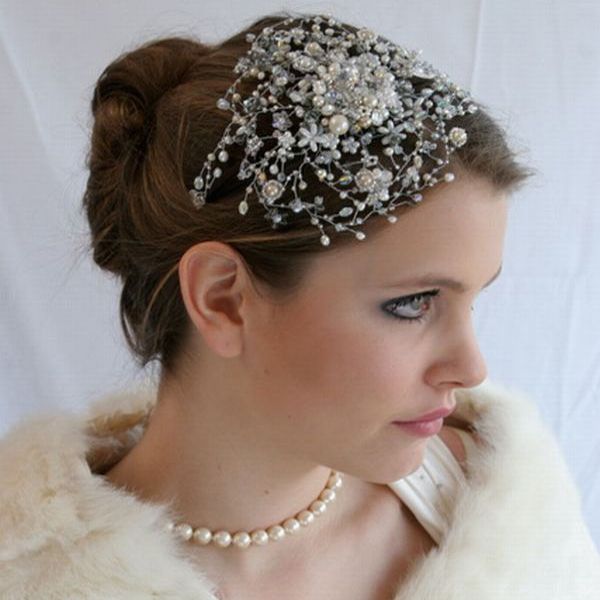 What a stunning piece of art! Designed by Gillian Million, it is a jeweled skull cap that has been artistically and intricately done. Made from vintage pearls and crystals and grey wire, this jeweled skull cap can be asymmetrically placed at the side of the head.
Designer: Gillian Million
Price: $1,056.54
Buy Here: GillianMillion
Vintage Elegance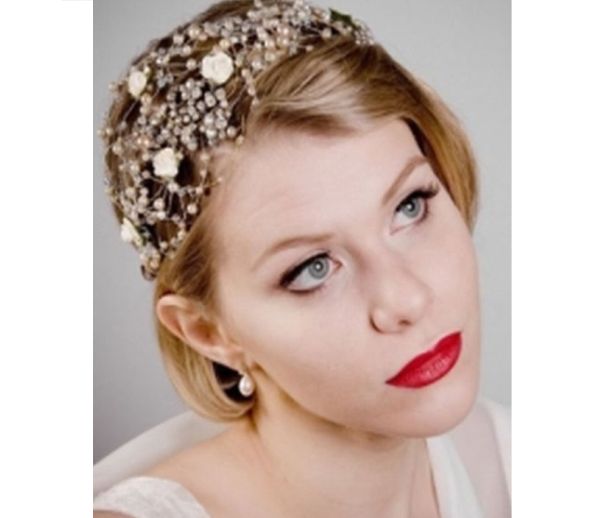 An elegantly designed headdress by Gillian Million, when put on, sits like a delicate pearl and crystal beaded hat. It gives away the impression of an intricately woven lace that has been scattered over the hair. The delicate flowers and vintage crystal jewels nestle among the pearls. A must try piece of jewelry that can make anyone fall in love.
Designer: Gillian Million
Price: $743.503
Buy Here: GillianMillion
Swarovski Handcrafted Hairpiece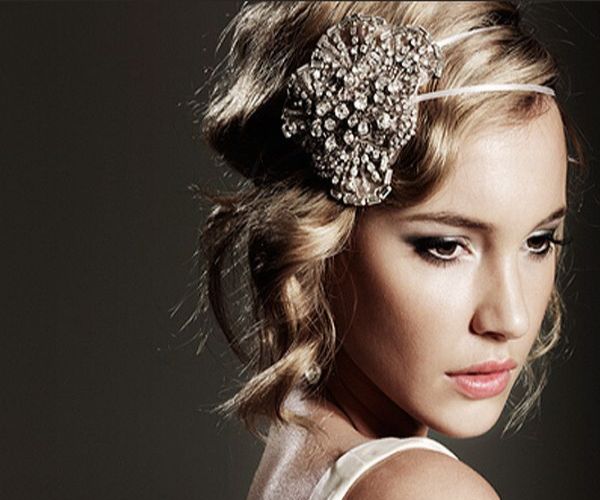 This is an exclusive handcrafted Swarovski hairpiece designed by Australian designer Johanna Johnson. Set in vintage claws, this Swarovski hair piece has been tied with hand sewn loop and fine satin ribbons. The styling and design are reminiscent of the bygone era. A delicate hair piece called Harlow; it can also be worn as a corsage on the wrist.
Designer: Johanna Johnson
Price: $440.00
Buy Here: JohannaJohnson
Handcrafted Headpiece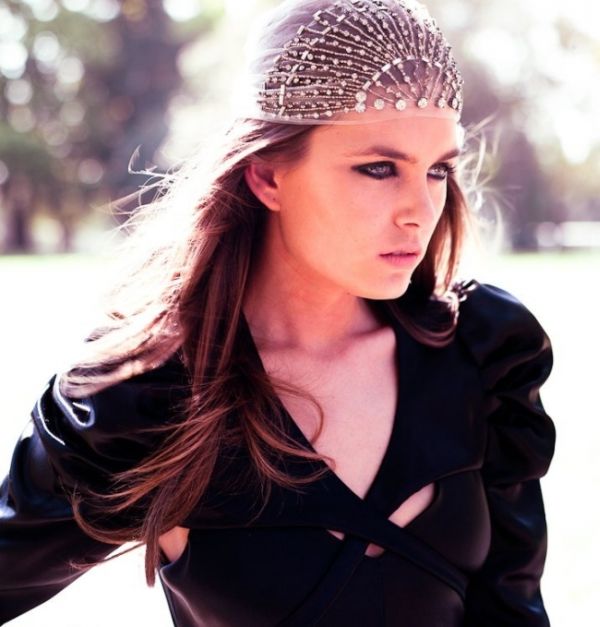 This ravishing headpiece reminds us of Greta Garbo's era. A part of the "Templar Collection", this jeweled headpiece has been handcrafted with Parisian embellished laces and Swarovski crystals. Handcrafted on soft ivory colored tulle, it can be fastened at the nape of neck with delicate hand finishing done on tulle ties.
Designer: Johanna Johnson
Price: $580.00
Buy Here: JohannaJohnson
Bel Aire Bridal Headpiece 6126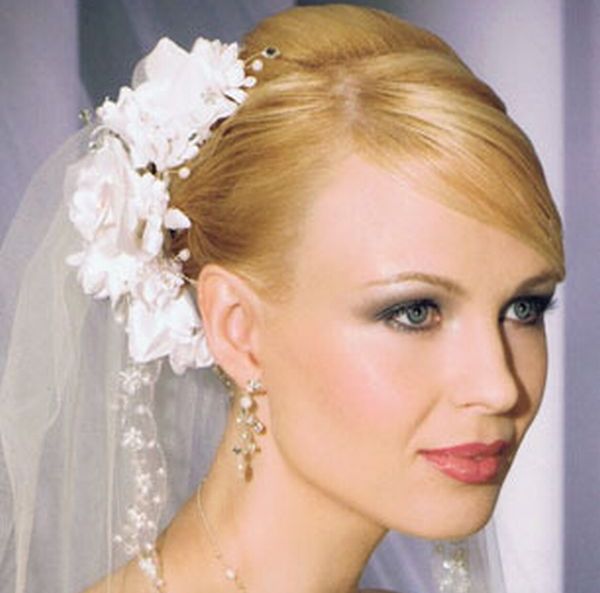 Designed by Bel Aire, this bridal headpiece has a bridal comb with romantic flowers made of pearls and rhinestone that looks sprayed. To be worn on the sides it takes us back to the 70s style.
Designer: Bel Aire Bridal
Price: $63.95
Buy here: BridalCoutureStore
Bel Aire Bridal Hairpin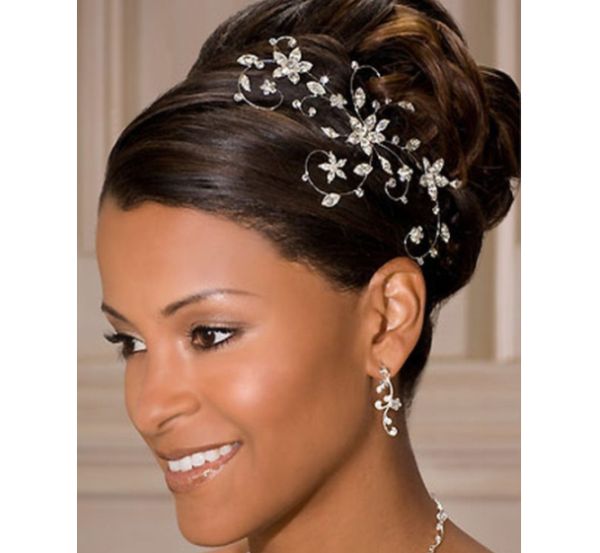 This is a whimsical side spray designed by Bel Aire. Being embedded with metal scrolls, marquis rhinestone leaves and flowers, its glory gets redefined. Though this delicate and light headpiece has no comb attached to it, you can use bobby pins to pin it in the hairs.
Designer: Bel Aire Bridal
Price: $84.00
Buy Here: TheBridalBox
JILLIAN Rhinestone Headpiece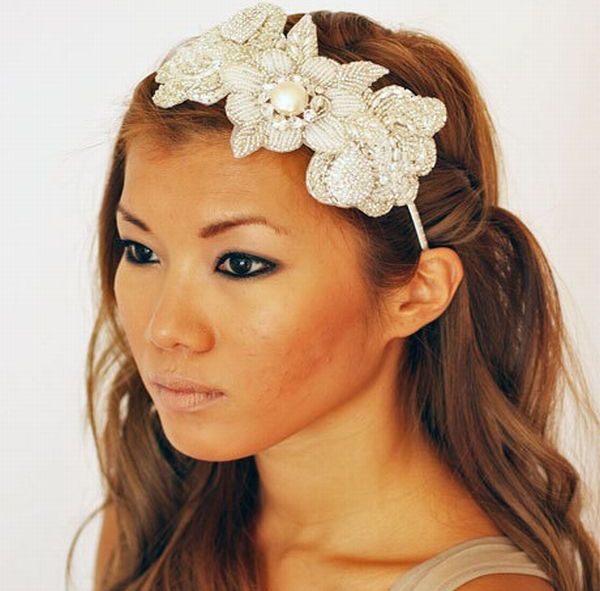 This is a thin and skinny metal band that has been laced with vintage inspired hand beaded pearls, gems and rhinestones. It will look fabulous on any bride.
Designer: Portobello
Price: $260
Buy Here: Etsy