The trend of wedding cakes is being followed since ages. They are important part of wedding receptions. What comes into focus at the reception is the wedding cake table. It is the center of attraction for everybody. People take extra efforts to make it look the right way. There is a wrong notion when it comes to decoration. It should be apt to the theme of the reception and surroundings of the place where the reception is being held. The table too should be designed in a right way. Here we list some Ideas for wedding cake table decorations and a few themes as well.
1. Decoration with flowers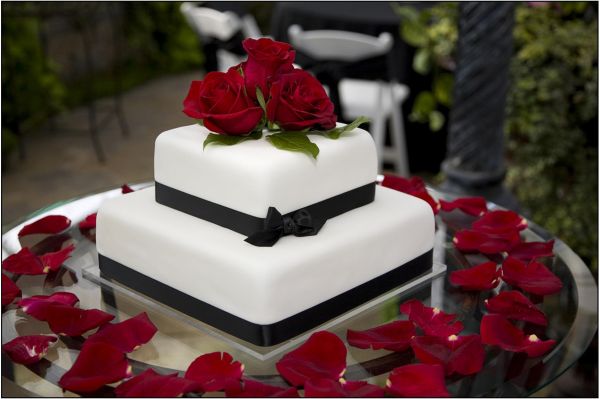 Flowers are one of the most easiest Ideas for wedding cake table decorations; and it gives one ample number of options. It is not only available in varied colors but have fragrance that truly pleases one. As seasons differ, so do the flowers. But there are some which are available round the year like roses. Though roses are still the best option by designers, there are some new in the market which people can experiment with. The latest being the orchids. It is vibrant, beautiful and bright. It is available in different colors too. Seasonal flowers are also one the most sought for since it is easily available and cheaper in cost. Petals scattered over the table in a pattern is a good way.
2. Decoration with food stuff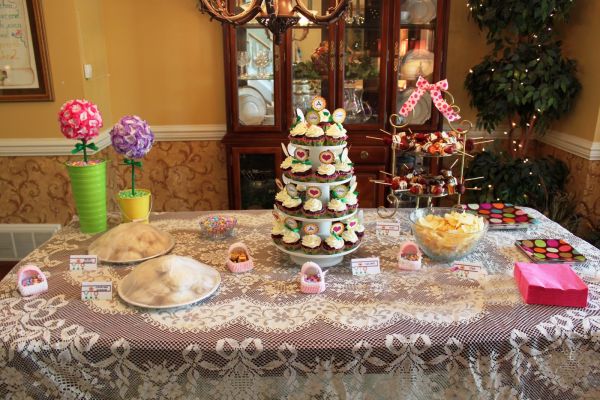 The wedding cake table can be decorated using candies. Candies such as almonds in silver paper look too beautiful around the wedding cake table. Fruits like grapes and strawberries can be used. Since the table is used only at the starting of the reception, these can later be transferred to the stalls where fruit salads are served to cut down costs. Even keeping in mind the choice of bride and groom candies can be brought. Little colorful bright toffees that one must have had in childhood are a good option which may be decorated artfully to complete the look. Just take care of children who will get allured easily by this sort of decoration.
3. Decoration with photos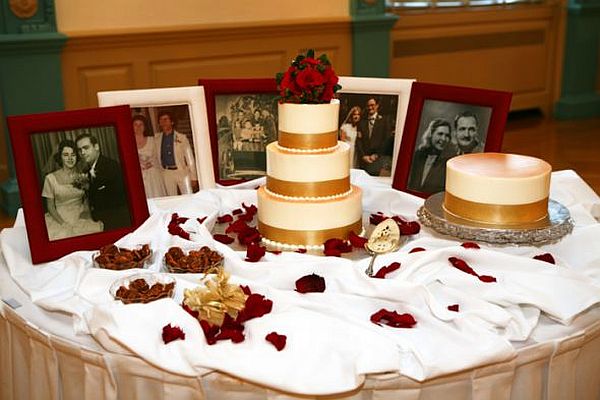 Well photos always make one smile. It brings back the special cherished moments. A collage of photos of couple of their marriage or the life before placed on the table below a glass pane completes the decoration. It doesn't cost much and takes less of the time. You can also add the photos of the couples that have been in the family of both the families. Like you can add a picture of bride's mother and father and just like that groom's mother and father. You can also add the special friends who have been there in the life of the bride and the groom. Its just some ideas regarding the photos. You may come with many of such ideas yourself.
4. Decoration with shells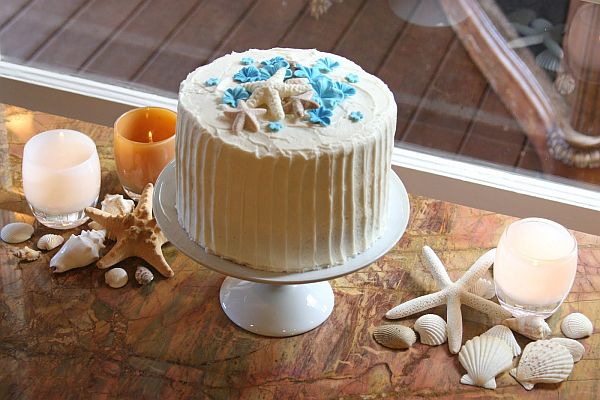 Suppose the wedding takes place near the beach or coastal area, shells can be used to decorate the wedding cake table. You can also use Even driftwood or coral. Special table cloths made by local artists are also an option. Just to be more realistic with this kind of the decoration, you may add some sand and pebbles around the corners of the table. Keep wine glasses in between the decoration with a bottle of champagne. This all will just look perfect and enhance the richness of the decoration.
5. Decoration with candles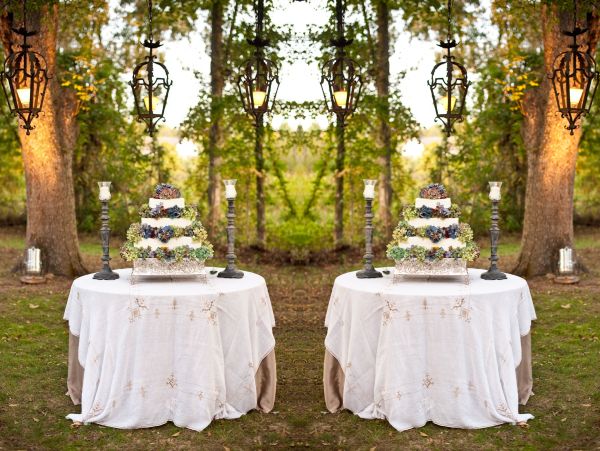 Decoration of cake tables with candles is also one way. Though there is a disadvantage in using candles as it melts. You can also replace them with small beautiful lanterns; that take you to the ancient world of kings and queen. Even the use of  artificial candles which run on battery is a good idea. If it is an Arabian theme wedding; this idea will blend in perfectly. You can also add some flower petals on the table just like rose petals. This decoration looks great when the wedding cake table is placed at indoors but at the same it it goes perfect, even if you have selected an outdoor location for your wedding.
6. Decoration with paintings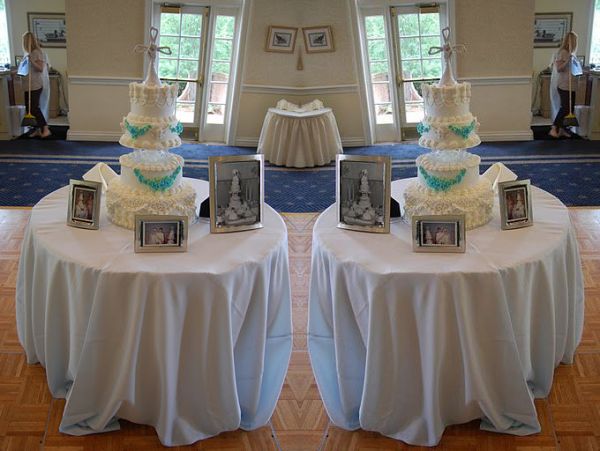 You can place the wedding cake table at a particular place and decorate it in so many ways. For the backdrop, consider having a hand-made frame or even decorations with fabric. You can design the backdrop to blend in with the wedding theme or just buy one from the market itself. You can even put painted or sketched portraits of couple. While choosing the frames, go for either the golden or silver look. This decoration can further be beautified with some pearls or beading on the table . Choose the cloth of the wedding cake table in accordance with the color of the frames that you choose. But you can also have the mixed colors if you want so.
7. Decoration with ribbons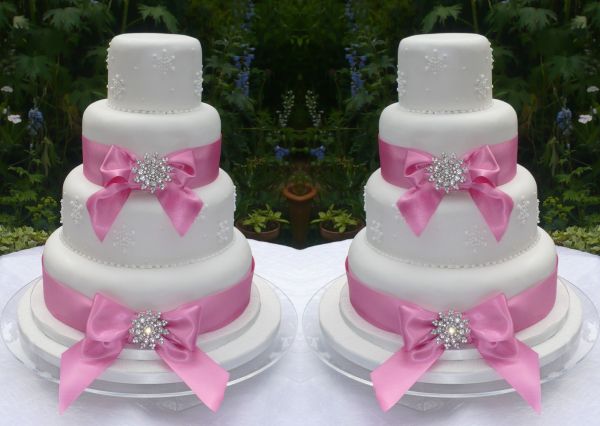 Ribbons can never go out of fashion for decoration. Using silk ribbons is one such idea; moreover, there are so many beautiful DIY ideas with ribbons that people can use to decorate the table. It is beautifully made into flowers and hangings. Even simply wrapping the table artfully makes it look good. These go well with Barbie themes. There are many colors among ribbons that you may opt to have but the pink ribbons look just perfect as they add some romantic touch to the wedding cake. If you create a bow or any other formation with the ribbons then you can pin accessories at the middle of the ribbon formations just like shown in the picture.
8. Decoration with cartoon characters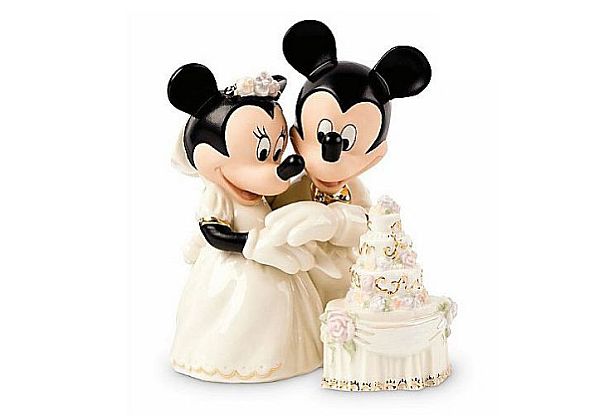 If you want to something really cute with your wedding cake table decorations then decorating it with some cartoon characters is just what you need to do. Everyone loves one cartoon character or the another, so even the bride and the groom would have their own favorites. They would just love to see these with them when they reach to the wedding cake table. If the cartoon characters are in couples, that is even more awesome for such a decoration.
9. Decoration with balloons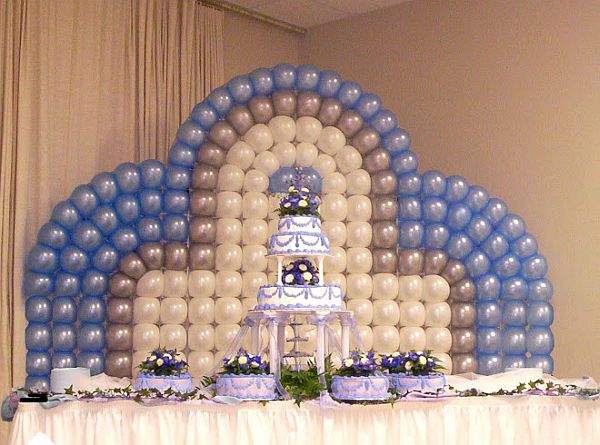 We all love balloons; ad there is a wide range of it available in the market. The different shapes, colors or sizes make them a perfect addition to any decoration. Keeping in view the likes of every genre, it is being made. You can simply buy plain balloons and convey messages that you want to give to the new couple. In fact, you can also get the family members, friends and close people to do the same. This is something that will not only be personal; but also be a memory that the new couple will cherish for the rest of their lives. You can add a backdrop of balloons with the table just in front of the balloons formation.
10. Decoration with marbles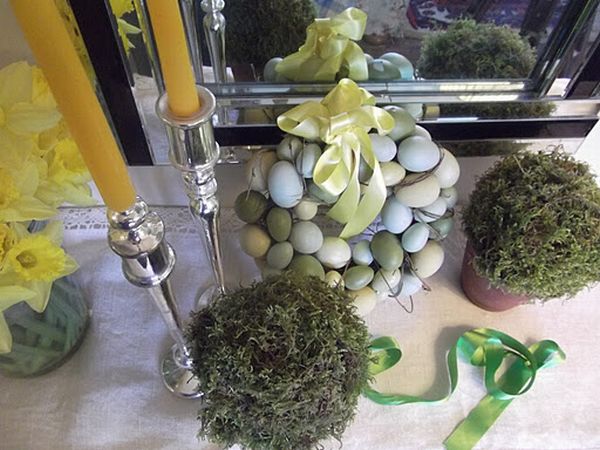 Marbles come in all shapes and colors. If you do not want to spend too much on the wedding cake table decorations, then they just are your take. The wedding cake placed in the midst of beautiful shining marbles on wedding table is the way it is to be. These are available in varying colors. The best is when all the colorful marbles are mixed together. It is sure to bring a smile on your face.You can put these marbles in small caskets or just spread them all over the table. In any of the two cases they will just make your wedding cake table look marvelous.
Wedding table themes for a stylish wedding
The way you arrange the wedding table plays an important role in wedding decorations. Given the fact that this is where your guests will be spending their time; you have to make sure that the wedding cake table decorations are up to the theme. If you have the services of a wedding planner; then speak to him/her about the kind of decorations you would like. Since there are so many ways that you can decorate your wedding table; we have come listed a few easy to use themes to give you a few ideas; to make your wedding table look stylish.
Winter theme tables
Winter theme tables can be a perfect idea for wedding. In case you are getting married in winters; then, these tables will enhance the beauty even more. The perfect color combination for a winter theme table is silver and white. To give a stylish look to the table add crystal and glass to the combination. Using branches, pine cones and white pearls will give a Christmas touch to the table. Lighting candles will provide feeling of warmth but comfort.
Bold theme tables
You can use a variety of colors in the bold wedding table decoration theme. Even the introduction of beautiful and bright colored flowers, centerpieces, napkins and table cloth will perfectly blend in. The table can either be round, long or rectangular. You can arrange different colored laces and ribbons on the edges of the table to give it a bold and beautiful look.
Nature theme tables
Almost everybody loves green. Making nature your wedding theme will soothe the wedding environment. you can place flowers in different color glass bottles; and ,arrange them as centerpieces. Occupying the table with juicy fruits like berries will make the table look delicious and irresistible for the guests.
Special table for kids
Kids are the youngest guests at the wedding; and arranging special tables for them is a great and fun idea. Even if the table is small in size; you have to make sure that children will find it appealing and attractive. For the centerpiece, you can place a bowl full of chocolates, wedding sweets and candies.To decorate kid's table use cartoon printed table cloths. Flowers again can form a part of their table. Adding some activity like coloring books and crayons, puzzles etc on display; will help to keep them busy. You can make them feel special by keeping some tiny toys like rubber elephant, dinosaurs and some cartoon characters on the table
The best thing will be to choose the theme, color and texture of choice and make your wedding dream come real.