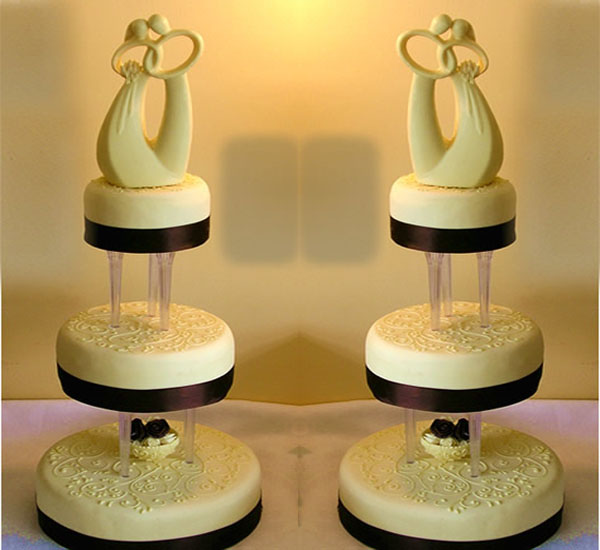 Wedding cakes are definitely the next best thing to happen at any wedding. A cake entry is that part of the wedding which everybody looks forward to. Guests often tend to judge a wedding by the décor around them, right from the setup arrangements to the cake. It is almost imperative to choose the best of everything; after all, weddings mark the most important day of one's life. Listed below are a couple of multi- tiered cakes which are eye catching and mouth watering. The wedding cake is not only supposed to match up to the theme of the wedding but also reflect the gorgeous couple's affection and personality. It is the one thing, through which the guest can know the true meaning of being in each other's company. It takes a lot to choose just the perfect cake. Take a look at the below listed cakes which you are sure to want to drool over and also have as a memoire.
Circle of love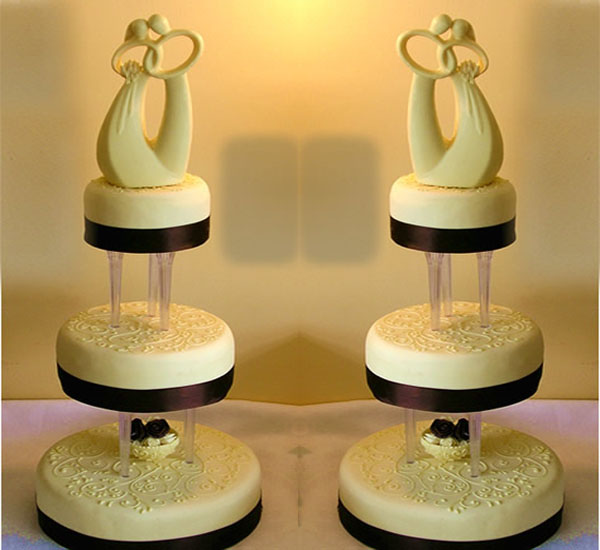 Marking the intertwining of two souls; this yummy, delicious cake is titled the 'Circle of love'. The cake's expert design will have everyone swooning on their feet as chocolate forms the base of the three levels. Make your guests long to get a taste of this mouth watering cake as it stands tall on three levels. The cake has been crafted out of white chocolate paste and a filigree design sculpted from solid 1 kg white chocolate, which is something you would want to take and keep as pride and joy, this completes the ensemble.
Hearts, flowers and crystals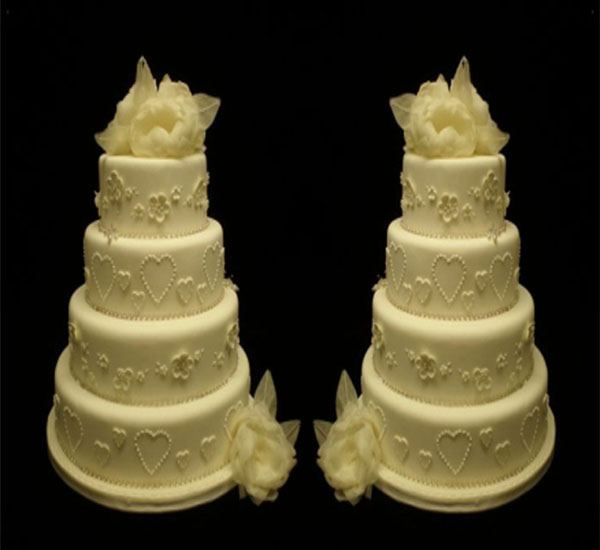 Hearts, Flowers and Crystals" wedding cake will lend an almost surreal charm to your nuptial decor. Beautiful, rich and traditionally made, the cake will have everyone struck with awe. You cannot be sure where to start from as your eyes get stuck on the four luscious tiers. Commemorate your D day with this stacked sponge cake and make eyes do a cartwheel in surprise. As the name suggests, each layer has been decorated with hearts, flowers and last but not the least, shining crystals. A special fabric flower has been fitted on the top to complete the amazing outlook of the cake.
Daisy wedding cake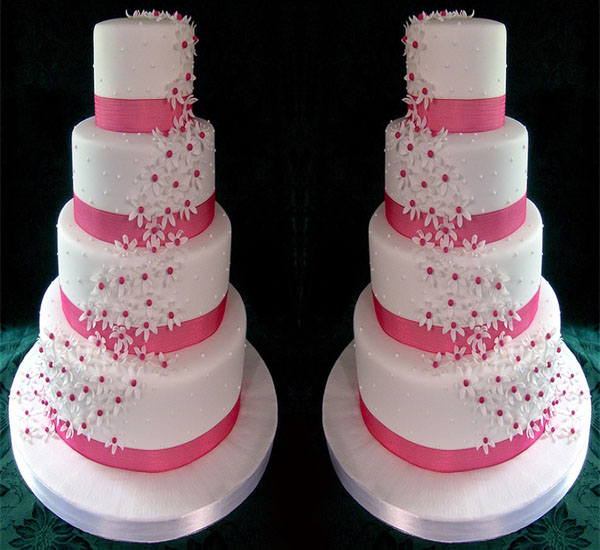 Daisy Cakes are a great picture of what you can do differently. Customized detailing is done on the cakes to create each bit out of this world. This wondrous, lush chocolate cake will make it worth your while.The cake has been embellished with a string of white flowers on all the four tiers of this elegant beauty and is perfect for a spring wedding. The bold use of pink and white on the cake would defrost all the tension in the air, exceeding all your expectations, .
Cake boss wedding cake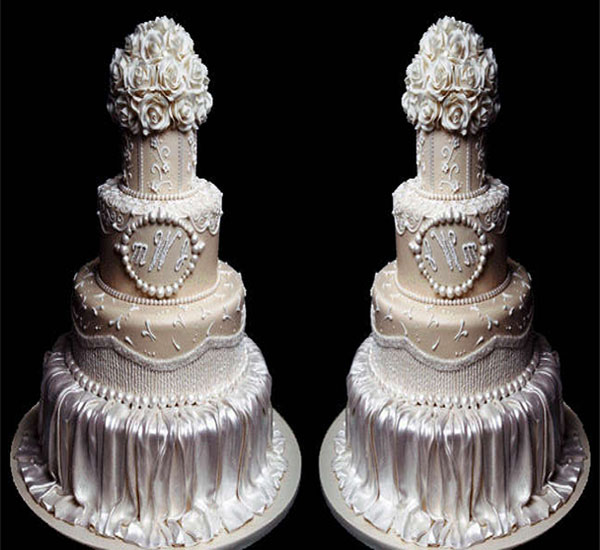 Who says you can't bake your cake and have it too? This is for all those enthusiastic ladies who want to make their wedding day really, really special. If you're ready to put in a little bit of extra effort by going an extra mile, then this is the ideal cake variety for you. Decorated with a flowing design, dress your cake with sweet, creamy chocolate and let the layers be smothered in a just a wee bit of extra whipped dark flavor. Deck this concoction up with a beautifully crafted flower bouquet and you would have a DIY cake for the wedding.
'Butterfly' wedding cake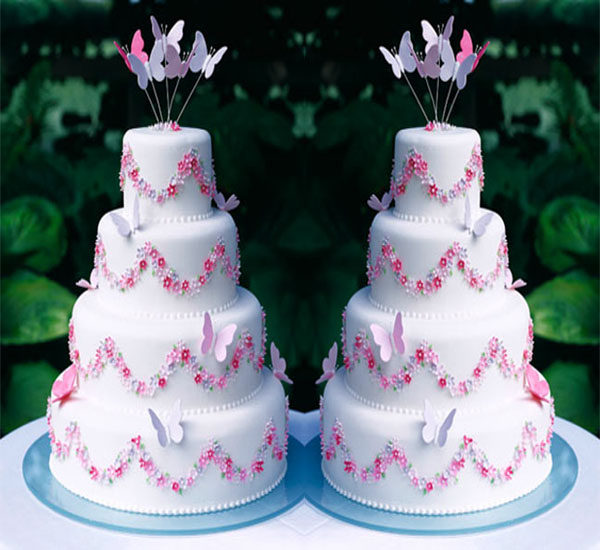 If you are planning a summer wedding, then the Butterfly wedding cake has to be on your list. The four tier cake is ornamented with sugar butterflies and flowers, all crafted by hand. These decorations give the cake a very dream-like appeal and will definitely attract a lot of eye gazing. The Butterfly wedding cake costs £1065 and will make every penny spent worthwhile. It is a blend of Madagascar vanilla beans and a vanilla bean butter-cream with raspberry preserves. It is a wonderful cake for the very feminine side of you.
'Ruffle' wedding cake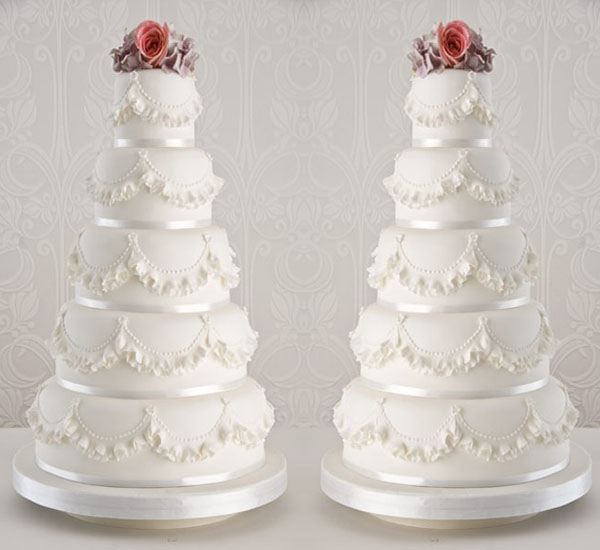 How about making your wedding scrumptious with a 5 tier cake? Just the thought would make you go crazy. The Ruffle wedding cake will blend coyly with its royal setup and shall make guests drool all over its yummy appearance. It is a highly elegant cake to look at. The ivory wedding cake is very attractive and the handcrafted sugar ruffles make it look all the more pretty. The cake comes stashed with a price tag of £1275 and the tiers measure 4″, 6″ 8″ 10″ and 12″. The top-most layer will be further decorated with flowers, which will add a little color to the ivory cake. The stunning part is the entire cake is made in white but the decoration on top is in a marvelous eminent color. The frills appear to be connected with pearls on each tier.
Black and white chocolate cake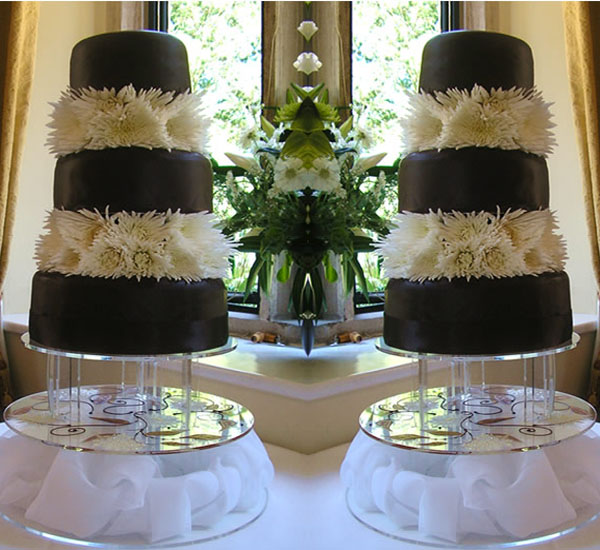 Surely you would not have seen a cake this unique in its design. The black and white chocolate cake comes enveloped with a very thick layer of pure dark chocolate. The rich chocolate cake will be nothing less than a dream come true for chocolate lovers. The good looks are further enhanced by the presence of fresh white flowers, all blending perfectly with the dark richness of the chocolate. The 3 tier Black and White cake measures 8", 10" and 12", excluding the pretty flowers. You would presume the white is, white chocolate. The flowers are neatly placed in between to separate the three layers of chocolate. There is quite a lot of coffee in the cake too.
Chanel Pearl wedding cake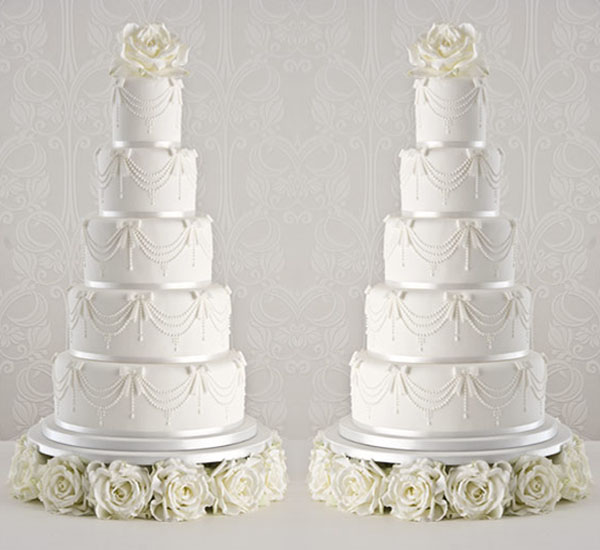 Chanel Pearl wedding cake will make your fairytale wedding worth remembering for years to come. Priced at £1275, it will be worth every penny spent as it mesmerizes every one present at the wedding. Nothing can quite match the exquisiteness and white color of this decked up beauty. It is further decorated with white colored fresh roses that will add a magical charm to the 5 tier wedding cake. The presence of sugar bows and pearls plus ribbon will make the 4″, 6″, 8″, 10″ and 12″ tiers a pure treat for the eyes. Within the cake is a mouth watering coffee flavor, amedei chocolate and orange butter-cream.
Fountains, lights and staggered tiers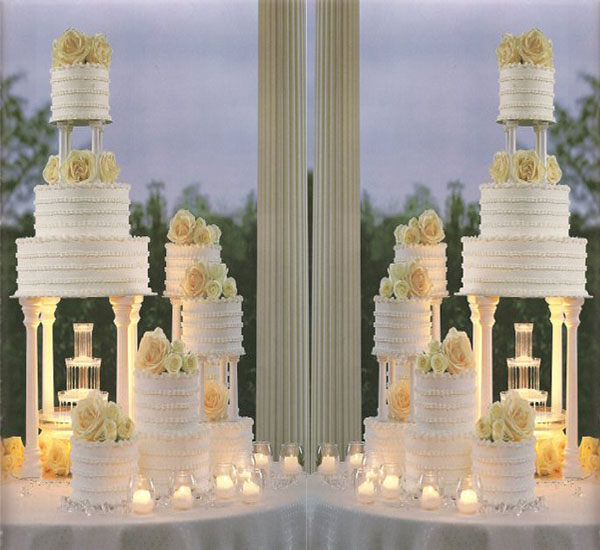 If you want to recreate a dull, boring cake into a really happening, trendy, sweet concoction, then you must spruce it up with a small colorful fountain. Make your wedlock ceremony the best to remember for the coming years. The small fountain will not only add a very subtle charm to your memories, it would also ensure the decoration looks perfect to the hilt. No more worrying over the expense, as it neatly fits into the moderate budget you may have kept aside for the wedding delicacy. Ensconced perfectly between a couple of pillars, the presence of the magical fountain would simply woo every onlooker around.
Silver Hearts and dragees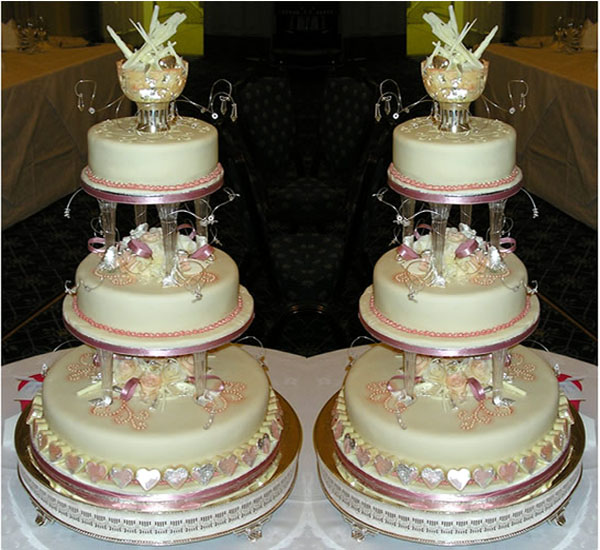 Bathe your cake in a serene white icing with this special version tiered cake. This 3 leveled beauty is bound to make everyone go crazy, guaranteeing a finger licking experience. The cake spells delicious in every mouth watering bite as it comes near yo perfection with handmade chocolate hearts, Marnier ganache, and a chocolate bowl on the top. Dig into this chocolate delicacy and let your dieting take a ride for one day. This cake has intricate designing on it. It is a cake so stunning you would not want to slice a bit of it. The hearts, roses and chocolate curls are all made in white chocolate. The basket on top, which seems to be the topper contains, white chocolate curls and silver dragees.