You've probably heard everyone say that a wedding is the most important day of a girl's life. But then the usual concept of a wedding with a long, flowing white gown no longer exists. Sure, you have people who do opt for the long gown, but there is a new breed of wedding gowns in the market. These are the short white ones, and you even have the short colorful ones. Here we give you a guide to the 10 best short wedding gowns in our opinion.
Spaghetti Straps Short Wedding Dress Knee Length
Price – $129.00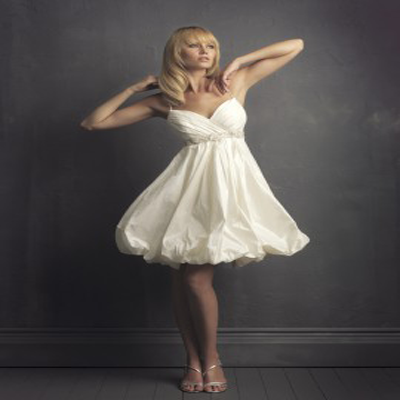 If you are looking for a sexy, tea length wedding gown for you, then you've found the right one! This gown has a cute little ruffle skirt and if you plan on having a beach wedding then you have the perfect dress.
This is the best dress for an informal, beach or a summer wedding. With a sweetheart neckline and an empire silhouette this is just the perfect dress for you.
The empire silhouette makes you look a lot slimmer than you really are. That combined with the neckline makes you look like you just lost 10 pounds!
Strapless V-Neck Beaded Satin Organza Short Wedding Dresses
Price – $159.98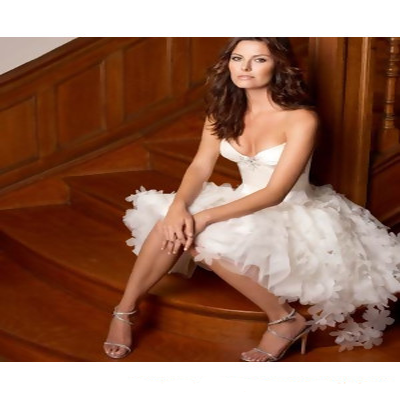 Ever seen the white swan princess in the swan lake? If you want to look exactly like that, then you should definitely buy this dress. The bodice is a deep v necked one, without any straps. There is also an embellishment made of beads on the mid neckline, this gives you the feeling of a princess. The inner skirt is made of satin and covered with layers of organza to get that volume.
The beaded embellishment along with the satin covering the organza really makes this a cut above the rest.
Although you aren't wearing a full length dress, this dress really makes up for it. It literally looks better than a full length one. Plus the volume added by the organza really adds a nice, snazzy effect to the dress.
Colorful short wedding dress
Price – $380.00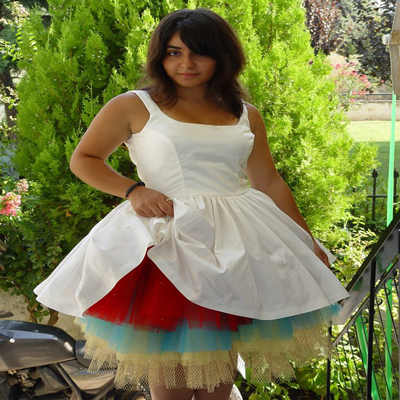 Add a little bit of color to your wedding with this dress. Although when you think of weddings, white is the color which comes to your mind. You can switch the traditional views up a little bit by this dress. It still holds the integrity of the color but it does look pretty with the colorful petticoat under it.
The colorful petticoat is not something which you probably have ever seen at any other wedding. So rest assures, you will have a unique dress, which everyone will remember.
The best part about this dress is that the petticoat is detachable. You can simply use it with some other dress!
Baby Doll Short Wedding Dress Simple Style Strapless
Price – $179.00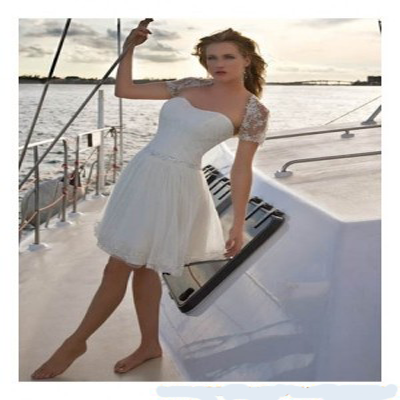 This gown comes in satin/ chiffon and is brilliant for any informal type of wedding. Combine this with a pretty shrug and you will have the most amazing wedding dress ever! The silhouette is a princess one with a sweetheart neckline.
There's something about the cut of this dress which makes it different from other wedding dresses. You can wear it either for an informal or even a formal wedding if you team it up with the right accessories.
The biggest pro is the sleeveless bit. If it's too hot, you can simply wear it as it is. Or you can buy a good shrug to go with it. Since, it's sleeveless; there are a number of things you can do to it.
Off shoulder straight neckline pink band simple short wedding dress
Price – $155.98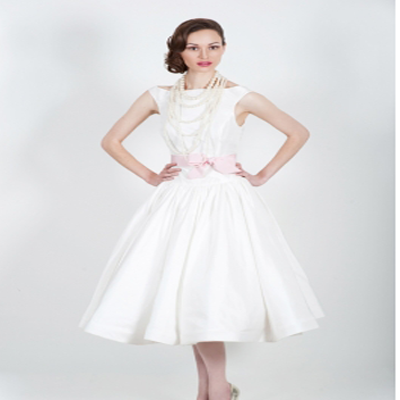 A straight neckline is always a classic one. Plus this never really goes out of style. This is an extremely simple wedding dress with a pink sash and a bow. The skirt style is also very simple.
This satin wedding dress is one which is probably never going to go out of style. This is the dress in which you could just never go wrong!
You can wear this dress after your wedding as well on any occasion! So you won't have to spend a lot of money for a dress you will just wear one time.
Ball Gown Tulle Short Wedding Dresses
Price – $168.00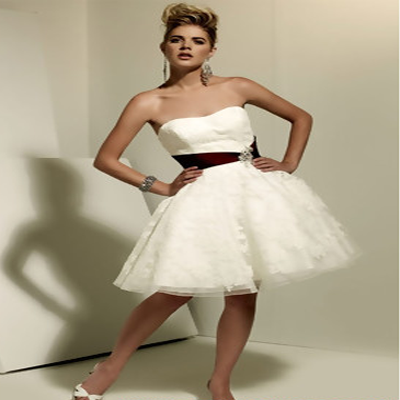 This is probably the cutest wedding dress ever. The organza just makes the dress look like its floating and the sash also adds a tiny bit of color to the white.
The most unique part of the dress is the sash.
If you don't want a really expensive dress but something which looks cute, then this will be the perfect choice for you.
Informal Mini Wedding Dresses Organza Strapless Short Gowns
Price – $153.99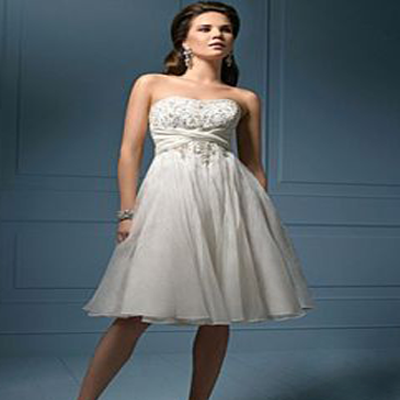 This elegant mini wedding dress has a timeless look to it. It is made of organza and has a lot of appliqué and beads as embellishment.
This wedding dress gives a classic and timeless look to the wearer.
You can wear this dress for occasions other than your wedding too.
Wedding Dresses
Price – $159.00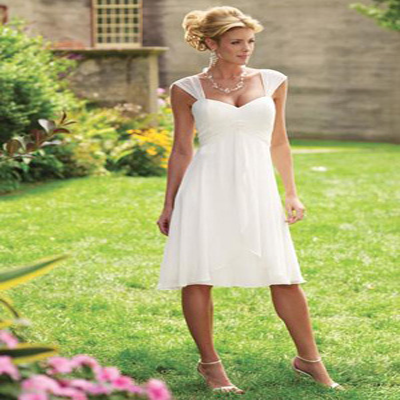 This dress is a corset style dress with a lack back up! The lace really makes the dress look different from the rest. The dress is made of chiffon.
The best part about this dress is the lace back.
The corset style used on this dress makes you look thin because it does pull back those extra pounds especially at the tummy.
Simple A-line only one shoulder chiffon short wedding dress
Price – $99.99
This chiffon one shouldered dress really makes a difference to your appearance. This has an A line silhouette along with a coffee trim.
The one shouldered coffee trim really gives the dress a bit of personality.
This dress can be worn at a formal as well as an informal wedding.
A-Line Strapless Knee-Length Short Wedding Dress with Crystal
Price – $317.00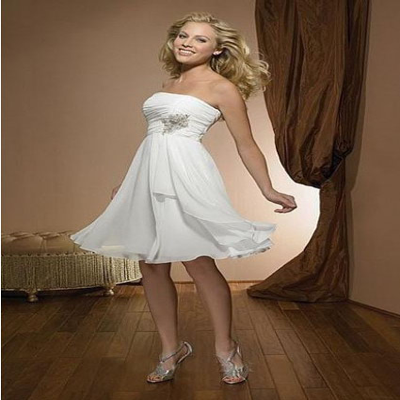 If you need a summer or a spring wedding dress then look no further. This strapless, knee length wedding dress is a cut above the rest. With a crystal embellishment, the dress just fits your body completely naturally.
The crystal is probably the most important part of this dress.
Irrespective of the type of body shape which you have, this dress is sure to make you look 2 sizes smaller. Plus people won't be able to take their eyes off the crystal and you will be the most shinning brides ever!