Vintage clothing are the new or second hand garments, originated from 1920s to 1980s. Usually, vintage style refers to clothing that represent the style of a previous era. Most of the vintage clothing has been previously worn by someone, but a small percentage are fresh. The fresh ones are consider much more valuable then the used ones, especially if they are bearing their original tags.Vintage wedding gowns are very elegant and gives an ethnic look to the bride. Every bride wants look best on her D-day.
If you are going to have a vintage style wedding, here are some choices for your wedding gowns.
1. 1956 Priscilla of Boston Wedding Gown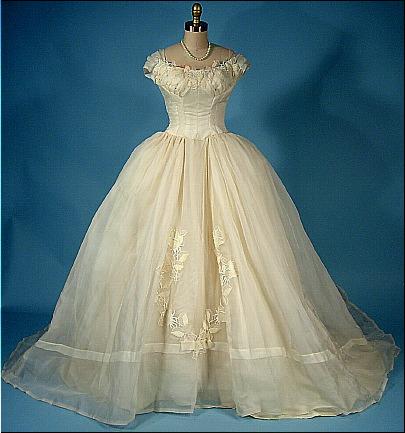 Price: $ 1, 585.
Priscilla of Boston wedding gowns are made up from the most exquisite fabrics and embellishments. Around 1956 due to the popularity of this gown, every girl wanted to be a Priscilla bride. Priscilla's gown stood up to all quality tests and remains the hallmark of bridal elegance in the international market. This is one of the most fabulous and striking apparel which has off-the-shoulders with tight bodice with massive skirt with appliqued floral work at front. you are surely going to need a helper as there are 51 buttons up the back.The gown comes with its original stiff half-slip and has built-in hip panniers to create that wonderful umbrella shape.
Product USP: The whole gown is done with Massive Ivory Organdy with Original Slip and simple pearl and sequin headpiece.
Measurement of the gown: 32/33″ bust (small back 12″), 23″ waist, 44″ long from waist to hem in front, 54″ long in back.
2. All Lace Princess Trained Gown with Wool Inserts (1908 )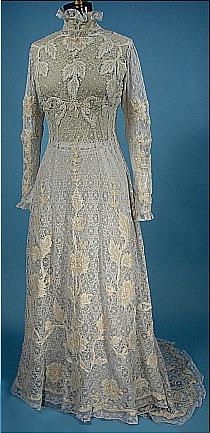 Price: $ 2, 485.
This princess shape gown is covered allover with spider lace, with high frilly lace neck and train. Hooks up the back. Since this gown is is short, a slip with lace at hem that peeks out the bottom will needed if you are tall. The neck and sleeves of the gown are tight.You may require to add a bit of lace to get it fit you. If you really want to go for a lace gown, you will certainly not find anything better than this.
USP of the gown: The inserts are a woven ecru wool which is rare to find.
Measures: 33″ bust, 27″ waist, 53″ long from shoulder to hem in front, 67″ long in back, 11.5″ neck, tight arms.
Pros: Elegant gown with lots of delicacy.
Cons: Especially tight neck and sleeves may trouble you.
3. BOB MACKIE/RAY AGHAYAN Halter Gown(1970)

Price: $ 1, 865
This is a perfect wedding gown, having fortuny-like pleating with halter neck with that marvelous short gathered material above the rope tie, a simple waistline, and a faux 4-tiered skirt. The halter ties of the gown are long enough then to wear just tied in a bow at the back neck, or you can wrap it around the bodice in Grecian style and tied at the front or side. You can make this up with a short diamond necklace/belt, or anything else you would like to go with it. The gown will speak itself as you put it on!
USP of gown : Off-White gown with Fortuny Pleats with Convertible Grecian Design ,
3-layers of fabric in the skirt. Back zipper hidden by snaps at back
Measures: 34″ bust, 24″ waist, 59″ long from shoulder to hem.
Pros : If your waist is larger than 24″, you can be creative at the back and add a gathered chiffon train starting at the waist
Cons: The gown has no additional ornamental appearance in it.
4. Wedding Gown of White Lace (1930)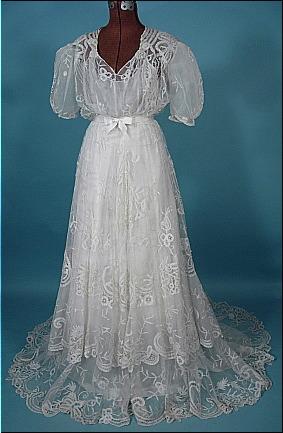 Price: $ 2, 345
The "v" neckline was created by turning some of the lace under to give the gown a typical look of 1930s/1940s era. Matching dress clips or ornaments will add a pinch to the gown. The white rayon slip is shorter than the gown to give a prominent view of lace. If you prefer the slip match the length of the gown, you need to add some additional material under beneath. Side snap closed.
USP: The gown has unique history with white lace of 1905,design of 1930 and the white rayon slip is newer than 30s.
Measures: 32/33″ bust, up to 24″ waist, up to 34″ hips, 58″ long from shoulder to hem in front, and 76″ long in the back.
Pros: This unique gown will gives you a much more ethnic look.
Cons: Being a 1930s gown, these are usually hard to wiggle into due to the side openings.
5. MAISON DOUCET, SWI Beige Lace Gown with Matching Jacket (1931/32)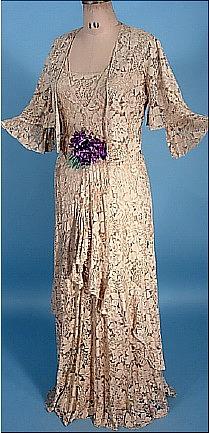 Price : $ 1, 885
This gown is comprised of beige lace slender, bias ruffled skirted no sleeves. This is a 'U' neck gown with high draped back neckline with china silk underlay. The matching short lace jacket with no closures is an additional part of its beauty. You can added the ribbon and flowers at waist for show and to make it more fancy.
USP: The gown has a gorgeous appearance due to its antique lace.
Measures: 34-36″ bust, up to 31″ waist, up to 40″ hips, 56″ long from shoulder to hem.
Pros : You can remove the nude china silk lining and can use your own slip/skirt under.
Cons: This gown of 1930 era is very rare and hardly available in the stores.
6. ALBERT CAPRARO COUTURE Dusty Pink Silk Trained Wedding Gown(1981)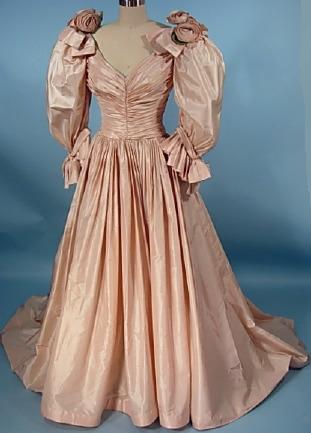 Price : $ 1, 895
This is an exceptional dusty pink silk taffeta gown with huge matching silk roses and bows at shoulders and cuffs. If you wish, you can easily remove them. The bodice of the gown is is low cut with a massive skirt. A metal zipper is present at back.
USP: This gown resembles the same as Lady Dyna wore on July 1981, when she married to Prince Charles.
Measures: 32/33″ bust, 25/26″ waist, 57″ long from shoulder to hem in front, 74″ long in back, 285″ hemline.
Pros: The gown will give a princess look.
Cons: You may find the gown a bit heavy due to its massive skirt
7. Wedding Gown of Ivory Silk Satin Trimmed in Silk Floss Fringe(1880)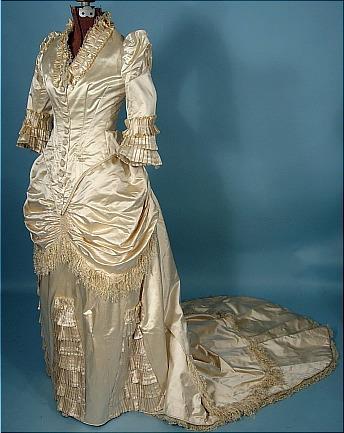 Price : $ 1, 645
This is a two piece gown with an extreme long pointed bodice. The gown consists of a wonderful ultra-long pointed bodice, double draped apron, silk floss and chenille fringe and long train.The gown has some other fabulous details in it like highly puffed shoulder sleeves, pleated skirt inserts and triple pleated cuffs.
USP: Dorset crochet covered buttons gives an unique look to the down front from other gowns.
Measures: 31/32″ bust (10″ across back), 25″ waist, 40″ long skirt in front, 74″ long in back.
Pros: The fabric of the gown is strong and remains like new for years.
Cons: If you are looking for a fancy gown, this will not fulfill your need as much.
8. Wedding Gown 6-piece Outfit with Original Wedding Bustle, Shoes, and Garters (1894)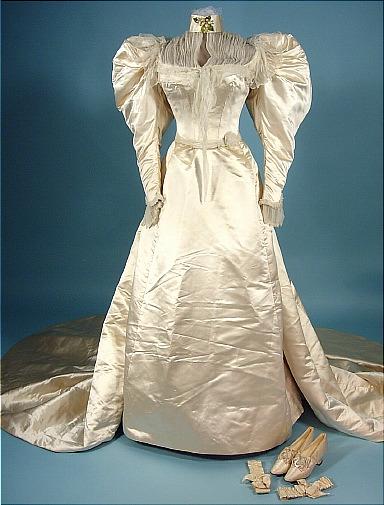 Price : $ 2, 485
This is a beautiful ivory silk satin gown. Comprises of high neck bodice with huge sleeves, front chiffon inset at yoke, waist and cuffs.The skirt is gathered at back with about 8-foot train. Flounced and ruffled petticoat is there under hemline.
USP: The comes along with the original satin pump shoes and two original bowed satin garters. It also has an extremely rare and expensive ivory silk lace trimmed lobster tail bustle.
Measures: 32″ bust, 23″ waist, 10.5″ across back (!), 54″ long from shoulder to hem.
Pros: The gown has family heirloom lace which can be removed to be use for another family bride
Cons: Due to the size of the back, not comfortable with everyone.
9. Wedding Gown of Bias White Satin, Trained with Lace Bodice(1930)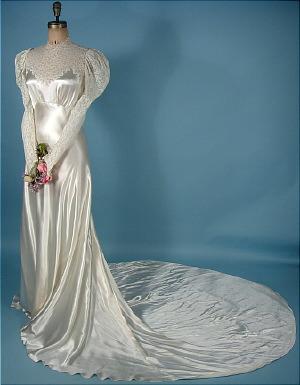 Price : $ 1, 685
This is an authentic classically styled gown with an understanding of elegance. Having a long dramatic satin cathedral train with laced puff sleeves, neckline and back. Sleeves taper and fit the elbow with darts, and end in a point at the top of the hand. Self-fabric covered buttons (44!) at back and the sleeve ends (8 on each sleeve).
USP: It has a modern slimness, and is figure-revealing because of its sexy bias cut.
Measures: 34/35″ bust, up to 28″ waist, up to 38″ hips t, 115″ in back.
Pros: The white crepe-backed silk satin material of the gown will give you a luxurious feeling.
10. Wedding Bustle Gown of Ivory Satin with Pearls and Silk (1882)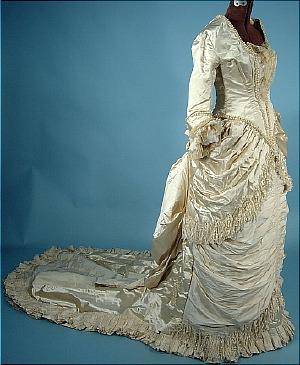 Price : $ 2, 450.
This is a gown with back lacing and long train. It is a wonderful ivory satin wedding gown trimmed in faux pearls, great silk floss, fringe and lace. This is a one-piece gown with an attached inner slip with as cotton lined bodice.
USP: This elegant gown is nearly 127 years old.
Measures: 36″ bust, 24.5″ waist, 13″ across back, 42″ long skirt in front, 78″ long in back.