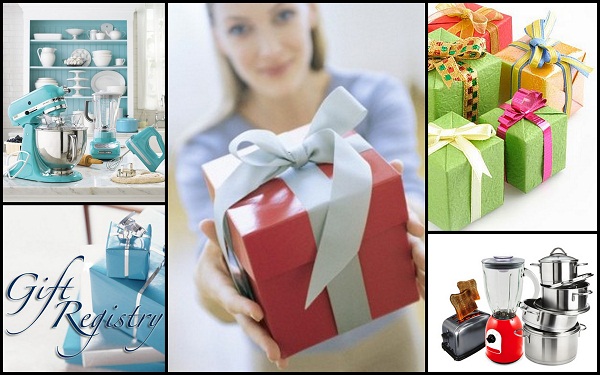 More than knotting up the ties, wedding is also about celebrating the auspicious day with gifts. Wedding gift registry is a best way for your guests to identify your gift preferences. The service generally provided by websites or stores share the list of items you need as a couple to start your newly wedded life with your guests and make easier the gift selection process for your loved ones. Guests often give guests which the newly wed couple has to either exchange or give away. A wedding gift should be appropriate enough for the couple to use in their new home. While this helps guests to choose appropriate and useful gifts for the wedding, you also don't get to drown in the pool of unwanted irrelevant gifts. Therefore, keep these enlisted details in mind when you are planning to draft a bridal registry for your wedding.
1. Early registration
Registering for bridal gifts should be done as soon as your wedding date is fixed. Don't wait for too long because your friends and relatives will already start buying gifts for you soon they hear you are engaged. If you aren't exactly sure what things you need for your wedding, you could seek out for other couples to get an idea.
2. Decide the list together
Now that you have registered yourself, it is time to establish an intelligent inventory of wedding gift items. Discuss all the items with your partner before including them in the registry because both sides count. Split up the decision based on your personal knowledge, for e.g. as a bride, you could decide about kitchen stuffs and let the groom decide what he needs in electronics.
3. Choose as per your need
Don't be confused on what should you choose as an expected wedding gift, rather choose whatever you want. Most stores have arrangement for wedding registries these days, so include whatever you feel like including, however inquire for its price range and return policies.
4. Include necessary gift items
Instead of filling your list with needless items, prioritize those items you think you certainly will be making use at your new home. Focus on needful items than the compelling items. Remember, once you have your name on it, you might not be able to return it.
5. Care for your guest's pocket
As a bride, you might feel like getting all the expensive gifts available at the store as your wedding gifts. But, make sure to hit all the price points say items under $50 or $100 and likewise to let your guest choose the gift, they can actually afford.
6. What about gift cards?
Undoubtedly, every couple prefers cash over physical gift items. But, asking for it sounds odd, Right. Then, you can try gift cards, which allow you to buy gifts, you need later. There are many stores that let you register for them and offer buying items for the cash; you have received in your wedding.
7. Checking the return policies of stores
Before designing your list, inquire about the exchange and return polices of the particular store, you have registered for. Having an exact knowledge about their policies will help you plan and manage your registry in a better way.
8. Place your list online
you should make available all your registries online, so that your guests don't have run from stores to stores to give a generous gift. Furthermore, ask for the stores to facilitate purchasing gifts over the phone or by fax to make your guest's work less daunting.
9. Keep updating the list
To avoid getting same gifts from two different people, you should update your registry profile often. Sideline all the purchased items, allowing your guests to purchase something new for your wedding.
10. Be thankful
Finally, never forget to leave thank-you notes for your friends and families after their gifts have arrived with their names on it. This shows you care and loved the gifts they chose for you.