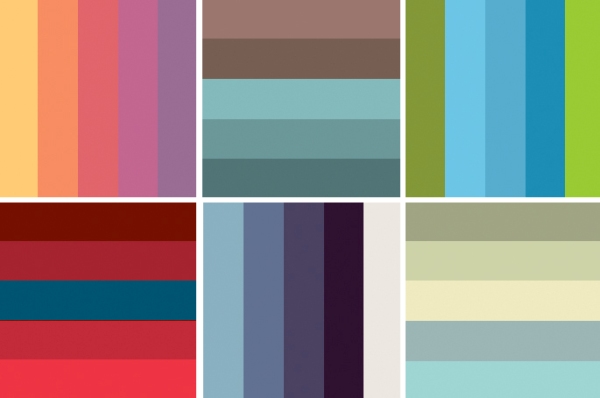 A perfect color palette at your wedding day not only reflects the elegance of the wedding theme, but equally helps in accentuating the visual unity of the entire event. As they say, "right color sets the right mood". Selecting a recherché color theme for the wedding might seem like a challenging task but it is not as difficult as it looks like. Here are some ideas to help you design a beautiful wedding theme.
1. Choose according to season

A Season inspired theme always helps. Decide the color palette of your wedding ceremony according the season. While pink stays to suit each season, not all can colors buff and be playful for different seasoned wedding theme. For instance, light pastel colors such as white works perfectly in the summer, while dark colors such as burgundy or royal blue magically enhance the tone of any wedding happening.
2. Color palette should complement the wedding venue

Focus on the site or location, where your wedding is planned. When deciding the colors, choose colors that go with the backdrop of your wedding. For example, if your wedding is nearby the sea, the prominent color should be blue as this will provide an incredible outlook to the wedding. Similarly, if you are getting married at a country club, colors like lime green or hot pink will certainly look washed out or over-flashy.
3. Research work

Whether you are a visually intelligent mind or not, a little research on different color palettes recommended for wedding won't let you down. Browsing art galleries or borrowing ideas from fashion or interior design magazines helps you draw off irrelevant color combinations and outdated wedding themes.
4. Choose an extra hue

Sketching a color palette becomes more daunting, when you realize there could be several shades and hues of the color you just chose. For example, green is available in different hues such as sage green, forest green, or lime green. Therefore, organizing different swatches or chips of colors from your nearby fabric store helps you to be specific on what colors you might use at your wedding.
5. Use online tools and websites

There are many websites that provide interactive color wheels and allow virtual room painting such as Behr, Sherwin-Williams, etc. Visit them as they are acquainted with a lot more colors than you could ever be. Making your wedding look visually exquisite demands choosing colors that appeal to every eye. Thus, make maximum use of these referred websites.
6. First the dominant hue, and then the accents
It is always helpful to pick a general color first and then decide on what shades and tints to use that will naturally complement it. Like, if you have chosen royal blue as your dominant color, white or aqua detailing might work.
7. Mood enhancing colors
Colors you choose at your wedding play an indispensible role in setting the mood and environment of the ceremony. Decide what emotion you want to reverberate at your wedding – a regal, romantic celebration or a high energy party. While, vibrant colors such as summer yellow add up drama, peaceful colors like royal blue charm up elegance.
8. Pairing the right colors
When choosing colors, ensure that the intensity of the dominant color and accent color matches perfectly together, else your wedding color palette will speak different wavelengths.
9. The importance of flowers
Whatever wedding colors you have in your mind, your wedding will not look impressive without flowers. Choose your favorite flower as your base color only when they suit the wedding palette. Otherwise, leaving them off would be a good option. While picking up the flowers, prioritize those flowers that offer myriad petal picks. For instance, blue flowers are limited than the red ones. Therefore, choose wisely.
10. Making notes
Don't be hazardous with your selection, choose color combos that express your style and reflect your feeling. Note them out and edit when necessary.
11. The lightning effect
Appropriate lighting is the key to show off your wedding style. Just imagine, you have placed an exquisite art piece beautifully complementing your finalized color palette near the back entrance, but nobody noticed it. So, to avoid going your efforts unnoticed, make sure to talk with your event manager about the places you need extra accentuation.
12. Accessorizing the wedding venue
As important as it is to get the venue decorated, don't forget to accessorize it with appealing china pattern and colored glassware. The tables and chairs utilized in the wedding should also be overlaid with same colored pattern.
13. Applying variations
If your wedding is organized in a multiple room recreational place, applying variation could be a good call. Let each room have its own palette, but apply the same consistent color that you have chosen for the main wedding hall.
14. Impact of different colors
Although, there would two or three colors assigned as your wedding palette, don't repeat them everywhere. Wherever there is a room for variation, don't hesitate. Nevertheless, ornate display must talk sense with the dominant and detailing colors.
15. Making the final choice
Before approving the palette finally, make sure the wedding color palette and bridesmaids' dresses complete each other and don't look like a moving kaleidoscope. You being the bride, it is always going to be white for you, and that makes your work a whole lot easier.