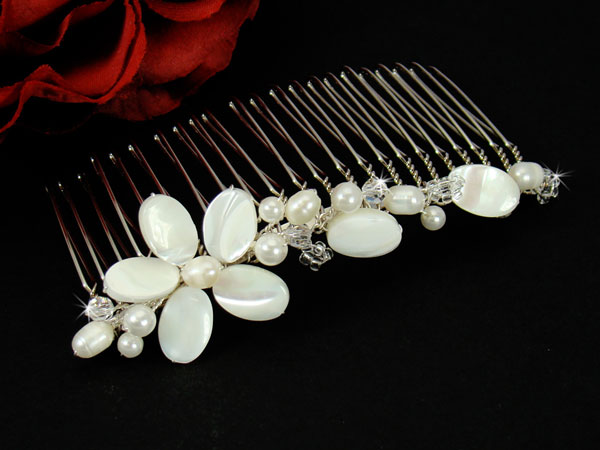 Beach weddings call for a relaxed celebration mood. Matching up the attire and the looks of the bride, with the theme, is of much significance. While the bridal dress would not be as much of a trouble with the wide variety in styles, design and looks, hair styling can a be a tricky task to handle. Before deciding upon a wedding veil or a high end styling, make a note of the wind and the havoc it can cause thus spoiling your looks. A simpler option would be to go for a relaxed, simple yet stylish look with the choice of hair accessories. Listed here are a few hair accessories you should choose for your beach wedding.
1. Hair comb or clip
Roll your hair up into a bun or chignon and decorate with a pretty comb or clip. Keep in mind that the comb should be there just to beautify you and not to hold the hair in place. A good idea is to play up the theme of the beach with your accessories. Your clips could be little sparkly star shapes indicating starfishes and pearls would have the sea written all over it. There are plenty of designs and prices available so, shop for what suits you and makes you happy. If you have short tresses, then clips are perhaps your best option. Clip a small portion of your hair from the sides of your head for a pretty look. You could also go for a fun/ modern headband that accentuate your gown/dress.
2. Tiara
A Tiara could be a beautiful addition to your look. As you have signed up for a beach wedding, keep the tiara's design simple (yet elegant) since you don't want to overpower the laid back beach atmosphere. Get a tiara that is sprinkled with pearls and crystals for the best beach wedding look. Wearing a tiara can compensate well for not wearing a veil and if the tiara is vintage, then, a part of the old adage ' something borrowed' couldn't turn out to be even more special for you.
3. Flowers
If you want to go natural, or want a 'less made- up' beautiful look, flowers are the best. You get to buy a whole range of silk flowers and select one which you like the best. By the way, make sure it beautifies your face! Either go for a white or cream blossom or even a little bout of color will look good. Colorful irises and tropical orchids are quite popular with brides. Another option is a face-head net band. Opt for this one if you can pull it off. It adds a little bit of mysterious charm to your face. Pin it up on your head with a sparkly brooch.
It would be just perfect if you get vintage accessories. A good blend is to have one or more of peals, rhinestones, and platinum, a little silver and Swarovski crystals on your wedding hair accessory.