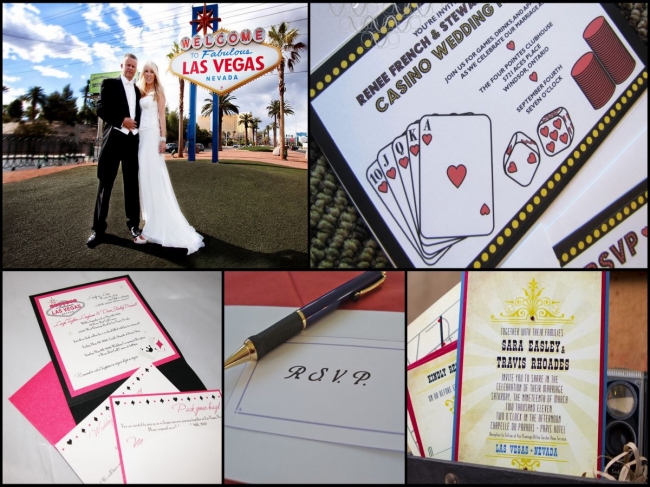 Las Vegas is one of the most popular wedding destinations; everyone just loves this fabulous city. If you have picked this place to get married, then you will like to add the touch of this stunning city even to your wedding invitations. There are a number of wedding invitation themes which which can attract anyone. Some of the most popular Las Vegas wedding invitation ideas are given below. However, the most important things that you have to keep in your mind while opting any particular idea is to keep your theme consistent.
1. The traditional sophisticated style
You won't come across many people who will suggest you to go for the traditional sophisticated style of wedding in Vegas because of the fact that the atmosphere there is too gaudy to suit such style of wedding invitation. However, invitations that boast black and white prints of the city defy such opinion. Not only these black and white photographic invitations with translucent overlays give the neon lights of Las Vegas a feel of romance and elegance, but also provides your invitation a touch of style. Red and black is best suited for sophisticated color scheme. Besides providing a modern and bold look to your invitation, this color combination will also invoke the vibe and flamboyance of this city. In fact, this color combination can be added to the entire wedding theme complementing the all white scenario. Contrast is perhaps the best way for making the sophisticated Las Vegas wedding invitations.
2. Invitations boasting Las Vegas landmarks
One of the most popular theme for Las Vegas wedding invitations is the one which highlights the stunning landmarks of this beautiful city. For instance, try adding the image of Bellagio's famous fountains in your wedding invitation. The Luxor's towering sphinx or an image of the entire Las Vegas trip will also look great. Adding the iconic "Welcome to Fabulous Las Vegas" sign is also great idea to adorn your wedding invitation. There are a number of other invitation styles featuring the famous landmarks of Las Vegas which you can find on the internet. The Las Vegas postcards will do great, not only these are inexpensive, but also you'll get a wide variety of pictures to choose from. On the back of these post cards, you will find sufficient room form invitation wording. The added expense of envelopes will also be eliminated. Your guests will definitely want to be whisked away to such a fun locale, once they have received their postcard invitations in the mail.
3. Decadence and indulgence
If you are having your wedding in Las Vegas, then you'll certainly want to add the touch of decadence and elegance for which this city is famous. And what could be better than your invitation to start from because the invitations are the first part of the wedding that your guests will see. Embellishments are perhaps the best way to do that, start by adding any of the extra features like lace, crystals, satin, velvet, ribbon or glitter to your invitation card. Invitations with textured cardstock or embossed letters can do the trick for you. Your invitations don't have to be expensive, you just have to add several elements together to make it look expensive. Your local craft shop can provide you with the right materials like the fabrics, cardstocks and adornments. Do few practice runs and eventually you will come up with a design that everyone will love. For instance, an invitation placed inside a black overlay velvet pocket which has been designed to look like a tuxedo will immediately give your guests the idea that you are having a "black tie event".
4. Casino theme
The first thing that comes into our mind when we think of Las Vegas is the casinos and therefore, the casino theme is one of the most popular and diverse Las Vegas wedding invitation ideas. You can find a large variety of invitations that sport cards, slot machines, sports dice and poker chips. Consider using an invitation in the shape of a giant playing card or a slot machine, a roulette wheel is another great option with the numbers on the wheel substituted by a message on your invitations. Try adding fun casino themed details to your handmade invitations. For an extra touch, tie a ribbon around the invitation.
5. Cheese tastic
This theme is best suited for those who love the out-of-the-box lifestyle. Milk the flamboyance of Las Vegas for all it's worth, thus giving your invitation a funky look. With the help of lots of glitter and bright neon colors, recreate the sizzle of Las Vegas nightlife. The pictures of the most garish neon signs will be best suited for adorning the fronts of your invitation.