The SS19 catwalk included its fair share of pretty, traditional designs including feathers, ruffles and bows alongside sharper, sophisticated designs. Whilst white still took centre stage, it was complimented with other colours, patterns and motifs such as florals which work beautifully in spring.
Spring summer trends for 2019 are expected to move from traditional muted tones towards bolder colours and prints, with some renowned designers even taking a step away from bridal white, to showcase wedding dresses in a variety of colours.
Whilst you may you choose to stick to a traditional wedding dress, choosing a colour scheme for your wedding is an important decision as it will influence the finer details and finishing touches for your big day; from bridesmaid dresses to table centre pieces and even the venue that you choose.
1. Blush pink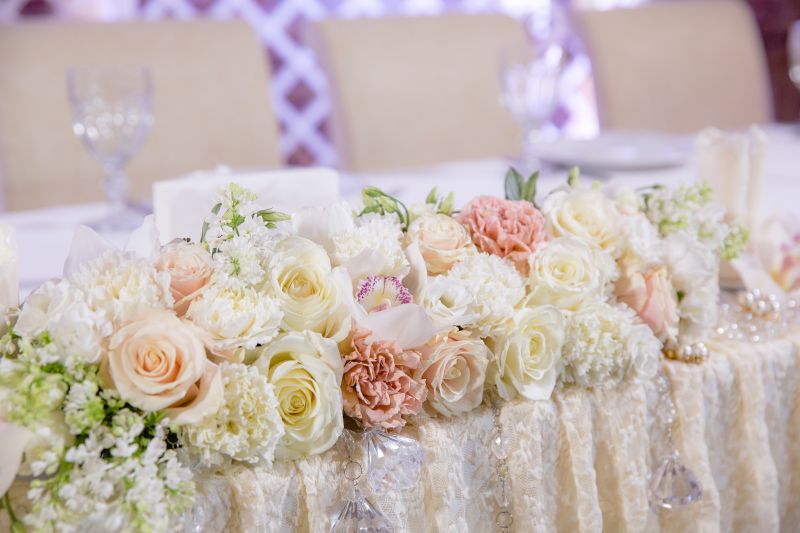 Blush pink is an incredibly popular colour scheme for spring and summer weddings, it works really well with such a wide variety of other colours and so the possibilities are endless. It can be paired with other muted shades, such as dusty blue, sparkling shades of silver or left to speak for itself.
Blush pink and floral leafy motifs go hand in hand, in keeping the scheme chic and fresh; for example, for bouquets and centre pieces, sit sophisticated blush and white flowers on top of a vibrant green leafy base. Pink tones also make for stunning bridesmaid dresses that are sure to complement your white or ivory dress perfectly. A blush colour scheme will create a dreamy feel to your wedding, be it indoors or outside.
2. Mint green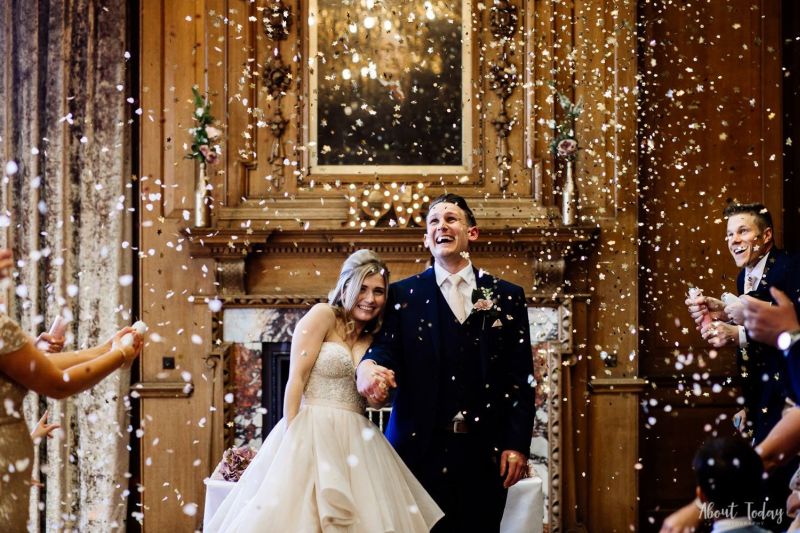 Mint is a delicate shade of green often associated with spring and summer. It is both calming and fun and is complementary of a wide range of other colours. Mint works well with gold tones; the elegance of gold really brings the mint to life. A great way to combine these shades is to have mint green as the base colour in your scheme with hints of sparkling gold interweaved throughout. Gold is a great choice for smaller accessories such as cutlery and table ornaments and stands out when placed on the mint green base.
Mint coloured bridesmaid dresses look stylish, and the colour suits a variety of skin tones, so everyone will be pleased. To tie the theme together, look to delicately integrate touches of gold into the dresses, by either adding a sash or accessories such as clutches and shoes in a gold hue.
A mint and gold combination will assist in creating a luxurious feel on your big day and works especially well for indoor venues. Gold, being such as sophisticated and classic colour best suits luxurious, traditional venues. For a location that gives off an air of luxury, check out York wedding venues, for the perfect backdrop for an unforgettable wedding.
3. Bright yellows and pinks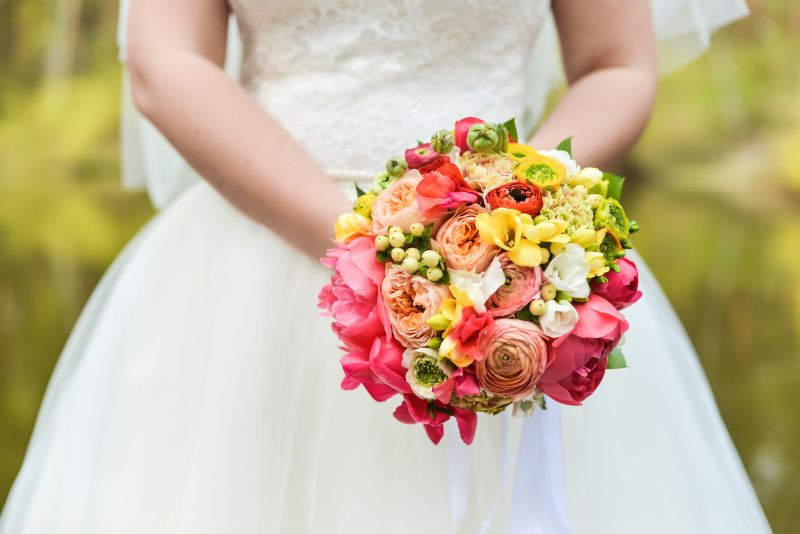 On one hand, spring and summer are a great time for dreamy, pastel and muted colours but on the other, a summer wedding is a great excuse to have some fun and unleash bright, vibrant shades. If you're looking for a vibrant colour scheme, a peach or pale pink base is a good choice for bridesmaid dresses, and you can introduce brighter colours in through accessories.
Bouquets of coral, orange, pink and yellow flowers look fun and stylish in the summer months and work brilliantly for outdoor venues. Brighter colours also work well if you're looking to create a country chic feel. The rustic theme is very popular for outdoor weddings; think summer garden party. Mixing bright colours and flowers with wooden furnishings complement each other to bring the rustic vibe to life.
Final Words
The options for wedding colour schemes are endless. When choosing yours, although it's nice to consider trends, make sure your decision is reflective of your personality and complements your venue choice.
You may wish to decide on your dream wedding venue first, before selecting a scheme to match, or  alternatively you may want to go down the route of designing the whole day, including finding a venue, once you have opted for your perfect colour scheme or wedding theme.  Certain venues do already elude to certain themes, so it is worth being mindful of this when planning your big day! 
Article Submitted By Community Writer