Planning for a wedding is always fun filled despite the exhausting hours invested in its final transformation into a beautiful setting. However, It needs careful and aesthetic planning with coordination of various ideas, theme and color scheme of the whole wedding. Once your reception setting is tastefully done up, your prime focus should be on the main table decor. If this is well brought together, there will be much appreciation and overall good feeling among the guests. Here are 4 tips on creating just that awesome, breathtaking decor.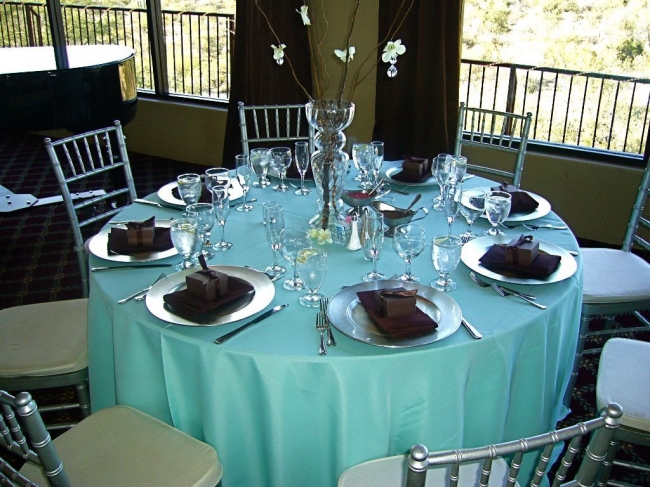 1. Seasonal flowers
Depending on the season, you need to plan your flowers for the decor. During spring and summer, there will be many varieties of flowers to choose from. Although placing bowls of flower blooms in the center is the traditional way, there are many ways you can get innovative as far as possible. You could use potted plants or even artificial flowers if you want less time spent in hunting for fresh flowers. Decide which flowers complement each other and try to stick to two color scheme only. Make sure that the fresh flowers are durable to withstand the length of the ceremony. You could also sprinkle flower petals and leaves on the tables for that woodland refreshing look. Keep in mind that the flowers must coordinate with other table accessories like ribbons and candles.
2. Table decor
Coming to your accessories for the tables, you need to keep in mind that less is more and simplicity of elegance should rule the day. The tags and favors for the guests must be in harmony with the flowers, napkins, menu and cutlery. For adding that touch of magical light, you can use scented candles in crystal holders or jars. You could also place glass bowls holding floating candles in discreet locations on the table. Twinkle lights could be sparsely wrapped around the wedding tables for a soft, elegant lighted touch. Another idea is to place decorations which can double up as favors for the guests.
3. Color coordination
Choosing the color scheme is very important for the success of the overall operation. Color coordination depends on the size of the room in which the reception is being held. If the room is spacious, the color scheme has to fill up the room in order to break the monotony. Here you can choose two colors of complementary intensity. They must harmonize with the rest of the decor in that area. If it is color play of cheerfulness you want to project, then decorate with many colors keeping in mind not to tend towards the garish effect.
4. Couple's table
Finally, the couples table has to stand out in one corner or blend in with the rest. However, it needs a touch of difference in its setting. It must be properly lighted with candles, creative vases with the couples choice of flowers in harmony with the rest. The table can display the couples own monogram bouquet, photos in vases or a collage with other dominant materials. There could also be small figurines of the couple, confetti and flower petals.
5.Go green
You can also go green with the reception décor by polishing river rocks in beautiful colors. This is the most inexpensive and Eco friendly wedding reception table décor idea. River rocks, bowls & floating flowers are easy to assemble and has a very natural look. You can also match them to any color scheme.
You can also let your guests write lovely wishes and inspirational words for you and they will always remember you of your happiest moments in life.