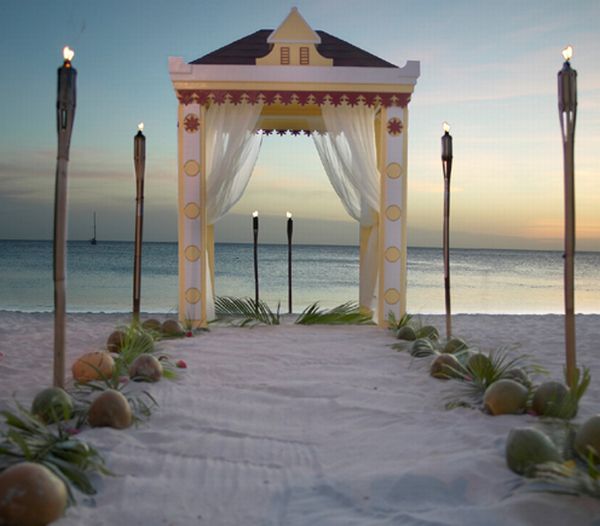 Destination weddings are becoming a fashion these days. Most of the couples who are planning to get married think of a unique romantic location to tie the knot. There are various advantages of getting married in a popular destination. The most important thing is that it can give you a change from the traditional set up of most of the marriages that take place in the same church in your locality. You can add some spice to the whole event when you go about the planning and eventually get married in a whole new locale. Apart from that, the guests will also be entertained in a different manner along with having a wonderful picnic. If you are planning to get married in a similar way, here are 5 best destinations for romantic weddings.
1. Bora Bora
Bora Bora is certainly a heavenly island perfect for a destination wedding. The destination is well known for its over-water bungalows that float over the gorgeous coral reefs. Bora Bora is one of the most famous islands in the world. The magical peaks and the amazing lagoon make it a wonderful place for vacation too. There have been a lot of changes to the Tahiti and French Polynesia's wedding laws. Getting married here has become easier now. Earlier, the couples who wanted to get married here had to stay here for about 30 days. This made it quite difficult for people from other countries to come and get married here. Though many people do not mind staying here for that long, it would become a too costly affair, taking into account the expenditure for the wedding too. However, the laws have been modified making it easy for the couples to get married here.
2. Venice
Venice is a beautiful place to get married. Nothing can beat the look and feel of the romantic locations and natural beauty of the place that is full of the renaissance splendor. Before getting married here it is better to get to know the place and the surrounding areas thoroughly. The city is full of famous canals, century old palaces and beautiful villas. Venice also has a wide array of reception venues for hosting the type of reception you are looking for. From sophisticated to intimate nuptial wedding you can choose any kind of celebration according to your budget. If you prefer a traditional style wedding then you have a huge choice of restaurants to choose from.
3. Great Barrier Reef
Australia's Great Barrier Reef is one of the most amazing natural wonders. It is believed to be the only natural reef that is visible from the space. After the wedding you can even opt for a flight with your love over the heart shaped Heart Reef. There is nothing more that you can do to make your wedding more romantic than choosing this place. Apart from that the Reef is also known to offer various other kinds of enjoyment activities to indulge in. It is a perfect location if you have planned for a romantic wedding destination. You are sure to take back awesome memories of your wedding and the special moments you spend here together.
4. Paris
Paris is an ideal romantic wedding destination. The city has a lot of things to offer from food, to shopping to stunning locations and what else. There are many world famous locations here where you can take photographs with your partner. Choose any location like the romantic Eiffel Tower, the Sucre Couer, the Notre Dame or any other place. They are simply gorgeous. Arrange for your wedding ceremony in one of the top restaurants or outdoor locations like gardens and then visit these places along with your partner. This is the best wedding gift you can think of. Do not forget to take the cruise down the Seine and visit the city's popular tourist destinations.
5. Cook Islands
If you are planning for an ultimate island wedding, visit the Cook Islands. There are exotic locations and luxurious villas that make the island one of the most interesting places to visit. There are wedding coordinators in most of the top locations who can help you to make the necessary arrangements. There are several 'beach front' villas that are perfect locations for organizing your wedding. They are ideal especially if you opt for a beach themed wedding. The island is the best place for your honeymoon accommodation too.
Make your wedding more meaningful and interesting by choosing one of these top wedding destinations. The memories of the special occasion will help you to bond better with each other.