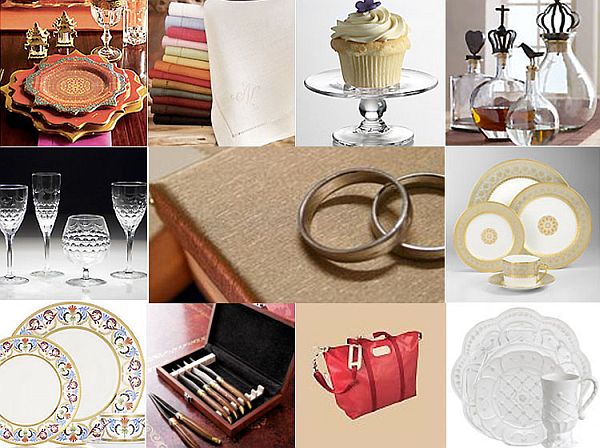 Ever wondered you could give as wedding registries to your friends who are starting there lives together? It could be quite a hassle to think and hope you give the best gift. A wedding registry when thought of should be something which has meaning to the couple. A new home would be decorated, hence you should think of items which could productive and used. Items like cutlery, silverware and china plates would be beneficial to the bride and groom's new home. The bride and groom must know that asking for the gift's would do no harm to them. Guests understand that every wedding holds a budget and due to that starting your life in the new abode could be troublesome. Listed below are the some main elegant and chic registry items you could binge upon.
1. Opt for Silverware
Silver is one such dear metal that in which ever form it is transformed into, it radiates elegance and class automatically. Earlier, sterling silver wares were passed on from one generation to the next. It would be a sure fixed item on the wedding registry. But now a day's, couples are opting for stainless steel over sterling silver because it is much lighter on pocket. But stainless steel in no way matches the beauty, value, sheen and elegance of silver. Though maintenance of silver is a little difficult, it sure adds class and serves as a treat to the eyes of your guests. And what more, it also is a good investment for future.
2. Elegant crockery
Investing in fine dining is worth every penny. Do not be in an assumption that you'll not have to use it often, especially owing to its fragile nature. But the fact is that bone chain and porcelain are very durable pieces. They also look very elegant and bring in a sense of class to your dining table. You do not have to save your porcelain items for a special dinner but you can use it regularly.
3. Quality knives
Knives are one important kitchen ware that you should never neglect. You will appreciate possessing a high quality knife in the long run as it would allow you to prepare food faster in a safe and easy manner. You need not get the whole 23 piece knife set, but instead look for the following 3 following types of knives like the Chef's knife, serrated knife and the paring knife. When selecting these knives make sure that you go in for the ones that are comfortable and heavy. Check the balance and see that it does not topple out of your hand. You need to think twice to invest in branded knives.
4. Useful cookware
The utensils that you use to cook food should be durable and have the ability to cook food items evenly. If you use cheap cookware, you would end up with burnt food. It is advisable that you buy corrode resistant stainless steel pans and pots with copper or aluminum bottom finishes which would help distribute heat evenly and your food is cooked as much as it should. What more, with the cook and serve dishes coming in various finishes today, you have a lot f variety to choose from.
5. Sleek and stylish coffee maker
You could use your registry and pamper yourself to the sophistication of an espresso coffee machine at the comfort of your home. Though they are very expensive, it saves you a trip to your neighborhood barista each time you have guests at home. With this facility at home you can treat your guests and yourself irresistible espressos and cappuccinos.