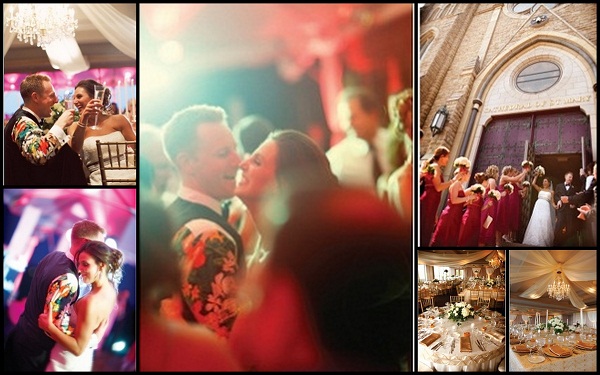 Wedding receptions are a lot more fun if they are properly planned. You can pull off a very good reception without burning a hole in your pockets. In order to do so, you will have to meticulously plan it. There is nothing wrong in seeking help from a wedding planner. There are innumerable things to keep in mind when planning the reception. It should not give people the chance to look back and say that they did not enjoy themselves. Surely you would be able to get ample help, but reading about the main tips listed below wll help you have the reception you desire in no time.
1. Plan it to the end
Even if you put together an expensive wedding reception ceremony, everything will come to a naught if there is no proper planning. There are no hard and fast rules on price range of the reception. It helps to have a better foresight into things. Write everything down and keep a list of the things you have to get done. You should have a backup plan in case of a catastrophe. Your plan should be capable of taking care of anything unexpected that might happen on the way.
2. The menu should be simple
It would be fine if the menu is simple. It is always better to have a simple menu than an exotic one if the execution is better. Choose tasty food that will be memorable. Have drinks which will not get the guests drunk. Champagne is a must. You would also have the cake so keep the snacks light. If you are having the reception after a day of the wedding then you could have lunch too. Do not have extra dishes.
3. Carefully plan the means of entertainment
Do not choose means of entertainment that will tire the guests. Some of them might be exciting but the guests might end up distracted at the end. Have some games, dance and music for sure. Make sure the games played do not involve using too much stamina.
4. Decorate beautifully
You can use similar decorations as used at the wedding ceremony so you do not have to stress so much. You can find many simple decorations that will not take too much of your time. You have to know that it should not be very drastic and garish. The lighter the touch and the more beautiful.
5. Ensure that you have enough guests
Make sure that there are enough guests for the wedding reception. Eight dozen would be fine. Having a sizable number would help in them entertaining themselves. The guests who come for the wedding are mainly the same bunch who would show up at the reception. You may or may not have more. You could also tell people you do not want coming for the reception, so as to maintain your budget.
6. Choose an appropriate location
You should choose a location for your wedding reception which matches your needs. You can choose parks or beautiful flower gardens with a waterfall in the center. The place should be selected as such so the guest are preoccupied and never get bored. Many factors like the weather and cost should be taken into account when you choose the location of the wedding reception.
7. Serve tea or coffee
Tea or coffee should be served with snacks. It would be appropriate if it is served at the end of the celebration day. By the time the reception starts and the guests start pouring in it would be tea time. Some of the oldies would love the idea of having a cup of tea or coffee.
8. Hand out wedding favors
Hand out favors to people when they leave. Ensure that gifts reach everyone and that you interact with all of them this way. Some people may feel that they have not got a chance to speak to and may feel ignored. Do make it a point to see that your guests are entertained by you.
9. Use floating candles
You can light the location for your reception by placing floating candles in bowls or vases. You can think of incorporating colors and placing rose petals. Floating candles with some scent always gives a soothing and calming aura around the room.
10. Play your favorite board game
Play your favorite board game, whether it is monopoly, scrabble, or chess. The ultimate end would be that it would be accessible to the guests and that the fun is optimized.
11. Perform a dance at the end
It is always good to have a dance at the end of the wedding reception. You can ask all to take part in the dance.
12. Ask for promise books
You can ask for promise books from guests. This would give the event a fun edge.
13. Take photographs
Take pictures of all the guests at the event. Photographs of a wedding reception would be a permanent treasure.
14. Keep the affair to yourself
Do not let others set out terms for your wedding reception. Do not let too much meddling in the wedding reception event.
15. Use colored wall papers
Use wall papers of different shades. You can change the shades according to the time.
16. Take care of the accommodation properly
Accommodation should be booked as early as possible. Otherwise it is quite probable that it will all get filled up.
17. Keep traffic jams in mind
It might create a problem if any event nearby would lead to a traffic jam. Take proper care to deal with it when it happens.
18. Have a quiet room for the reception
Some people might not be okay with all the loud noise which goes on in a wedding reception. Arrange a quiet room for them.
19. Create a disco atmosphere
You can create a disco atmosphere for the reception by adding strobe lights to wedding tables. It is a good idea when the alternative options are not feasible.
20. Allow the guests to choose the dishes
People might be having different preferences. Allow them to freely exercise their preferences when choosing their food items.