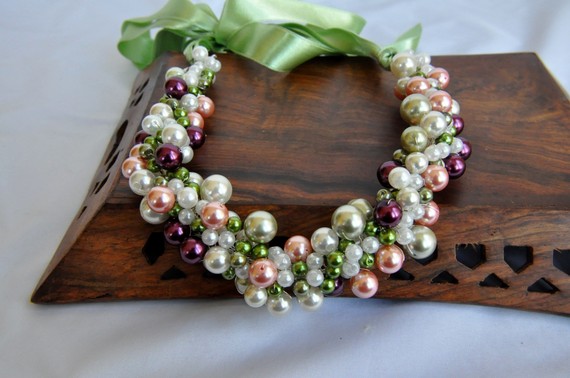 Every bride wants the most beautiful and unique wedding to remember. Choosing wedding jewelry is a great task. If you want to make a bold statement in wedding, you should try something different than traditional. Some people like out and out white look for wedding. Some like to add bright colors to this occasion. If you are not afraid of experimenting then bold bridal jewelry is an option for you. Blue, green, gold and red are few bold colors for wedding. Big and chunky designs are among first choice for weddings. These designs look very natural and authentic. We have put together a list of bold and bright wedding jewelry choices.
1. Beach wedding
This is an evergreen classic pearl wedding jewelry but with a twist. This flamboyant colorful pearl necklace is perfect for beach and summer wedding. This is made up of pearls and glass beads. Charming green satin ribbon making it bright. Try this pearly beauty and be the most graceful bride.
2. Smoky and stone necklace
This earthy looking jewelry piece makes very bold style. Creamy and burnt hues makes perfect choice for bride. If you are wearing smoky or ivory color wedding dress, then this piece is ideal for you. Earthy tones look very elegant and give rustic bold look. Stone jewelry is interesting combo of bright and bold style.
3. Gold earrings
Amazing big leaf gold earrings are great pair to flaunt. Compliment with shiny and golden wedding theme. Also goes perfect with Egyptian wedding theme and sparkle face of every bride. This delicate looking jewelry piece will give you refine touch. Leaf design makes it graceful and exotic.
4. Big bracelet
Sure you want to make those hands look attractive. Try this glass big bold bracelet for wedding. This will definitely stand out and make you look stunning. This will make perfect combo with your wedding bouquet. Bracelet is among most favorite jewelry this season. If you are wearing off shoulder or sleeveless dress then bracelet is must for you to enhance your look.
5. Sparrow aqua swarovski necklace
Absolutely gorgeous piece of jewelry for wedding. If you have bold attitude and style to carry this beauty, go for it. Nature inspired sparrow aqua color swarovaski briolette necklace is outstanding choice for wedding. This big blue stone will make you look more charming than ever. This adds a mix of modern and classic design. It has a girly charm as well as grace of beautiful bride.
6. Renaissance wedding Tiara
Tiara is always being favorite accessory in wedding. If you are going to wear tiara in wedding, try this awesome tiara as jewelry. When you wear this renaissance inspired wedding tiara, you don't need any other jewelry. Perfect for evening weddings as well as for royal theme wedding. When we talk about new age wedding, most of us want bright hues. This bold wedding jewelry is new age beauty for brides. These artistic pieces will make you look even more stunning.