Flowers form a very integral part of any wedding and be it any culture, flowers are traditional at weddings across the world. Altar and aisle decorations, reception decorations, bridal bouquet and boutonnières, all use flowers as the main piece of attraction. The bridesmaid in matching clothes and a bouquet of eloquent flowers leading the gorgeous bride down the aisle with an equally elegant bouquet of flowers in hand is a sight most people never forget at weddings. But these days every bride wants to be different and stand out from the crowd. They are on the constant look out for alternative accessories that can adorn their hand while walking down the aisle. If you want, you and your bridesmaids to look sensational but different, then look no further. Here is a list of 7 accessories brides can choose as an alternative to flowers.
Accessories that are Must-Haves for any Bride
1. Themed accessories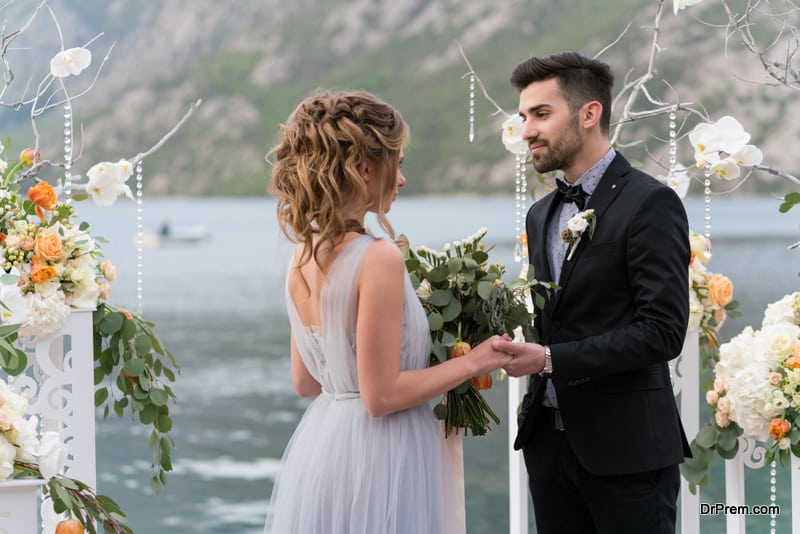 If you are having a themed wedding, then matching the accessory as per the theme is a good idea. For example, if you are having a beach wedding, then you could carry a starfish or conch shell, and lace parasols could do the trick if you are having a Southern belle themed wedding. Whatever you choose, make sure the accessory doesn't overpower the bride's look and distract people from admiring her. Remember, it is the bride and groom that is the center of attention here and although it matters what the bride carries down the aisle, it shouldn't outshine her and the entire wedding grandeur.
2. Baskets
If you are working around a budget for your wedding, then the basket idea for brides and bridesmaids will come in handy. Get small baskets from any craft and hobby stores and decorate them with pretty ribbons, maybe also in different colors. This is a great alternative to the usual flowers carried down the aisle. You can fill it with some greenery, beautiful fabrics or tulle or even leave it empty. Get baskets in different shapes for the bridesmaids and the bride can carry a different one, perhaps decorated a little differently. Since they are very easy to put together, you can even get the help from your bridesmaids to make them prior to the wedding, thus keeping expenses low as well.
3. Must have accessories a bride – Purses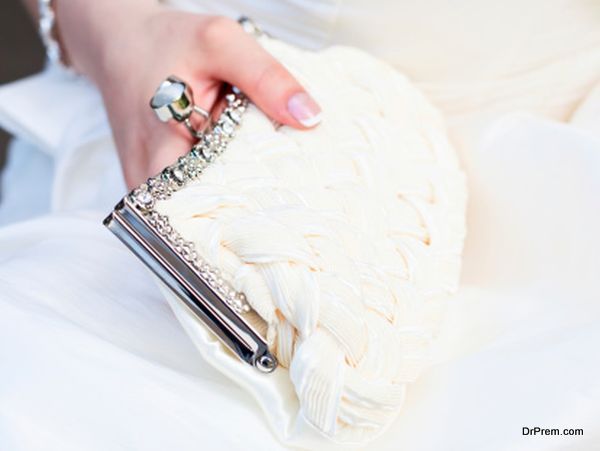 Carrying stylish and classy purses down the isle has now gained a lot of popularity. There are many bridal boutiques that can dye purses in which ever color you prefer. Get small clutch bags or wristlet purses and get them dyed in a colour to match the bridesmaids' dresses and the bride can carry a delicate white one with some embellishments. If you don't want to do the whole matching scheme, you can ask your bridesmaids to get their own purses to coordinate with their outfits which will put a personal touch to the overall look as well.
4. Fans
Beautiful fans can make a lovely alternative to flowers. They can be handheld and you can also customize them to match the wedding décor. Get lace fans or fans with embroidery and paintings on it, or if you want to keep it simple go for plain ones to match the color theme. They can also double up as a fan to cool you down if the venue is warm.
5. Nothing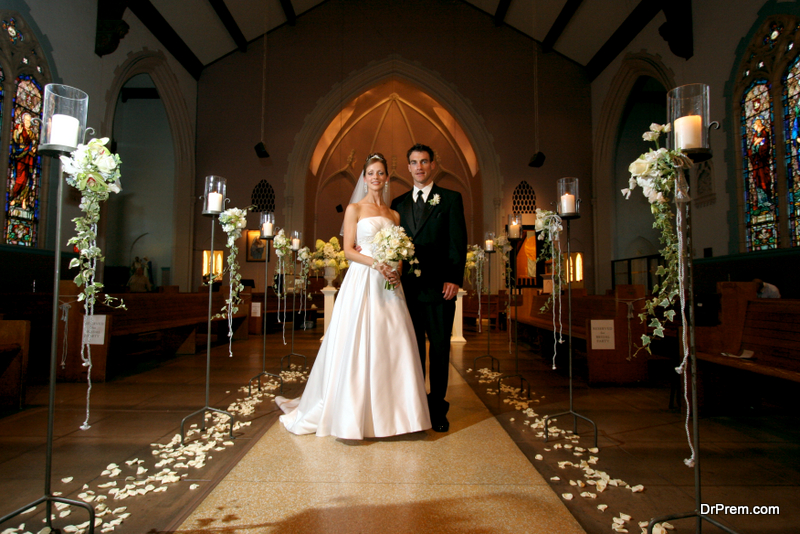 There is no rule in the book saying the bride has to carry something in her hand when she walks down the aisle. You could just walk in bare handed, or if you please you could hold you parents' hands or maybe even your partner's. This way you give a personal touch to your wedding.
6. Feathers
Another great accessory to carry down the aisle would be feathers which are readily available in almost all craft and hobby stores. You can get them in various sizes and almost every color you can possibly think of. You can carry just a single large feather or put two or three of them together with a ribbon to create a long stemmed bouquet. The bridesmaids can carry them in colors to match their outfit. This is a perfect Must have accessories a bride when you do not want to overdo your wedding look.
7. Jewelry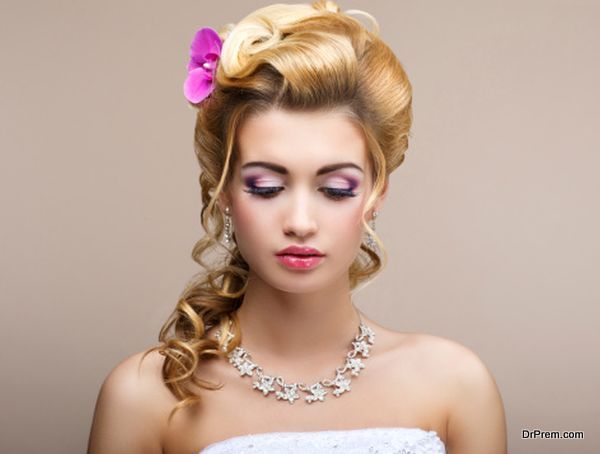 This is indubitably one of the most important accessories that a bride cannot do without. Whether you go for sleek platinum jewelry to compliment with your bridal gown or gorgeous yellow gold jewelry to perk up your ethic wear jewelry is just the thing to bring out all the bridal glamour in you. This Must have accessories a bride should have to perk up her wedding look.
8. Greenery or leaves
If you want some sort of nature inspired accessory for your bridal procession but do not want to use flowers, you can consider making use of some greenery. Get some beautiful ivy leaves and put them together in such a way that they give the cascading effect. If you are thinking to have a fall wedding, then you can collect some gorgeous leaves in different colours and put them together in the form of a bouquet. Sprigs of pine and some holly can depict the beauty of a winter wedding or if you don't want to go natural then make bouquets out of silk leaves and string them together. The options are endless when you want to use greenery as an accessory.
9. Hair Accessories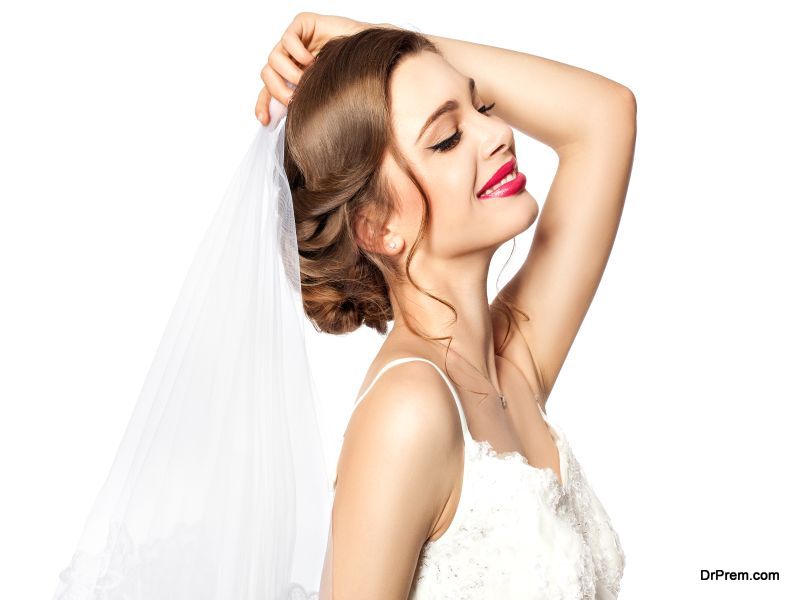 What about your grand coiffure? Styling it up is one thing, decking it up to draw attention is another. Make sure you have the right hair pieces to make you look the bride. Opt for a crystal and pearl hair comb to pierce on your casual bun or go for a beautiful pearl tiara that decks you up like a princess.
10. Gold Shimmer Treatment for Hair
Pamper your locks with a Gold Shimmer Treatment oil to ensure that they gleam and shine with equal luxuriance all through the day. Your photographs will depict the much-needed suppleness and shimmer in your hair because of the argan oil content without looking oily.
11. Instant Face Lift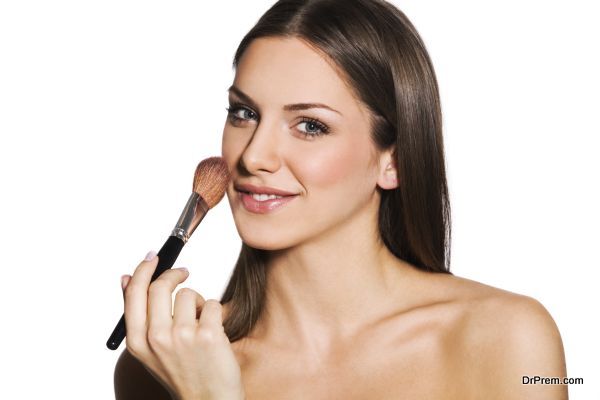 What if you notice a small pimple peeping out on the day of your marriage or the scar which did not wish to leave your beautiful countenance for days on end? Be sure you have an Instant Face Lift bottle in your bridal kit bag which smoothes away all pimples and wrinkles just in five minutes. You could also use it to lay a matte finish foundation prior to applying makeup.
12. Bobby Pins
Finally, if you do not wish your updo to go haywire while you exchange vows or dance to glory post marriage; make sure your wedding day survival kit has quite a number of bobby pins to keep them in place. This is one of the Must have accessories a bride should have with her.
A final note on Must have accessories a bride
You may have chosen your wedding gown with much care and effort but that is not the only thing that would deck up the bride in you. Your bridal trousseau includes much more than the wedding gown and or the gorgeous lehenga or sari for the Indian or Western bride. So even after deciding on your bridal outfit do not forget to pack your bridal kit with these must-have accessories to up your style quotient on your D-Day.