Pink and gold are the perfect hues to create a beautiful wedding theme. Gold brings the royalty and elegance; whereas pink gives the soft romantic tap to the wedding. One of the perfect wedding color palettes, pink and gold will bring the richness with the dash of softness of the emotions flowing during the life turning beautiful event in one's life – Wedding. You can also plan your wedding with the glamorous combination of pink and gold. However, the wrong selection of shades for both the colors can make the ambiance stuffy and lead to the impression of over-the-top decoration. Here are some pointers for the wedding planning for pink and golden wedding theme.
1. Wedding cake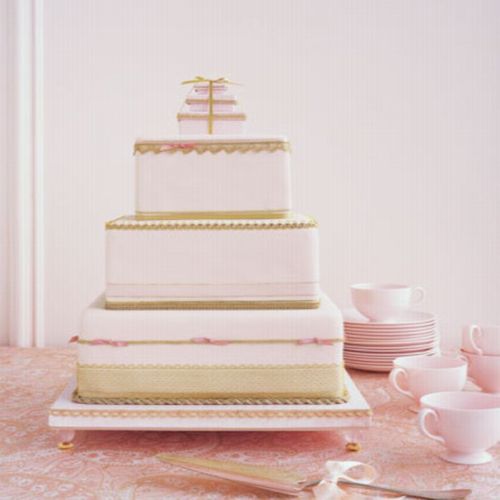 This pink and gold cake is beautiful with the lovely layers inspired by camelia flowers. The custom stencil for the beautiful, three tiered cake is on the fondant and then royal icing is spread all over it. For the shine and glitter edible pearl dust tinted with the golden green luster dust is rubbed. The flower at the top is a bouquet flower to give a royal wedding cake look.
Tip:
Do not go over the board with pink hues as it will end up looking too mushy and girly. Keep the cake colors as soothing as you can. Mix a bit of golden and a bit of pink to amalgamate the combination.
2. Draw inspiration from various hues of pink and gold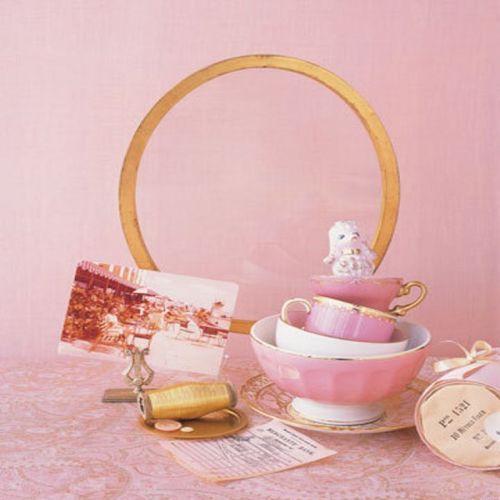 Draw the inspiration for your wedding from the nostalgic, exuberant pink and glittering, shining gold to create a picture perfect wedding theme without the heaviness of gold and pink. Pick up your pink and top them with gold. Candy pink, shell pink, cherry blossom pink are just a few to choose from.
Tip:
There are whole lots of varieties available in pinks and golden shade of colors. You can opt for different shades as per your choice and suitability with the different entities. Try and make it a point to differentiate everything on your wedding with different shades of pink and golden.
3. Wedding stationary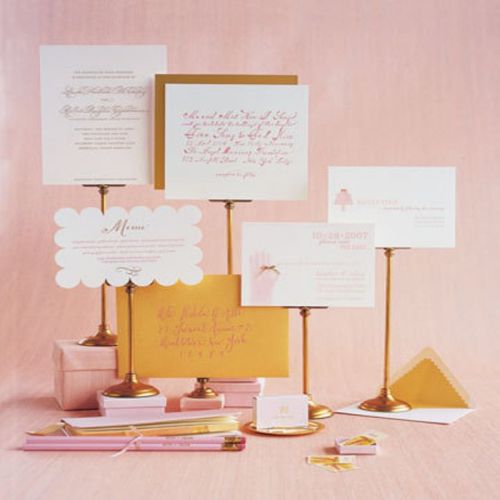 Give all the wedding stationery the gold and pink theme for a prefect wedding decor. The invitations, menu, envelops and pencils, keep all of these in the combination of gold and pink. You can get an invitation card in pink hue with gold letters, or the other way round; you can also have the gold paper and pink script. The reception card can also feature the cake. Be creative to give a distinct look to your wedding that reflects your persona.
Tip:
Make sure you have arranged everything in your wedding kit. One mistake and negligence; and you could get into some trouble afterwards at your wedding day. Arrange for even the minutest thing possible and the you can surely take sound relief then !
4. Wedding favors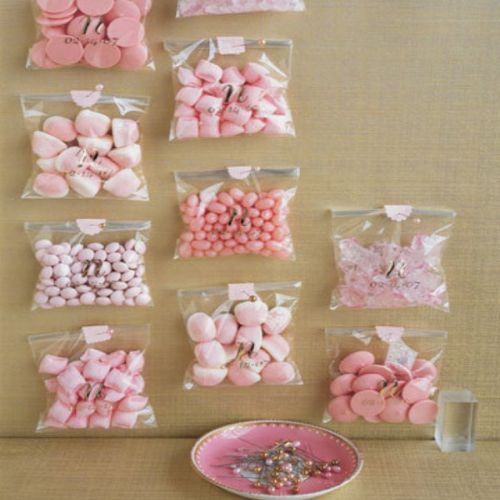 Wedding favors in pink is a cute and adorable idea for a wedding with pink and gold theme. You can have delicious pink goodies as your favor such as candy coated milk chocolate pieces, jelly beans, pink-chocolate wafers, strawberry puffs, pillow mint and tinted rock candy. Pack them in beautiful cellophane bags with the couple's initials and tuck them into a board with corsage pins to create an everlasting impression. Use pink stickers to seal the packs and you are completely in sync with your pink and gold wedding theme.
Tip:
Wedding favors are undoubtedly everybody's favorite and to garnish and decorate them in hues of pink and golden can be fantastic idea. Try on with different shades and cookies, beans, jelly's and puffs. You will get extra appreciation if the outlook appeals to the kids. So try out and get complemented!
5. Ribbons and accents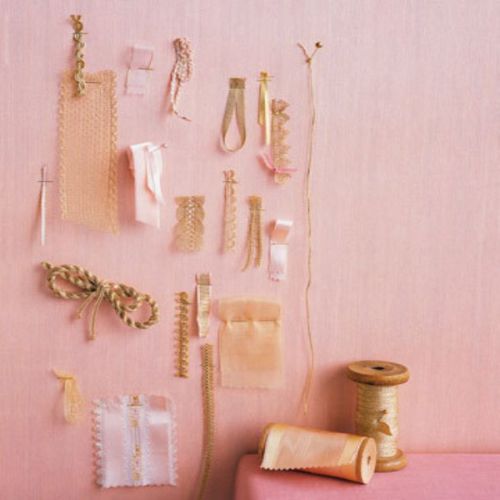 The metallic gold trim with pink ribbons in satin, velvet or organza looks pretty and elegant. Use the pink and gold ribbons and accents for the wedding decor. You can also use them for floral arrangement or as the hair accessory for the flower girl.
Tip:
Decorate the venue with different pink and golden accents and beautify the place accordingly. Ribbons always work wonders with every wedding ceremony; so make it big and decorate it in your style!
6. Sash with pink and gold fabric roses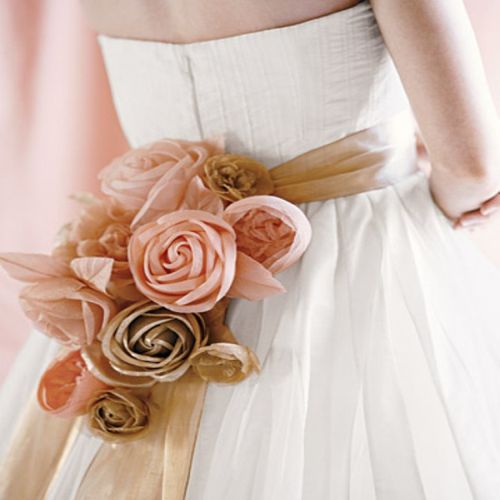 Be contemporary in true sense and wear your bouquet instead of carrying it. The sparkling fabric roses in pink, peach and gold are pinned to a gold sash, which is basically a simple wide ribbon, to add the dash of gold and pink in you as well, to synchronize with the wedding theme.
Tip:
When it comes to the bride, she should look the best in the gathering and for that she can adorn pink and gold fabric roses in her sash. They will look beautiful and will exhibit the beauty and elegance of the bride.
7. Table setting in blush and gold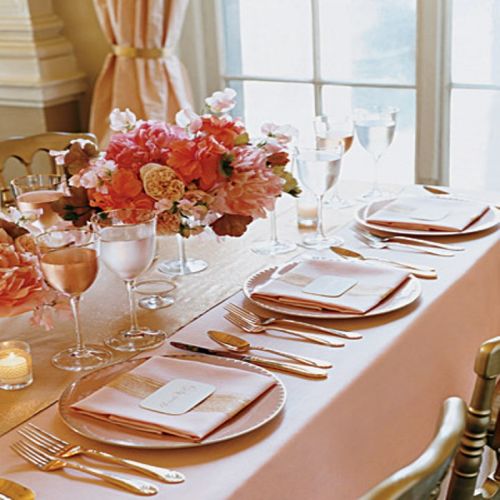 The table setting is an important and large part of your overall wedding decor. Extend the pink and gold theme of your wedding to the table decor as well. Ensure that all the stemware on the table is gold rimmed, all flatware should be gold plated. You must have golden colored chair and gold runner. To complete the look add peach or nostalgic pink tablecloth and napkins. You can also wrap the napkins in the metallic gold lace for the dash of glam appeal on the table. Decorate the table with peonies, garden roses, hibiscus, sweet peas and Evelyn. You can also fill the glasses with rose.
Tip:
You can do a lot with this theme and thus can decorate your table in whichever way you want it to be. Try this blush and golden remix and you can do wonders with the ambience around. Try out some other hues, if needed!
8. Confections table with pink and gold assortments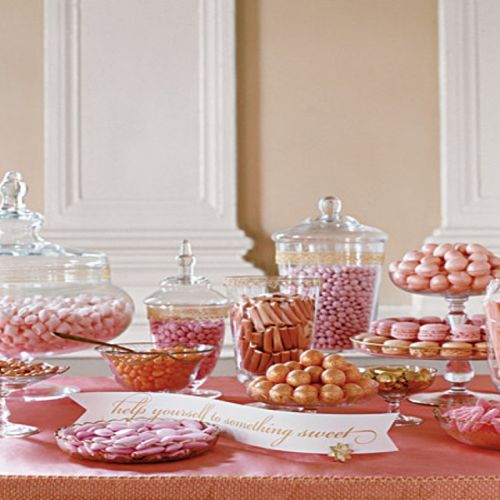 Place all your assortments like sugarbonen, jelly beans, pillow mint and more in apothecary jars. Take a pink table cloth with gold embellishment and place all your yummy assortments in pink and gold on the table to create a perfect confection table with the theme of your wedding, i.e. hues of pink and golden!
Tip:
Confections tables are important part of a wedding and they should be created keeping in mind its importance and value in your life. There are many ways through which one can decorate them widely and make it look more beautiful and enchanting.