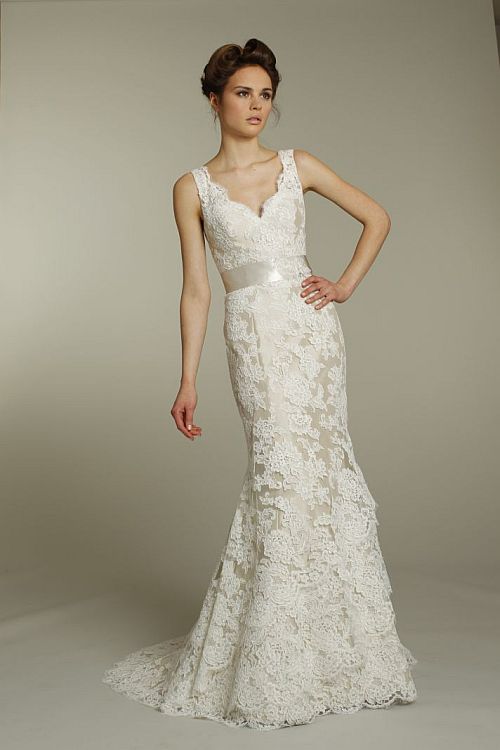 Choosing the right wedding gown is one of the most important decisions that a bride has to take. The wedding is one of the life changing experiences, and hence, no doubt, you need to look stunning on your D day. Looking stunning is not easy; you need to choose a gown, which is elegant yet versatile. What is better than choosing a lacy gown for your big day. It does not only look elegant but it also gives a vintage appeal, making you look stunning. Find out some of the most beautiful gowns that are sure to make heads turn around when you pass by.

1. Alvina Valenta
BRAND : Alvina Valenta
PRICE : USD 200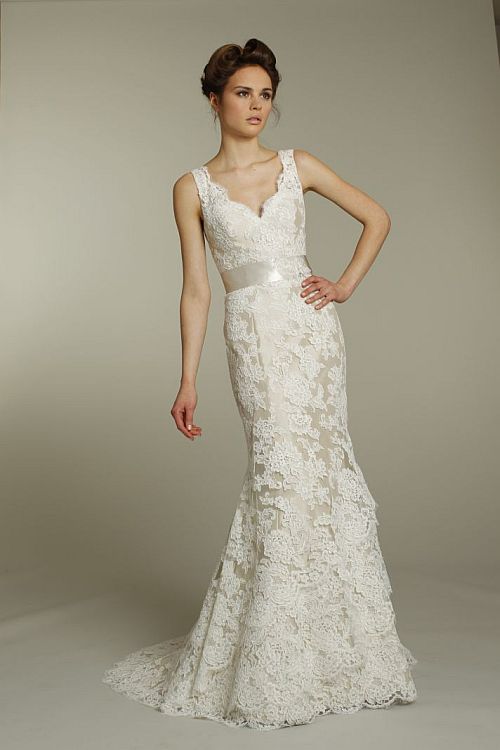 This beautiful collection from Alvina Valenta comes in ivory alencon lace, which sits fabulously over taupe satin faced taffeta. The V neckline complements this beautiful lace number. This gown also has a subtle three tiered skirt, which gives it a feminine touch.
USP
The beautifully done lace makes it look elegant and versatile at the same time. The satin ribbon tied below the bust gives it a touch of femininity. The lacy edge of the gown is finely detailed.
PROS
The lush fabrics, which are used in creating this gown make it look beautiful.
It looks good when worn by slim bodied woman. The gown makes you look glamorous.
2. Blush by JLM
BRAND : JLM
PRICE : USD 280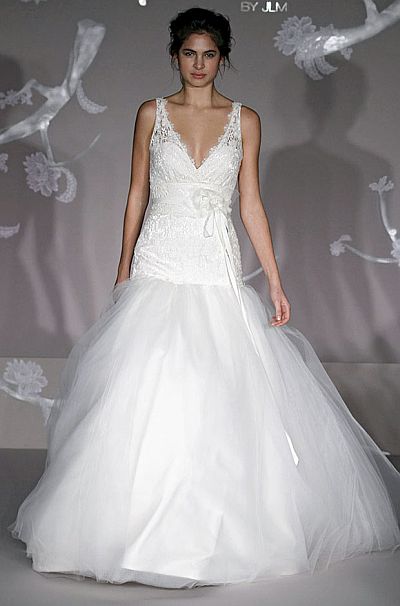 This is a cotton lace gown that features a halter neckline and beautiful detailing over the waist. This beautiful gown is floor length and flares out from the thigh. This gives a royal appeal to the bride. The ribbon bow on the waist looks feminine and defines the bride's figure. The gown is tight from the waist to the thigh to give you a mermaid look. It has a long train to give you an imperial appeal.
USP
This gown is wrapped all around with a classy lace work. It has magnificent detailing that makes it look more stylish. The ribbon bow gives it an uber look. This is an elegant dress with an ultra feminine appeal.
PROS
It is a beautiful dress, which will make heads turn.
It is stylish, yet elegant.
It is perfect for svelte bodies.
3. Jim Hjelm Modern lace wedding gown
BRAND : Jim Hjelm
PRICE : USD 275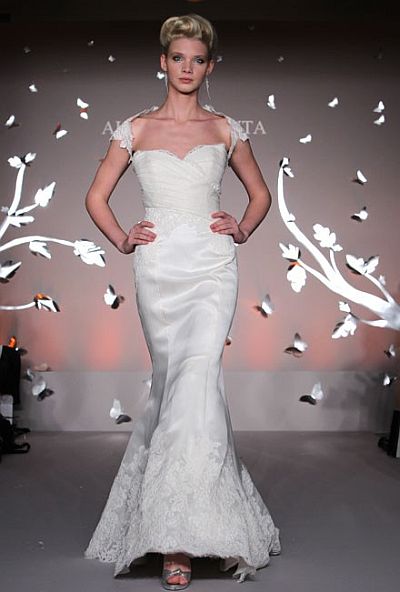 This beautiful gown is embellished with alencon lace that makes it look elegant and stylish. It has the uber charm and its femininity is defined in a manner that will surely make people turn around and have a glimpse of you. It has a fabulous, jaw dropping design that no one can resist. It has a beautifully done halter neckline that makes you look charming. The lace is draped all around the body to liven up your mood. This floor length is one to die for.
USP
The beautifully done lace all around makes you look beautiful. This ivory alencon lace and champagne charmeuse blend is sure to make you look beautiful and charming.
PROS
This is a beautiful piece that will make you feel like diva.
The lacy halter neckline looks gorgeous.
The lacy wrap all around the dress is stunning.
This gown has a great detailing and is worth the money spent.
4. Beading lace sweetheart chapel A line bridal wedding gown
PRICE : USD 280.38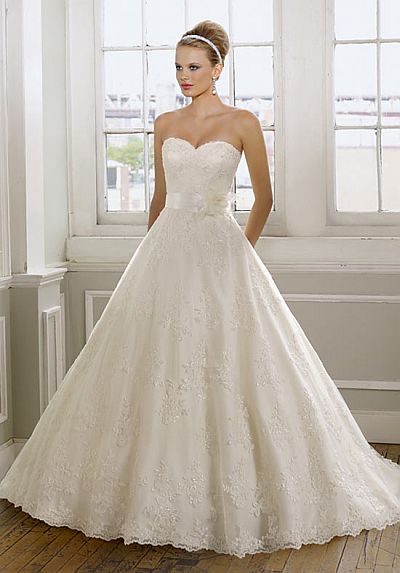 This stylish wedding gown has beading lace that will make you look gorgeous. It has a unique design that will increase your charm and beauty. It has a modified sweetheart neckline and an elegant bodice. The back is beautifully designed with a long bow ribbon to enhance the looks. It is sure that with this beading lace wedding gown you will be the most charming one on your wedding.The silhouette is in A line that gives it an uber appeal. The neckline is sweetheart shaped and the train is chapel length. It has a zipper at the back so that you can wear and remove it easily.
USP
It is embellished with a high quality beaded lace, which makes it look classier.
PROS
It is available in various sizes and colors like white, pink, ivory, and beige.
The materials used in the making of this gown are high quality imported satin, lace, and beads.
The zipper at the back makes it easy to wear.
It has fabulous detailing all over the gown.
5. A line strapless crepe satin lace wedding dress
PRICE : USD 179.99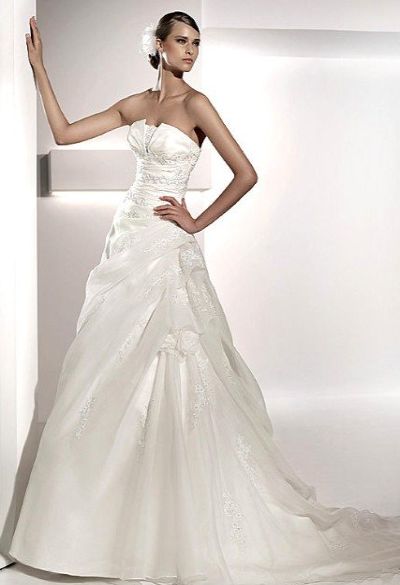 This beautifully adorned A line silhouette will make you look stunning and charming. It is strapless and has a princess cut to define your figure. The gown comes embellished with lace embroidery that makes it a timeless beauty. The court length train with lace work gives it femininity. This high quality gown is good for wedding events during fall and winter seasons. It features crepe satin, which defines its glam quotient. It gives a touch of classic and timeless charm to the bride's look.
USP
It is stunning at an affordable price and adds to the old world charm of Victorian era with its elegant lacy hem line. It is luxurious and classic. The lace embroidery all around the skirt and the front of the bodice gives it an uber look.
PROS
It is the ideal gown for all types of body. It weighs just 3.3 lbs.
It can be worn for a church, hall, or garden wedding.
It comes in ivory color.
It looks classic yet stylish.
6. A line sweetheart taffeta satin lace wedding dress
PRICE : USD 164.99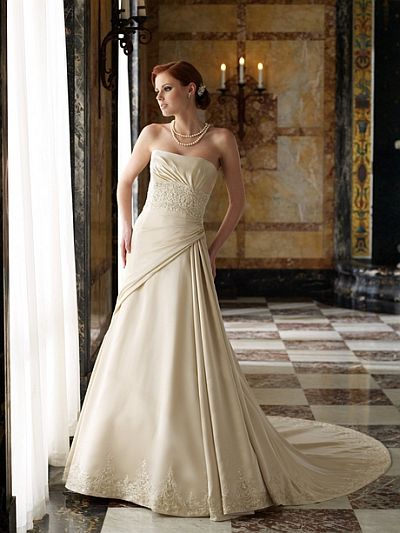 This is a court length gown made with high quality taffeta, satin, and lace fabric to give you an uber femininine appeal. The heart shaped bodice looks stunning in beige taffeta. The beading work done under the bust makes it look mesmerizing. This A line gown has an intricate lace work on its hem, which looks enticing. It is a strapless and sweetheart neckline gown. The train is of court length. It has a built in bra so that you don't have to worry about what to wear underneath. High quality fabrics, satin and taffeta, are used in its making.
USP
The intricate work on the gown makes it look stunning and versatile. It is fully lined and has a lace embroidered pattern all around its hem that makes it look more feminine.
PROS
It is an ideal gown for church, hall, or outdoor wedding.
It suits almost every body type like apple, inverted triangle, rectangle, petite, and pear shaped.
It is beautifully embellished and looks stunning.
It is affordable and worth the price tag.
The look is elegant and luxurious.
It has a classic and timeless appeal and weighs just 3.3 lbs.
7. Ruffled layered lace court mermaid bridal wedding gown
PRICE : USD 319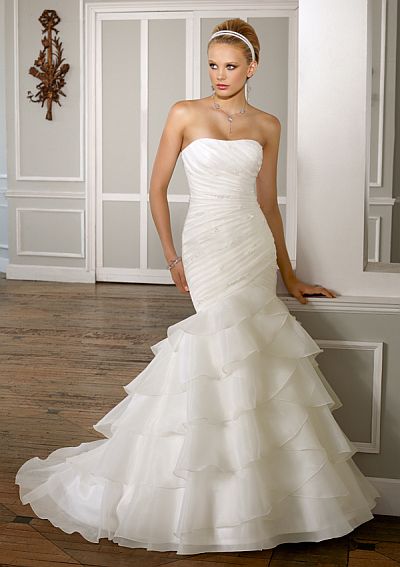 The fine workmanship of this dress makes it a popular choice amongst the brides to be. This is a fashionable gown with high quality fabrics used in its making. This excellent piece is a satin wedding gown that will definitely add charm and elegance to your look. Besides the high quality satin fabric that makes it look exquisite, it is soft to touch and comfortable to wear and carry off. Dressing in this beautiful wedding gown will not only make you look sexy, but even your inside temperament will be reflected vividly. It is affordable and truly beautiful. The mermaid cut lets it define your figure and will make you look elegant.
USP
The ruffled mermaid cut with layers gives it a feminine touch. It comes in various colors and is very affordable. This strapless gown is completely irresistible.
PROS
This is a chapel length gown.
It is affordable and worth the price tag.
It comes in various colors like white, pink, ivory, and beige.
8. Beaded lace chapel A line bridal wedding gown
PRICE : USD 321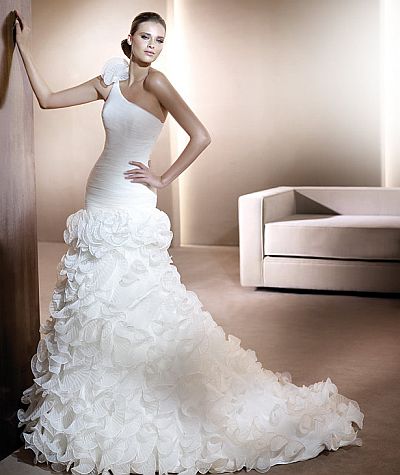 Shining beads and lace design give a glam appeal to this A line wedding dress, which makes you look beautiful and charming. It is made from high quality materials, which are soft to touch and versatile for wearing. It is a strapless, straight neckline dress that has a completely lacy bodice, with a feminine skirt design. The skirt is flared and has a floral design, which looks beautiful on anybody. It is a chapel length gown with stunning lace work on its train. You will surely make heads turn with this dress. The A line cut that it has is a universally accepted style code for every type of body.
USP
The beads and the lace work all over the gown make it look beautiful. The chapel length will make you feel like a princess. It is a gown worth its price tag.
PROS
It can be worn by brides of any body type.
It has the old world Victorian charm that makes you look stunning.
This beautiful dress is worth its price tag.
9. Tara Keely lace trumpet
BRAND : Tara Keely
PRICE : USD 250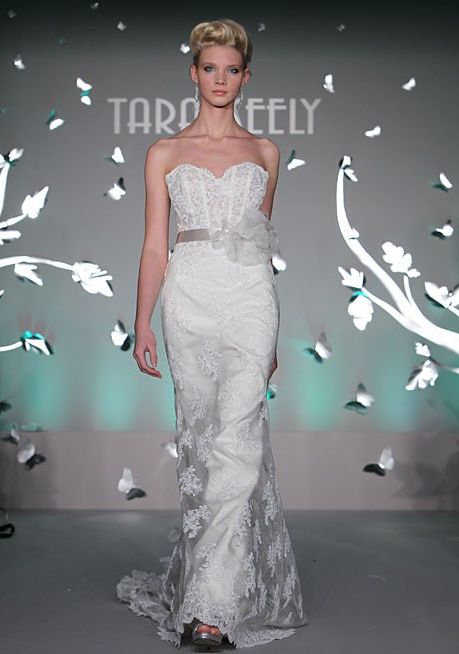 This beautifully adorned lace trumpet gown by Tara Keely is glammed up with a corset bodice and a beautifully scalloped neckline. The corset has beautiful detailing that looks elegant. The satin ribbon wrapped around the high waist divides the gown in a stylish manner. The skirt of the gown is made from satin and is wrapped around with a net train that has lacy embellishments all over. The hem has beautiful lace work that looks gorgeous.
USP
The magnificent cut and trims of this gown make it get noticed. The beautiful net that drapes the gown looks stunning. The hem with lace gives it a feminine touch.
PROS
It looks great on the hour glass figures.
The net looks beautiful and the lace makes it look attractive.
The train effect that it has makes you feel like a princess.
10. Wedding dress WD0356
PRICE : USD 299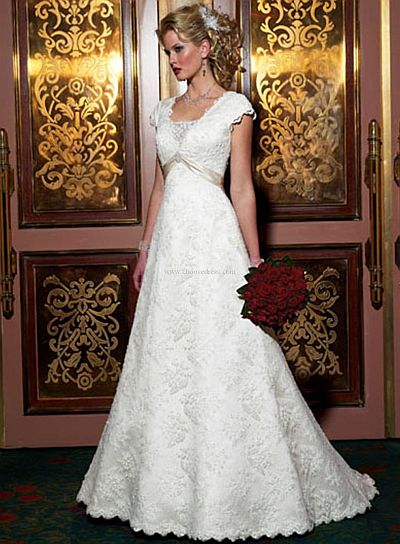 This lacy wedding gown looks stunning with its fabulous detailing. The silhouette of this dress is A line and it has a beautifully done bateau neckline to give you a feminine touch. The satin ribbon under the bust increases its elegance. This dress has lace work all over it and even on its cape sleeves. It is a gorgeous gown with an empire waistline to make it look perfect on any type of body.
USP
High quality satin and lace are used in its making. The embroidery and beading work done on this fabulous piece is heart throbbing.
PROS
It is beautifully done to enhance your looks.
It makes you look more appealing.
Even the minute details have been taken care of while designing this beautiful dress.