Your wedding day will be one of the most important days of your life. It takes a lot of planning to plan the perfect wedding day. And what could be more perfect than a wedding which is eco-friendly too. Traditional weddings have been known to produce a lot of waste and cost a lot too. By choosing to have a green wedding, you could be reducing waste and save a lot of money too. Eco-friendly weddings are in vogue right now – they're modern, savvy and smart. There are many ideas to celebrate your wedding in an earth-friendly way. Check out these 9 ideas for an eco-friendly wedding:
Send out digital invites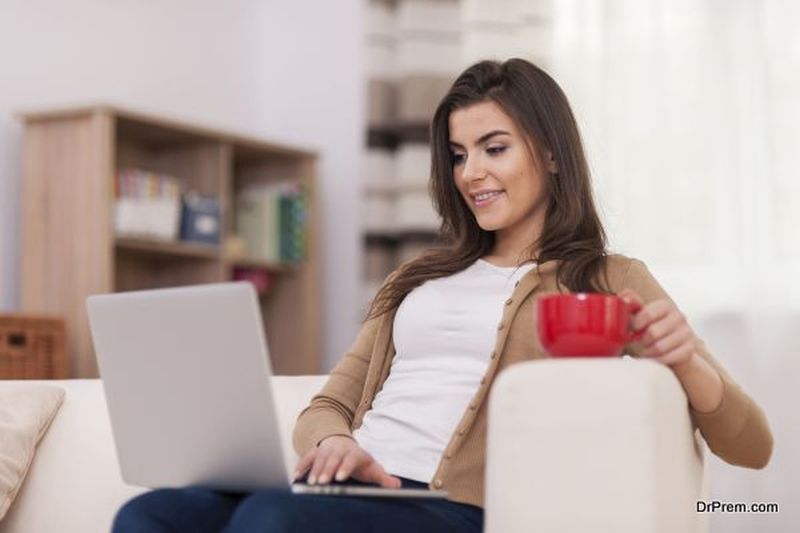 To help the environment and reduce the carbon footprint at your wedding, why not send out digital invitations? Digital invites look pretty good too, and you have the advantage of them being delivered instantly, with no chance of them being lost in the mail either. People can reply with RSVPs quickly too. You could set up a wedding website too, in which registries, hotel reservations, directions and other wedding related information can be shared. You could share the photos of your wedding on it too, and always have your wedding memories at your fingertips, from the beginning to end.
Calling up your friends and family is also a good idea and will have a much less impact on the environment.
The venue
The choice of venue is a major decision. The venue sets the stage for events, including your wedding. If you're opting for a green wedding, you could choose a venue which would consume the least energy. For example, you could get married in an outdoor venue such as a vineyard or farm, where there is ample natural light i.e. sunlight. If you prefer indoor venues, you could search for venues which use recyclable energy, biodegradable products, and energy efficient appliances and so on.
An excellent idea is to have the wedding and reception at the same place, so that people don't have travel between venues, thus cutting back fuel emissions.
Flowers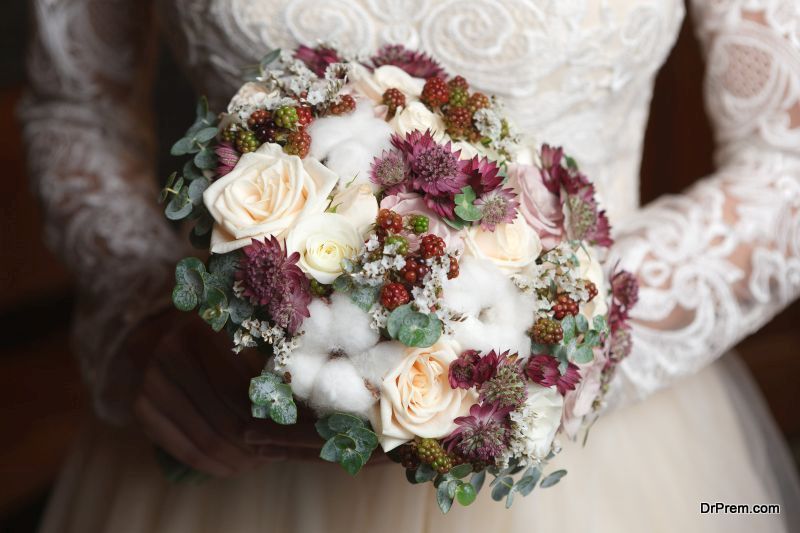 Choosing seasonal flowers is the best option, as they are easily available. Summer's the best time but winter also has flowers like roses, anemones, winter berries and hydrangeas which are perfect for weddings.
Wedding gown choice
You can choose a pre-loved gown which can be bought at a very nominal price. You can find these gowns on sites like e-bay and other pre-loved sites. This will save you a ton of money which you can use for other purposes.
Go organic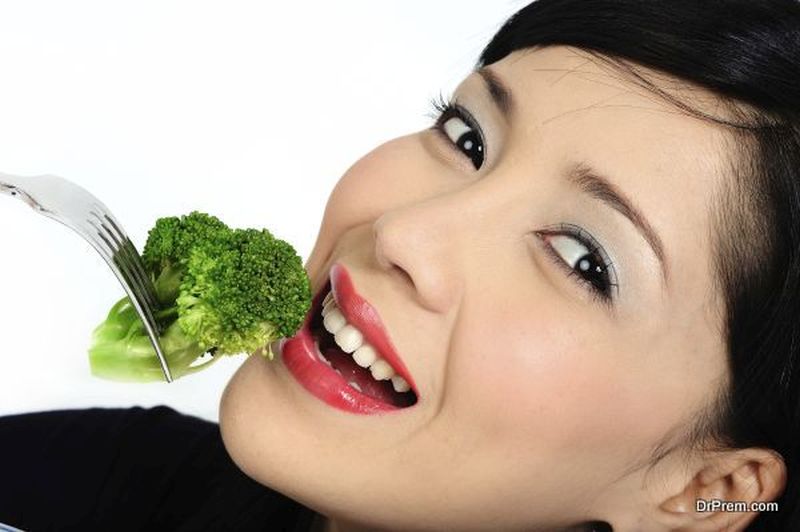 You can choose to use organic flowers, food and organic cloth for the table cloths can make your wedding greener.
Recycle and reuse
You can use previously used decorative items and also pass them on to other couples who want a green wedding. You can make your own decorations and for favors to give out, you can gift bulbs, seedlings, herbs etc that the guests can grow at home. You could also gift a particular amount of money to a charity on behalf of the wedding party. You can rent centerpieces, cake toppers, banners, twinkle lights etc or you can rent these from shops which rent out party items.
Biodegradable confetti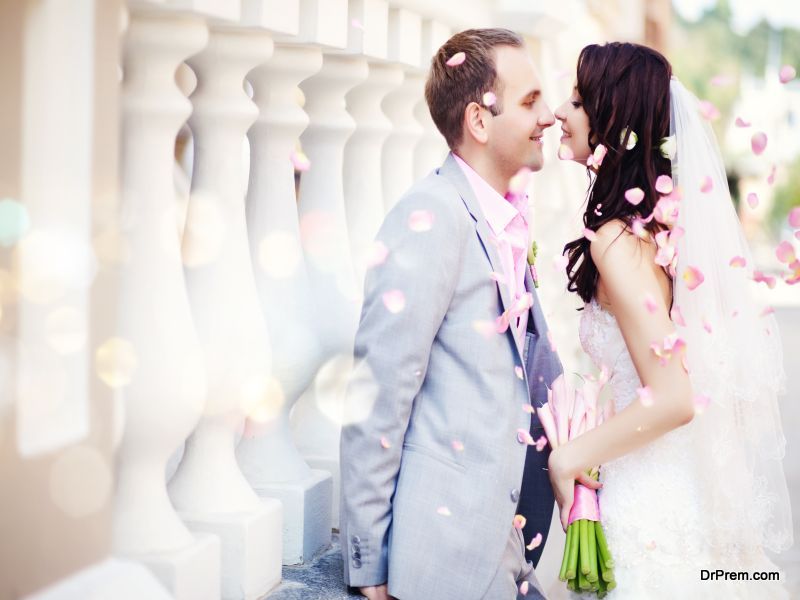 The confetti click is one of the most memorable shots in a wedding. The smiling faces, riot of color and happy people make for wonderful photo ops, in which the showers of confetti play a major role. But instead of traditional confetti, you could go for dry flower petals which look incredibly pretty and are biodegradable.
The food
Local grown food is the best as they taste fresh and delicious and it can be organic too. The entire menu can be planned with local food items in mind.
The registry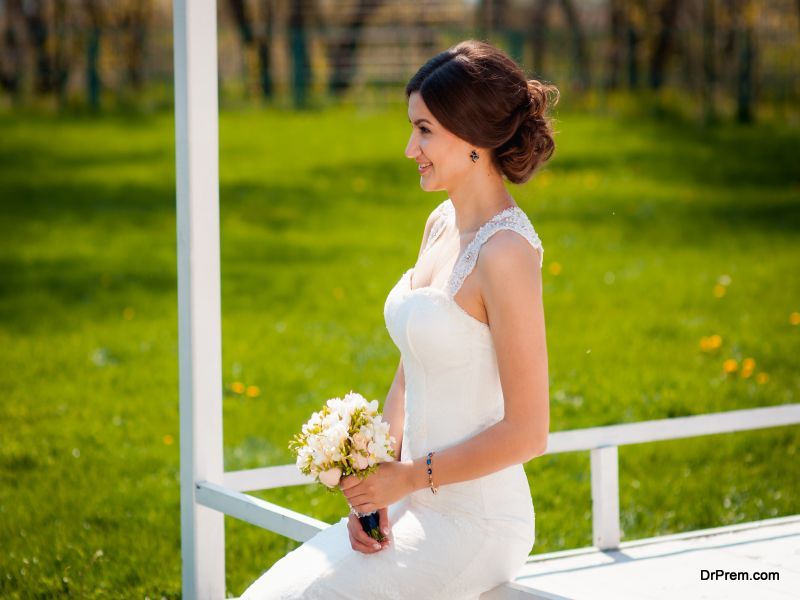 These days there are eco-friendly options for almost anything- from reusable plates, cutlery, bed clothes, bath and kitchen products. Or you could just ask for charitable donations to a green NGO. 
A green wedding can be as smart and stylish as a traditional wedding and can give you the added satisfaction of having done something meaningful on one of the most important days of your life.