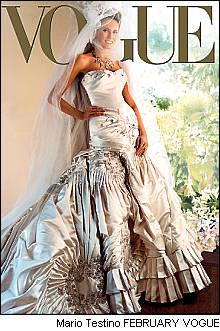 A lavish wedding affair is to be broadcasted live. Melania Knauss, the Slovenian supermodel got the permission of her future hubby to carry her wedding plan as she wants. And yippee, she just grabbed the chance and wasted no time in gearing up Trump's home- The Apprentice to broadcast the entire wedding live on the TV.
The supermodel surely gonna be bankrupt with her current amount of shopping she's doing. She is said to have got herself a Christian Dior frock that is exclusively hand-embroidered and guys just imagine it cost her $100, 00. With that kind of money we would have definitely bought a luxury apartment. The train of the ladies dress is 13 foot long and the veil longer than the train. Man! 98 yards of white satin all done in 1500 rhinestone. How will she carry that? The lady gotta take a good care of her health if she needs to carry that much of weight.
Well, its Melania's luck. She got it all to flaunt, a hot body, a designer label, don't you think so the tag itself speaks …and of course the hours of hard labor put on by the 28 seamstress.
More at: Daily dish (NY Times)