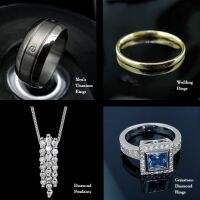 According to a research commissioned by Diamond Trading Company (DTC) presided by ACNielsen revealed that about 6000 people who were involved in the survey said that a diamond ring is what will make the woman the most happiest person in the world.
So all the lovers you better stay prepared for the big day. This is for all the macho guys, if you wanna get hooked to your lady love there is just one thing which will get your job done: A sweet diamond ring.
Almost a vast number of men said that they always try to gift their beloved on the Valentine's Day with something extra special but it is always not that surprising for the women. They still remain unsatisfied even though gifted with a diamond ring; well the reason being the British male counterparts as told by the opposite ss4x is less romantic.
The survey further revealed that it is the French men who top the list of romance as seen through the eyes of woman from all around the world.