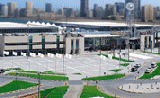 A wedding show is organized by Expo Centre Sharjah to be held at Sharjah on the 21st of February 2006. The event will be highlighting all the wedding services and products that the future bride and groom need to know while preparing for their wedding day.
This four day long event will be the one stop destination for all the couples intending to get married in the times to come.
Keeping in mind the vast majority of the Middle East population who is under 20 years and will be embracing marriage in the coming years this show has been organized so as to guide them out in every way.
As said by Mr. Saif Mohammed Al Midfa of the Expo this show is also targeting to meet all the growing demands related to wedding in the near future.
The event will house a mix display of both the traditional and the modern products. This is surely going to be big event for the Arab couples who intend to marry real soon.