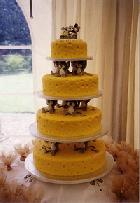 Wedding is a very special day for everyone. It's the occasion that you will remember for a lifetime. So why not make this event a moment to cherish forever.
Along with the other accessories and wedding plans the wedding cake too is an important part of the occasion. Check out this utterly delicious cheese cake. Don't go by the design of the cake. It's the taste as well as the simplicity that vibrates through it does means a lot.
We suggest you get it for your big day.
Via: Foodmall