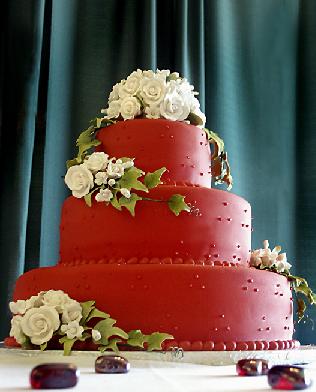 Wedding cakes since time immemorial has gone through various reprisal. The tradition of wedding cakes date backs to the medieval periods. The original wedding cakes were unlike the stylishly decorated yummy ones today. It was just a loaf of baked wheat bread, prepared especially for the nuptial ceremony. During this ceremony, this piece of loaf was broken over the bride's head that was regarded as a blessing. And the remaining crumbs were eaten by the guest so as to bestow luck on the bride.
But another important aspect of the breaking of the cake signifies the breaking of the bride's virginity. But with the progression of time the traditions gave away to modernization. There was a time when the cakes were gifted to the couple and they were place so high that it almost became difficulty for the couple to kiss each other. And if they somehow manage to lock their lips it was a symbol of future happiness.
Nothing is static in this world. Hence with the dynamic changes in the culture and traditions the rituals that were practiced faced an early demise. As the modern age dawned it became more and more improper and impractical to break the wedding cake over the bride's head. In the midst of the 17th and early 19th century the wedding cake became popular as the Bride's pie. The ingredients include mainly a glass ring, sweet breads, mince pie or a tiny piece of mutton pie: and whoever lays hand on that ring will be the next on to be married. Towards the later part of the 19th century the Bride's pie was replaced by single-tired cakes with slight designs in it.
The color of the cake was mostly white that personifies the bride and purity and in the contemporary age of today this tradition is still practiced and is even more strengthened with almost everyone sporting a white wedding gown along with the white designer cake. A white cake also meant that the family was rich. There was also the groom's cake which in stark contrast to the bride was dark in color. But now this tradition has altogether disappeared.
As days flowed into nights and nights into days the wedding cake underwent rigorous changes. And today we have what we define as the highly stylish multi-layered designer cake. The cake that we have today is not just confined to a single color. Today we get the most expensive icing done in them. It is more of a reflection of the ceremony and the person's individuality rather than the tradition. One tradition that has not withered away is the eating of the top layer of the cake by the bride and groom.
In the near future more and more changes will take place in the wedding cake that we have today. But as the saying goes, some rituals survive and some just fades away, so will the case with the wedding cake.
Read more:History of wedding traditions