Adele Wechsler's Eco Couture Collection is one of the few which would have you drool all over the dresses. Eco-friendly wedding gowns are now becoming the new trend. It is gaining the recognition it deserves at a very high pace. Every person feels the need to safeguard the planet surely, so why not get married in something which would make you feel proud of yourself! With your choice, the whole wedding can go environmental friendly, with the help of Adele's Eco Couture collection. It has incarcerates an eternal originality which is entirely stunning. The collection has three premises to it which are, brides planning destination wedding, Modesty with a modern update and Eco for the pragmatic bride seeking a luxury green alternative. This designer has great love for our planet and hence has the designs viewed with such buoyancy.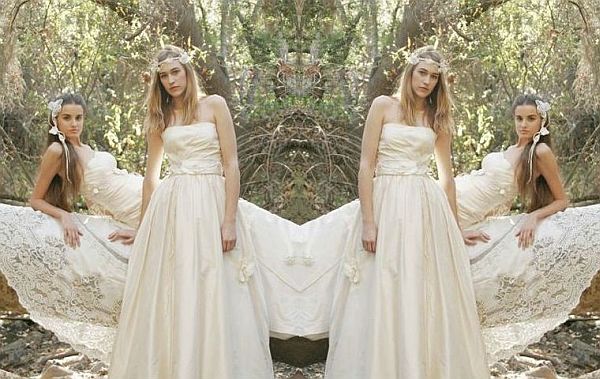 Designer
This sagacious designer has excelled in all its ventures since she was a young teen. She started her career as an assistant for a high fashion sportswear company. Adele has always been an extraordinary student throughout her journey of fashion. At the age of 21, she launched her own company mixing woven fabrics with knits. In the fashion world dominated by 'Cinderella gowns', Adele's designs were welcomed as a phenomenal alternative for wedding dresses. In 1991, she became a full-fledged bridal designer. In 2002, she expanded her business into US, because of the demand from American bridal salons. Then in 2007, she moved into a big space to serve North American and international markets. This year she also worked with Zulu artisans, whose designs were inspired to incorporate a humanitarian component. This evolution followed up with an enormous eco friendly initiative executed by Adele in the form of her Eco couture collection
Inspiration and goal
The main inspiration center of the whole evolution was the phrase – 'For the bride who cares about the world in which she lives'. The phrase has a deep hidden connotation attached to it, which swayed the task of designing eco friendly dresses. The 'Hello Africa' collection, which was based on a humanitarian component and renowned for giving an astounding meaning to a bridal wear, gave an elevation to this theme. Gradually with the popularity of green wedding theme in the wedding market, the evolution took a high and became the center of talk in the fashion industry. With this intriguing and captivating thought, Adele successfully pioneered the section of 'Eco Couture' Bridal wear.
Adele Wechsler's Eco Couture Collection
The Adele Wechsler's Eco Couture Collections have all the colors of independence and freedom. The collections represent culture and the earthling roots attached to each individual and their lives. Whole of the designs in Adele's collections are organic based and are shaped of anti toxic elements. The usage of vegetable dyed silks and remnant fabrics allow greater space to the eco friendly materials and ensure no harm to the environment. All the creations are hand cut and are escorted with superior couture hand detailing. The designs are mainly crafted and created in Canada. The final result is accumulated with the help of fair trade labor, which ensures perfection in all their tasks.
There have been six assorted beautiful and mesmerizing Eco Couture Collection brought in the market till date by Adele's designer label, namely Eco couture collection, Eco couture collection I, Eco couture collection III, Eco couture collection IV & V and Eco couture collection VI.
Every collection has its own grandiosity and vivacity. Each collection exhibits a different facet, elegance and patterns, which extremely attracts the brides-to-be. Overall the collections prove to be one of its own and unusual. It's mainly seen on the priority list of every soon-to-be bride now a days.
Why to buy?
The instant question that pops up in a bride's mind is, as to why she should opt for an Adele's Eco-Couture Design, instead of picking up a bridal gown available in any store in the market? The answer lies in the name itself. The Eco Couture collection by Adele ensures proper usage of earth friendly materials along with superb quality fabrics and conspicuous designs. The handmade detailing of the bridal wears inhibits panache and flamboyance in a bride's personality. The colors are soft and sublime, they exhibit a sense of soothe which illuminates the poise and resilience on an altogether different niche.