The Halloween eve is round the corner and the world has kicked off arrangements and planning to welcome this festival with more enthusiasm. Every product – ranging from candies to lights – has appeared in the market, the example of the height up to which Halloween fever can go. Halloween is not only about trick-or-treating or setting up horror-themed decorations in the house. It is also about inviting guests, like friends and relatives, to share joys and fun. This meet-up should also be Halloween-themed in order to make the evening even more special but this party becomes even more special when you are planning to marry on that day.
To commemorate this festival, it is a very good idea to make your wedding Halloween-themed. As you cannot wear any other dress during the wedding or marry in a graveyard instead of a church, the only – and best – way to make your wedding a memorable Halloween fest is by bringing the theme to food and favors. These treats can be made more attractive and memorable by presenting them in packaging that will not only make the table more beautiful, but make the environment more energetic and fun-filled. Following are some of the ideas you may refer to make your wedding a Halloween one.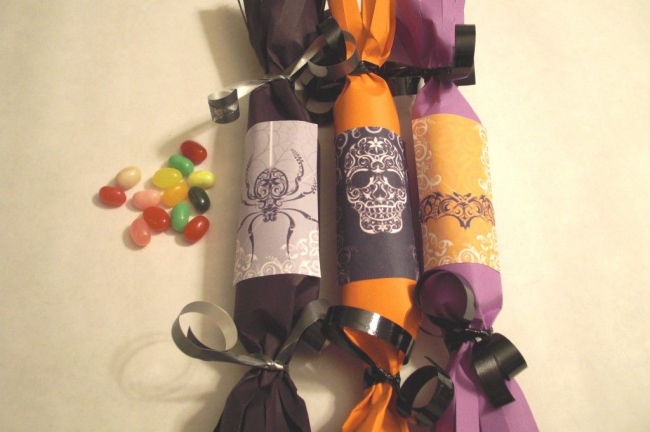 1. Halloween-themed food
Halloween is the time to experiment with food, as there is no one to complain if anything goes wrong as long as it is a treat to look at and not a health-hazard. You can create various types of candies and costumes based on Halloween. You can shape them like pumpkins, ghosts, black cats, witches and any other horror-themed thing. You can also go for masked-shaped cookies that can be served on trays or Halloween-themed gift-boxes. Placing personalized messages written on muffins or cardboard cards can add more zing to the wedding party and become a better wedding favor for your guests, though they may not be enough by themselves alone.
2. Candy and nut mixes
Nuts are loved by everyone and they are the symbol of prestige and status. So, they are great ingredients for making assortments for adults, like chocolate truffles made with brandy. Put these assortments in bags and wrap them up in colored fabric circles, especially orange-colored ones.
3. Treasured treats
Halloween is all about mysteries, adventures and horrors. Host a treasure-hunt event in the wedding party with certain Halloween-themed treasures for grabs such as gold chocolate coins in 'spooky' treasure-chests. This will not only make the party unique, but also eventful and fun.
4. Classic wedding candies
Even after so many options, if you want to have traditional wedding candies, there is nothing to worry about. You can fill almonds in candies colored in Halloween orange or classic white, giving it a Halloween look. You can also use silver baskets to present them to your guests, along with personal Halloween-based messages, such as "Spooking your Time about".
5. Vintage Halloween goody bags
For something different yet still Halloween-inspired, use dainty tulle purses to hold yummy fillings in the traditional colors of the occasion. Think purple Hershey's Kisses in a bed of orange crinkle paper or orange candy chews nestled in purple crinkle paper. Then, finish each favor with a petite black bow—a lovely contrast to the purse's white tulle material.
6. Cats, bats and witch's hats
You remember the crooked witches' hats? Or scary black cats and bats? Its Halloween time and is ideal for bringing your childhood horrors to life. Create mini 'fans' from black paper cut-outs in these Halloween shapes, attach them to popsicle sticks and decorate each stick with a black tulle bow. You can also write guests' names in silver ink on them, and make them act as card-holders.
7. Goblets of goodies
Liquids in Halloween are not colorless or bright, but creaky-colored. To create such fluids, fill wine goblets with jelly beans of purple, orange and black colors. Adorn each goblet with a black ribbon and then stand one atop each place setting for a festive touch to your table decor.
8. Creepy cupcakes
Cupcakes can be one of the best wedding favors you can go for, especially when they are prepared at home. You can bring a touch of Halloween to it by making them larger than usual, with witch, ghost, bats or cobweb as finishes. To make them more presentable, you can place them in a white box, tied down with Halloween colors of orange, purple, green or black ribbons.
9. Witch's brew of chocolates
Witches used to concoct their twisted versions of meal. Now, you can feed the meal from these cauldrons to your guests. Take small clay pots, paint them black with orange swirls and fill each of them with chocolates crafted in Halloween shapes, such as bats and spiders. Place them on the favor display table. To add a more ghoulish look to them, place dry ice under them to produce a ghostly mist around them.
10. Spooky cookies
Cookies are everyone's favorites, and are also easy to make and design. Bake cookies shaped in the form of monsters, bats, ghosts, pumpkins and any other Halloween creature you can come out with. Place these cookies in orange fabric wraps, and add funny personalized messages on them.
11. Candy apples
Cover candy apples in clear cello wrap, and then package them in purple and orange wrapping tissue or fabric.
12. Stylish scary frames
Prepare mini gold frames, each holding a personalized Halloween message with cotton cobwebs, if you want some elegance to the gifts. Tie a black ribbon around each frame and you have a Halloween-themed frame.