The grand day when you unite with your soulmate forever is just round the corner. One of the important arrangements that you need to make is your wedding cake. If it is a winter wedding, then try out the below options for your unique wedding cake.
Say it with snow
You like to keep it simple and at the same time want it to be unique then go in for a simple cake which depicts the season and the couple. You can have it decorated with bare trees and a replica of the couple in warm clothes will make it look real cute.
Disney all the way
You grew up reading fairy tales then why not incorporate the same in your cake? You might pick up snow white and her prince charming theme with the tiny seven dwarfs adding colour to the wonderful white cake.
The winter ensemble cake
You can opt for a cake which has all the motifs of winter right from the snowball, polar bear to snowman and pine cones. It should clearly depict that winter is around the corner.
Wedding theme cake
Let your cake be a wonderful amalgamation of winter and the theme of your wedding.You can have the exact replica of the centre piece or the bride's flower bouquet in the centre of the white cake. You can also add colour as per the colour of the decor of the venue.
The snow covered surroundings
Let the cake depict the snow-covered surroundings. You can showcase the snow covered trees or snow covered mountains. You can also have beautiful lovebirds perched on a snowcovered hillock.
The Christmas wedding cake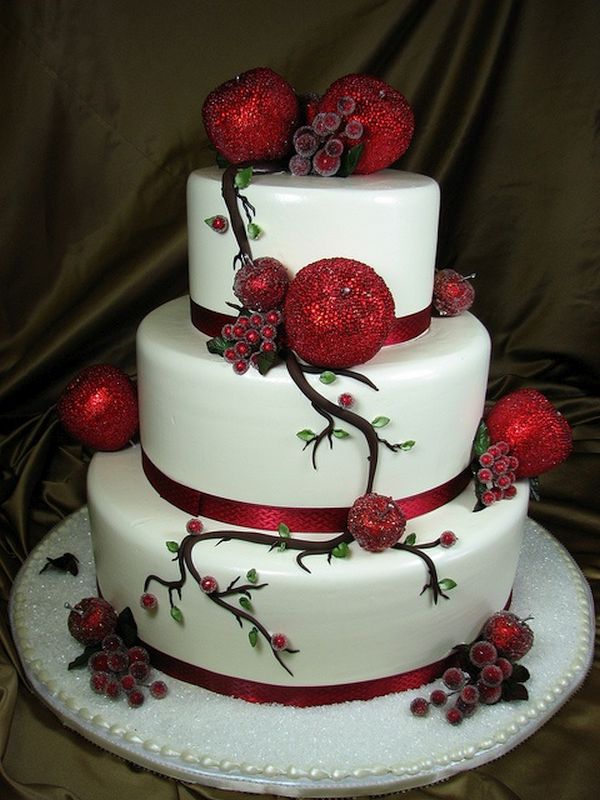 Image Source : Salst.Com
If you are going to have the privilege of a Christmas wedding then you can blend it in your cake. You can have reindeer and lovely Christmas tree or maybe even dear old Santa Claus with his bag full of goodies.
Meeting of two season's cake
If you have a wedding which is towards the end of winter and beginning of spring, then you can just blend the beauty of both these seasons in your cake. You can add a dash of colour with blossoming flowers.
The wedding cake has to be a reflection of the couple's love story and so it does not have to be just yummy to taste but also as unique as the lovely couple. You need to add a touch of innovation and novelty to the cake in order to make it the perfect wedding cake.