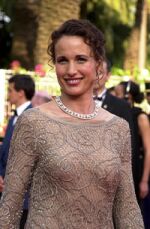 As revealed by the People Magazine, Hollywood babe Andie McDowell is planning to marry for the third time now. She is all set to walk down the aisle with her current Boyfriend, a North Carolina businessman, Kevin Geagan.
In her late 40's, she was earlier married to Paul Qualley, a model and later a contractor for odd 13 years and then her childhood love Rhett Hartzog.
There is lots to be said about this "Four Weddings and a Funeral" movie star.
You guys better check it out with the paparazzos…she is sure making headway with the third wedding. Well we just wish that she sticks to Kevin.
Kevin!!! Beware.