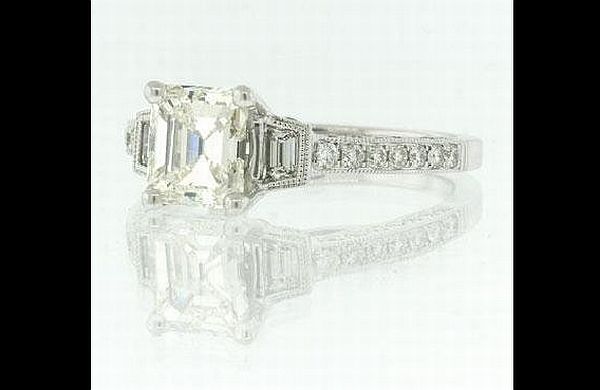 Designed in 1902 for the first time by Asscher Brothers of Holland, the Asscher cut diamond rings have their own charm and elegance. The Asscher rings have cropped corners which differentiates it from the emerald cut. Until recently this style of diamonds was not much in demand, but after this cut was worn by the cast of "Sex and the City" show, this has become popular and one of the favorites amongst women. What can be better than wooing your lady love with this glamorous Asscher cut diamond ring that will wrap her finger in a timeless beauty. We bring you some of the most stunning Asscher cut diamond rings. Read on to find out the best one for your woman.

1. 2.22 ct Asscher Cut Diamond Engagement Anniversary Ring
PRICE : USD 8295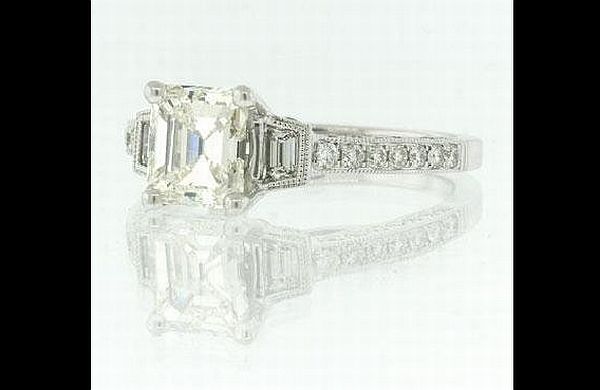 Timeless beauty, this classic diamond ring is set in 18 carat white gold and has a vintage appeal to it. This Mark Broumand ring has a dazzling diamond in the center that weights around 2.22 carats and its minimum color is IJ rated. While its clarity is VS- VVS. These highly polished diamonds are set in stunning white gold that complements its look. All the diamonds are natural and non treated. This ring is certified by GIA and hence, its quality is non conflicted.
USP
Asscher cut diamond sparkles in the middle of the 18 carat white gold ring. It looks gorgeous and gives a vintage charm to the ring.
PROS
The diamond is set in designer setting.
The ring size is 6.5 and you can also get it in various other sizes.
2. 2.11 Ct Asscher Cut Diamond Engagement Ring by King Of Jewelry
PRICE : USD 6785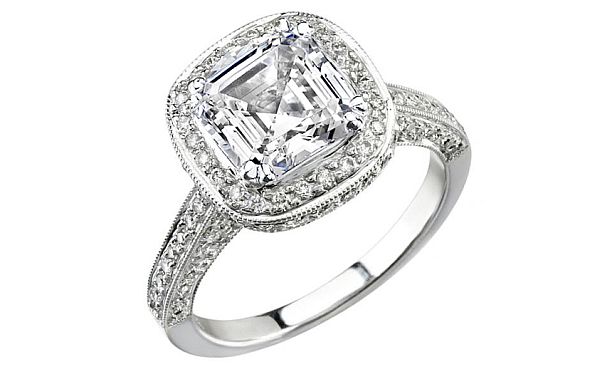 An entourage of ire and beauty radiates from this exhilarating diamond engagement ring. Its unique design incorporates gorgeous diamonds which will surely fascinate your senses. The gorgeous 1.51 carats Asscher cut diamond is the focal point of this stunning ring. Side diamonds complement the central stone and makes this ring dazzling. The color of this diamond lies between F and G, while its clarity is SI1 to SI3. Surrounding the central stone and overflowing down the shank are 0.60 round cut diamonds that shimmer with fire.
USP
Overflowing down the shank, the small diamonds accentuate the ring as well as highlights the central diamond.
PROS
This ring is available in 14 carat gold, 18-karat gold and even in platinum.
It comes with a lifetime upgrade policy.
3. Asscher Cut Halo Diamond Engagement Ring
PRICE : USD 1700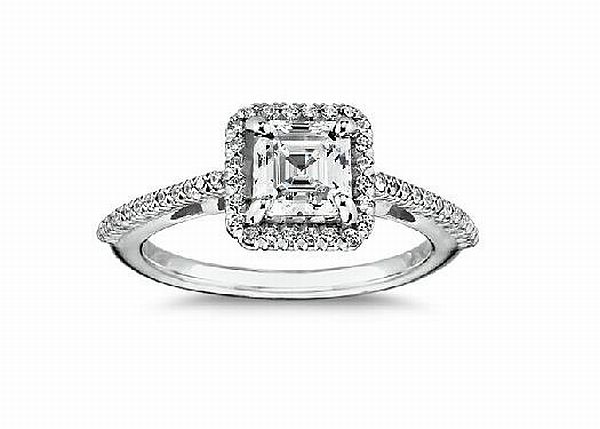 Exceptionally elegant, this ring will surely woo your love. Please her with this dazzling Asscher cut halo diamond engagement ring and make her feel special. Set in 18 carat white gold, this stunning ring has the width of 2mm. The diamond's prong setting metal is platinum. Available is various sizes, this ring is a great option to be gifted to your beloved. The diamond is I in color and its clarity is SI2. Pave setting adds sophistication to the ring.
USP
The intricate detailing of the ring gives a royal look.
PROS
You can also opt for other metal options like 14 carat gold or platinum.
The ring can be customized in different cuts like round, princess, emerald or marquise.
4. 1 Ct Asscher Cut Diamond Solitaire Engagement Ring 14K SI2 F-COLOR EGL Pave-Set
PRICE : USD 4399.99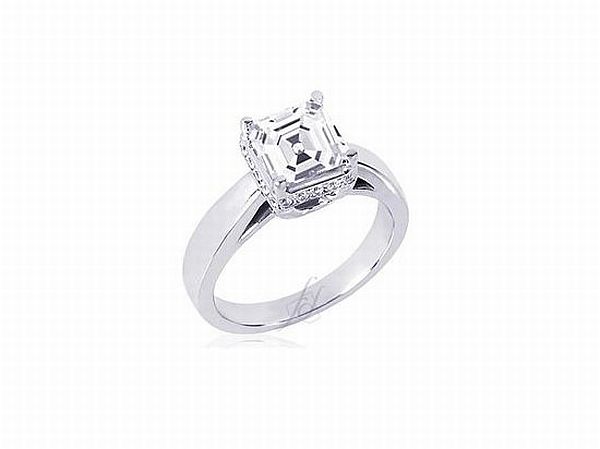 This stunning Asscher cut diamond engagement ring will surely woo your woman. Set in 14 carat white gold, this ring is simple and elegant. The central stone is set in prong while the diamonds on the side are set in crown setting. The central diamond weighs 1.01 carat while other diamonds weigh 0.04 carats in total. The diamonds have F color and its clarity is SI2. Gem length and width are 5.34 and 3.77 respectively.
USP
The dazzling central diamond is surrounded by round cut side stones that adds sparkle to the ring.
PROS
All stones in this ring are non treated and natural.
Set in 14 carat white gold, this can be an exquisite piece to make your love feel special.
5. Asscher Cut/Shape Antique/vintagestyle Diamond Engagement Ring, VS Clarity (2.61 Carat t.w.)
PRICE : USD 10899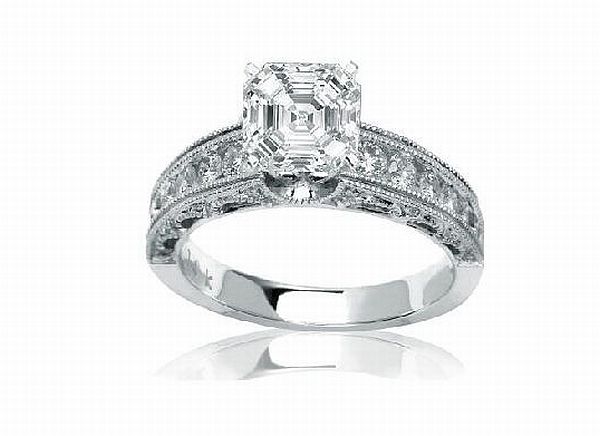 Mesmerizing is the word which defines this truly stunning diamond ring in a vintage design. Made from 14 carat white gold band, the central diamond of this ring is surrounded by channel set white diamonds. The 0.50 inches wide shank sparkles with gemstone. These non treated diamonds are all natural with a great cut. The color varies from G-H, while its minimum clarity is SI1 to SI2. Round brilliant cut lets the light to refract in a manner that it shines in its own beauty.
USP
The shank is decorated with round brilliant cut diamonds which looks gorgeous and appealing.
PROS
This ring is available in sizes varying from 4 to 7.
The stone weighs 0.6 carats and 2.01 carats in total.
6. 1. 35 Ct Asscher Cut Halo Vintage Diamond Engagement Wedding Ring Pave Set VVS1-F
PRICE : USD 5279.99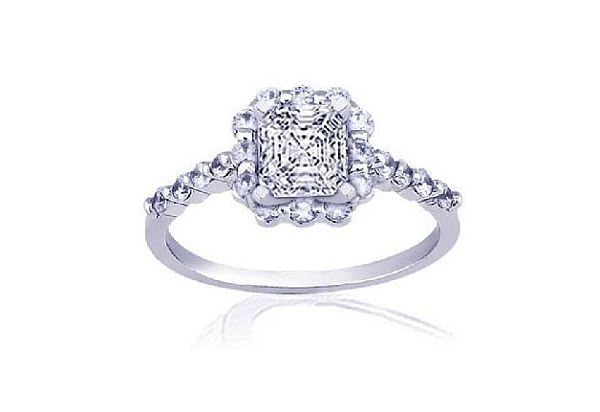 Fascinate your love with this charming Asscher Cut Halo Vintage Diamond engagement ring.This amazing ring has diamonds studded in white gold. The total weight of the diamond is 1.35 carats, which are set in pave setting. The width of the ring is 2.90 millimeters and it is available in sizes from 3 to 6. This ring features 30 diamonds in all. The diamonds surrounding the central diamond weigh 0.77 carats. Diamonds have the minimum color of F and the clarity is VVS1. All diamonds studded in this ring are GIA certified.
USP
The glamorous design of this ring gives it a vintage appeal.
PROS
You can get this beautiful ring resized.
7. 1.85 Ct Asscher Cut Diamond Vintage Heirloom Engagement Ring Pave VVS1 GIA 14K
PRICE : USD 6599.99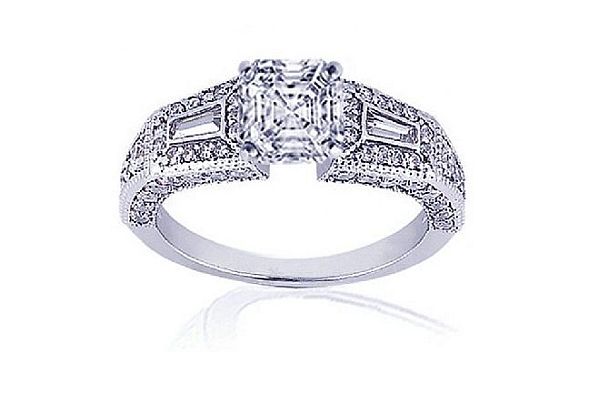 Let your love dazzle all the way with this glittering diamond ring. Adorn your woman's finger with this beautiful Asscher cut diamond ring which is designed to give a vintage appeal. Set in 14 carat white gold, this stunning ring features 68 diamonds to make it exquisite. The central stone is bejeweled with small diamonds in excellent cut, adding glitter to the shank of the ring. The total weight of all the diamonds are 1.86 carats. It clarity is VVS1 and its color is J.
USP
The stunning design of the ring showcases a royal and ancient glamour.
PROS
It is set in 14 carat gold and features pave setting.
The ring is GIA certified.