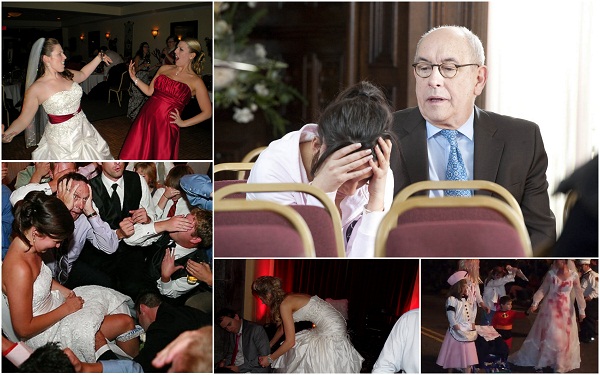 You plan out everything for the most important event in your life, that is your wedding day and try to keep everything under control. But you cannot control and manage the guests who are attending your wedding. Guests play an important role in a wedding ceremony and fill the atmosphere with joy. After all they give you blessings and good wishes for your new life. But sometimes knowingly or unknowingly these guests commit some bloopers which can halt your celebrations and create tension, which definitely ruins the joy of a wedding ceremony. These bloopers committed by the guests cannot be avoided but the tension and frustration caused by them can be reduced if they are tackled in a right way. We present you a list of some common bloopers done by the guests and how to tackle them.
1. Bombarding the bride
As soon as the guests receive their invitation for the wedding, they start harassing you with questions related to the wedding which can include the venue, transportation, accommodation details, etc. They will also discuss things which they have planned and will go on and on. The best way to deal with this bombarding is to attach another card to the invitation card which includes all the relevant information. Remember to include link to hotel in which you have arranged for accommodation for the guests. Also include local restaurants, museums, driving directions for their convenience.
Tip: The best thing to do is have a coordinator help you out with this. You could hire a planner for the wedding and she will take care of everything. Especially if you have a destination wedding and you have to take care of the fact that they reach the wedding place, the staying of the guests. It could become chaotic.
2. Guests who show up late
Some people tend to take things for granted because they have a notion that ceremonies just cannot start on time. Can you believe there are some guests who show up late and walk behind the bride as she is walking down the aisle with her father! For the guests who are really late, you can ask your wedding co-coordinator to be somewhere near the rear of the ceremony site and help the guests who are late so that the ceremony goes on undisturbed. Other way of avoiding this is to mend your schedule for starting the ceremony fifteen minutes late for your friends and relatives who you know would be arriving late.
Tip: You could have specify the time on your invitation cards as well. You could notify people that the wedding would be on time and to not be late. The reasons are many for guests coming late sometime you cannot help it. That is the time the planner comes in handy.
3. Throwing up unexpected toasts
Toasts mostly serve as an opportunity for family and friends to share their feelings and sentiments with all the other guests. However, this sharing of sentiments can turn a blunder and guests can do funny things as some may feel compelled to grab the mic when they are not asked to and can start their embarrassing stories. These cases are mostly out of control and all you can do is to bear it. If the toast looks like never ending, then you can tell the best man to signal the band and carefully cut in. Or else, to just chop off these unexpected toasts is to make sure that the host has a list of approved toasters and tell them not to pass the mic to anyone else.
Tip: Toasting could always be a bit of a hassle especially when you have drunk guests around. You could just not take notice of people who you think could toast unnecessarily but not in a rude manner. You could have the band play after your toast as mentioned above. It is the best thing to do.
4. Too much drinking
It could be possible that many cocktails can encourage your guests to be biggest party blooper. You can tell your bartender to cut off anyone who has had too much of drinks. Although you can't keep a check of these things, you can call your coordinator to call a cab for them and make sure they take a ride. You also have to see that everyone reaches home safely.
Tip: Know most of the guests that are coming to your wedding, so you could have drinks which you know they all like and know how to drink. Sometimes guests take advantage of free drinks and keep drinking. Do not allow anybody o get drunk, you could notify the bartender.
5. Gatecrashers
You can't avoid the gatecrashers in your wedding who come in for good food and free drinks. Without getting freaked out what you can do is letting them stay till they are not causing any conflict in the party. Or else you can opt for a site manager who can quietly deal with them without disturbing the party. Be cool and calm on your day, things that are bound to happen will happen.
Tip: Wedding crasher have always been a problem, and nothing can be done about them.You could have them dealt with on a quiet note once spotted. You could either have the guest list given to people at the gate so you would not have anyone who has no relevance to the wedding entering it.