Hold your breath for the most amazing designs of the season as Atelier Aimee wedding collection for 2012 is out. Passion, love, romance, dreams and desire are reflection of any wedding. Sophistication, beauty, charm and elegance are expressions of every bride. Atelier Aimee wedding dresses celebrate all these emotions. There are many styles and cuts, each contemplate flawless beauty.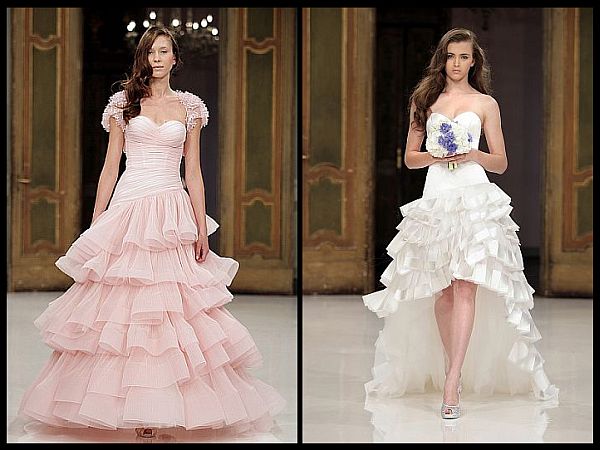 Bridal looks
This collection display three looks of bride
Diva Bride – Figure hugging gowns with rich detailing such as turquoise and feathers.
Romantic Bride – Dreamy shades of silk taffeta with romantic details of bouquets of roses and peonies, pearl and flowers embroideries.
Minimal Chic Bride – Less is more, gowns with sartorial touch. This collection is inspired by Royal couple, Kate Middleton and Prince William. Flowers at the waist and crystal enrich dresses are peak of this collection.
Wedding collection aesthetics
Aesthetic use of pink and blue makes the wedding dresses all the more attractive. Today's modern and sophisticated bride will like smart use of colors and cuts. Red Carpet collection is for Diva bride who is confident and seeks perfection. This collection has turquoise embellish dresses with bold look. Beads and crystal have been used to add glamour. Feather accent and criss-cross details have been added to enhance natural beauty of the bride. Amazing use of flowers, pearls and peonies have been made with romantic dresses. Flowers at the waist and subtle floral prints create a picture perfect sight for the wedding.
Giuly dress with a flower at waist exhibits classic look. Pink pleated ruffle gown will invoke the entire look of the wedding. Bice mullet short to long ruffle dress is perfect for the bride who is craving for elegant and sexy wedding dress. Experience the dainty of Atelier Aimee wedding collection 2012 with captivating designs and styles.