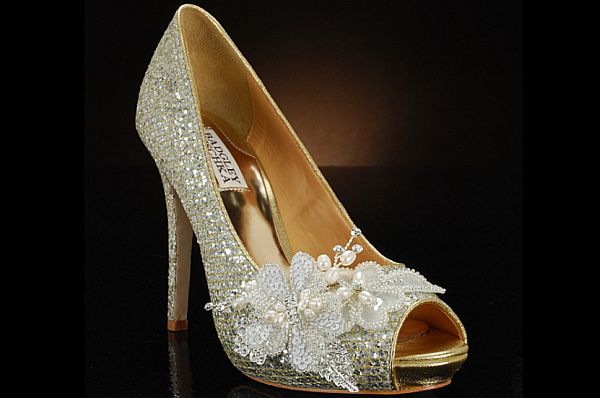 In 1988, Mark Badgley and James Mischka joined hands and started creating extravagant designs for women. During the spring-2000, they launched their collection of shoes, made of the finest fabrics. Their designs are simple yet elegant. Unique designs and an unmatched attention to even the minute details make any Badgley Mischka shoe a wonderful addition on the special day. Great quality, great price, there is no reason a bride should miss having one of these pairs.
My Glass Slipper High-There Gold Wedding Shoes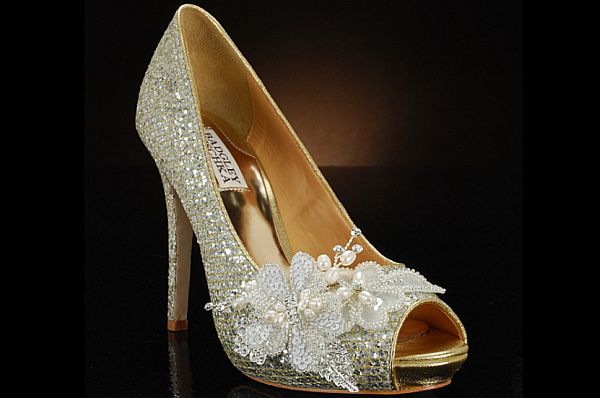 This is a form of design created by My Glass Slipper. The design is elegant and uses the Humbie shoe, which has a sparkly peep toe design and has hand-made beaded decoration on it. The shoe is studded with pearls and beads making it an ideal choice for the bride. High-There has a 4 ½ inch heel and a covered ¾ inch platform at the peep toe end. The shoe is available in gold color and in various size options. To purchase this pair of shoes you will have to shed out $270.
Xavier White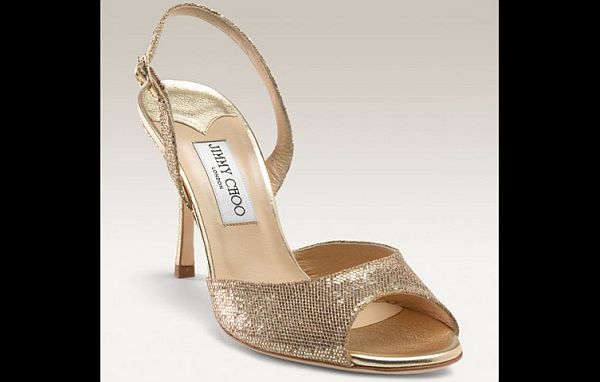 This $280 shoe has a luxurious soft micro-fiber suede pump, and is available in many colors like white or dusty rose, and even white or turquoise. The Xavier white features an invisible wing arch support and a dancer's fit toe box. The shoe comes with a 3" or 4" heel at the other end which is well balanced. It has a soft Italian kid leather lining and buffed leather soles. The insole is made of shock-absorbent Poron memory foam.
Badgley Mischka Women's Lelah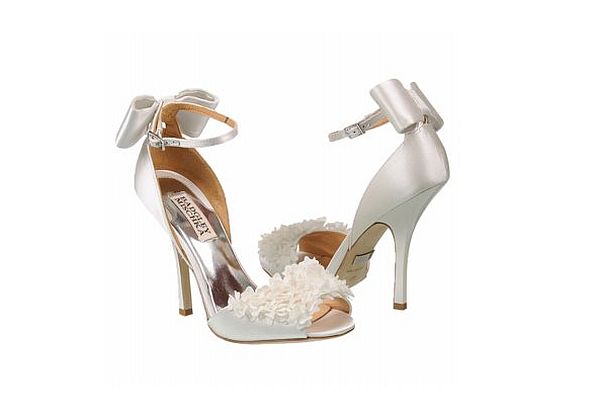 With a price tag of $225, this silver-white shoe from Badgley Mischka is a perfect choice for a wedding day. This shoe has Satin upper in a dress pump style. The insole is adequately cushioned and has a leather lining. The shoe design is elegant and is a great wear on your wedding day. The ankle straps are adjustable with a metal buckle. It has a smooth leather outsole. The women's Lelah has a 4 inch heel which is complemented with a satin bow on the heel cup. Frilly accents on the round peep toe make this shoe even more beautiful.
Badgley Mischka Women's Sanoma Embellished Lace Pump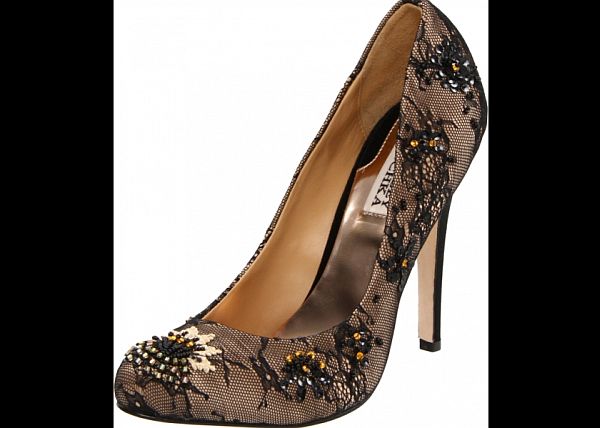 The $225 shoe is available in 4 colors: natural, black, grey and blue. This shoe is made of fiber and has beads studded all over it. It has a well-cushioned leather insole. A major part of the shoe has fiber covered with black lace. The heel measures 4.5 inch and is properly centered making it easy to balance. The front has a dancer's fit toe box. Beautiful black beading and a sparkly upper further intensifies its elegance.
Badgley Mischka Dreamy-Pink Wedding Shoes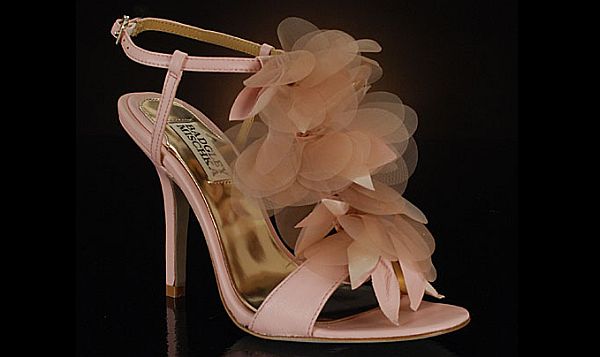 Its 3.5 inch heel not only gives the feminine touch to the shoes but also the flowering decoration on the upper side makes it much more appealing. This $225 shoe is made of pink soft leather. The flower petal decoration on the foot makes the style very unique. This design would never become obsolete. It is also available in a soft shade of white. Sizes available range from 5.5-10. Due to the sophisticated flower petal design, this shoe is not dyeable.
Badgley Mischka Women's Lissa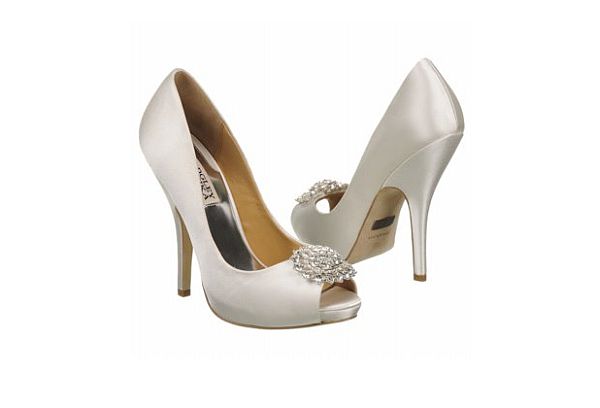 This $245 shoe from Badgley Mischka has an eccentric appeal associated with it. It has a Satin upper in a dress platform pump style with a pointed peep toe. The vamp houses a Rhinestone embellishment. The insole is well-cushioned. The outsole is made of smooth leather. This shoe is available in 4 shades: purple satin, pink satin, white satin and platinum metallic. The 5/8 inch midsole platform gives unparallel comfort and stability.
Badgley Mischka Women's Randall Open-Toe Pump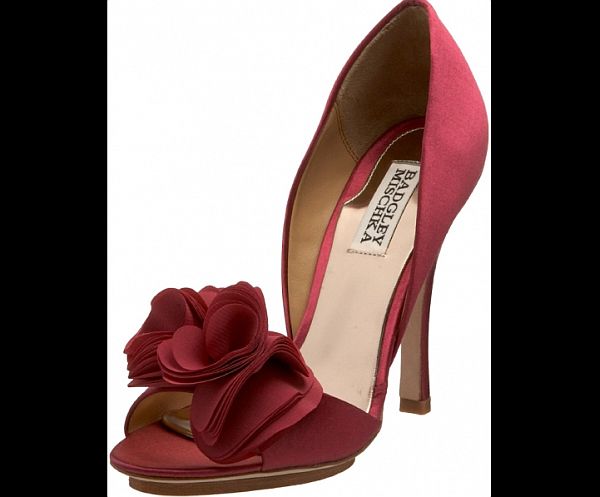 This $200 shoe is a styling marvel. The rose-like design on the vamp makes it even more attractive. Available in over 10 colors: rossat, white satin, taupe satin, black satin, blue, pink, blue satin, rose satin, Bordeaux and silver satin. The shoe has full leather sole. The heel measuring 4 inch ensures perfect stability. The platform measures 1/5 inch and holds the rose petal decoration.
Badgley Mischka Gylda white wedding shoes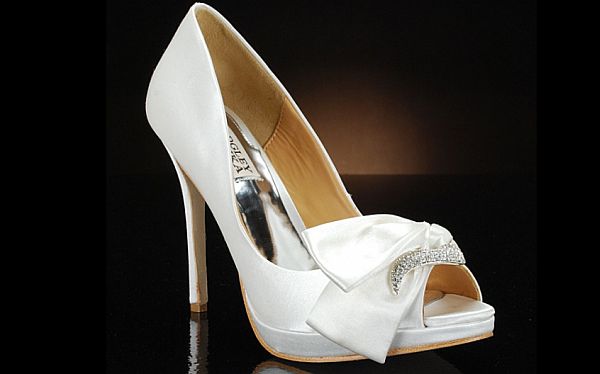 This $245 Gylda wedding shoe by Badgley Mischka features a unique bow design at the toe decorated in a rhinestone cluster. It also has a peep toe, a ½ inch platform and a closed pump heel. This shoe has a 4 ½ inch heel. The insole is made of soft cushioned leather. The beads in the peep toe, along with the bow, make this a unique design. It is available in white or ivory and sizes ranging from 5.5-10. The rhinestone design along with the tight bow design makes the Gylda non dyeable.
Badgley Mischka Women's Java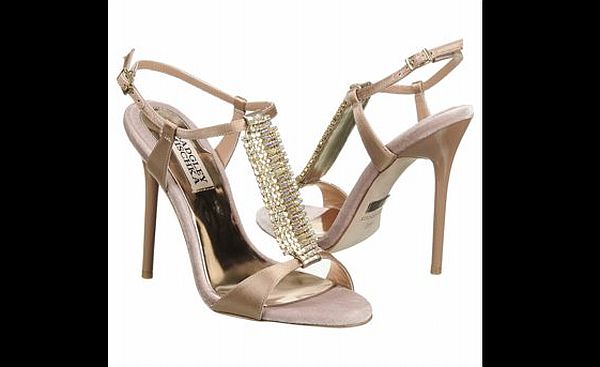 The Women's Java has a satin upper in a dress pump style with a round open toe. The front has a rhinestone embellished T strap and a buckled sling 'ankle strap'. Available in natural satin and satin black, the shoe has a 4 inch stiletto heel. It has a ¼ inch covered platform midsole. The outsole is made up of soft leather. The insole has a smooth lining which gives adequate comfort. The size ranges from 5.5-10. As the shoe features a rhinestone embellishment, it is not dyeable.
Badgley Mischka Forrester White Wedding Shoes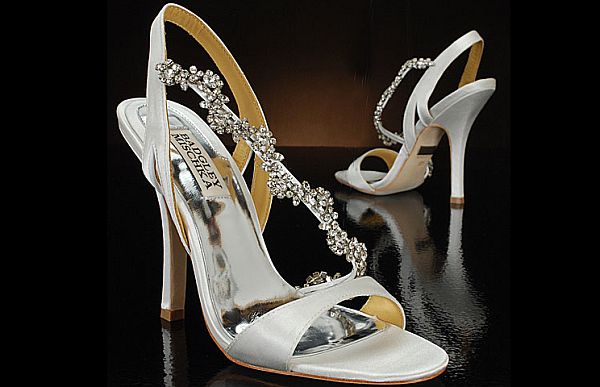 This $215 Forrester by Badgley Mischka is a perfect blend of elegance and contemporary grace. The simple rhinestone design goes from toe to the ankle. It is a fabulous wedding shoe that also has a sling back heel. Available in a single pearl white color, the shoe has a 4 inch heel. The insole as well as the outsole is made of soft leather. The foot bed is well cushioned and the heel is centered to facilitate good stability. The Forrester is not dyeable because of the rhinestone vine.