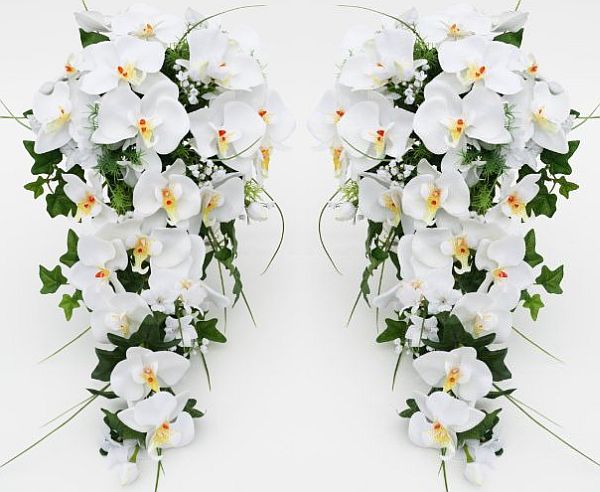 Just imagine how exciting will it be if you carry your grandmother's flower bouquet on your wedding! You might think this idea is bizarre and it is absolutely impossible to retain the freshness of this age old bouquet intact after all these years. But we suggest you to take a look at the silk wedding flowers. They are beautiful, ornate and look so real that you can hardly distinguish them with their original counterparts. Most importantly they are everlasting. What more, you will never have to go crazy in trying to secure out of season flowers too for your theme wedding. Take a look at some of these beautiful silk wedding flowers and add spark to your nuptial ceremony with the best hot pick.
Tropical silk orchid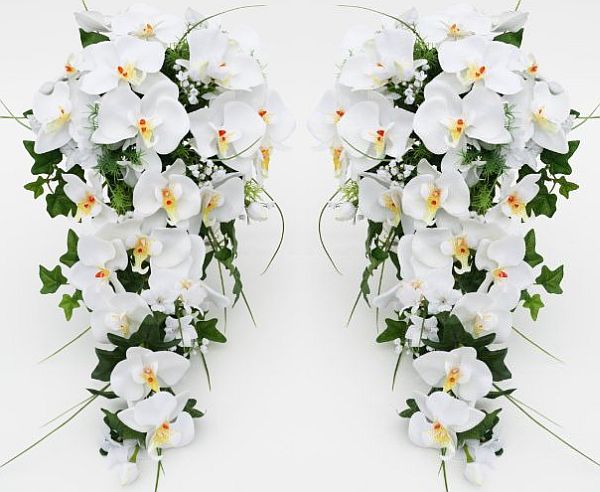 This bunch of stunning silk orchids will make your wedding attire more attractive. The ever fresh bloom of these phaleonopsis orchids seem never to diminish. Thus, it is the perfect way to portray the lifelong commitment and ever novel love of the fair bride towards her prince charming. So, this bunch of silk orchids can undoubtedly be your hot select too for your matrimony? What is most interesting is that these tropical silk orchids will be readily available to you even if you plan to tie the wedlock in the coldest day of winter.
Full bloom rose silk flowers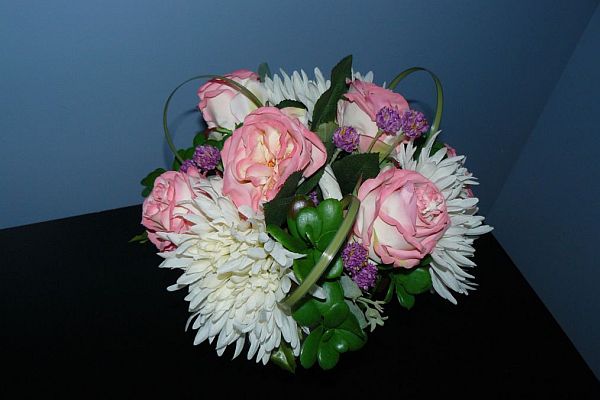 The bright orange color of these fully bloomed roses will impart a feeling of fun and frolic in your wedding. The overall look of your wedding attire will get a splendid makeover by virtue of these stunning silk roses. They are characterized by green leaves, stalk and a special baby breath aroma. The manufacturer assures that you can get the perfect shade of open roses too that match with your bridal trousseau. So, just think of a shade and you will have it in your bridal bouquet, no matter how rare the shade might be.
Burgundy and ivory silk roses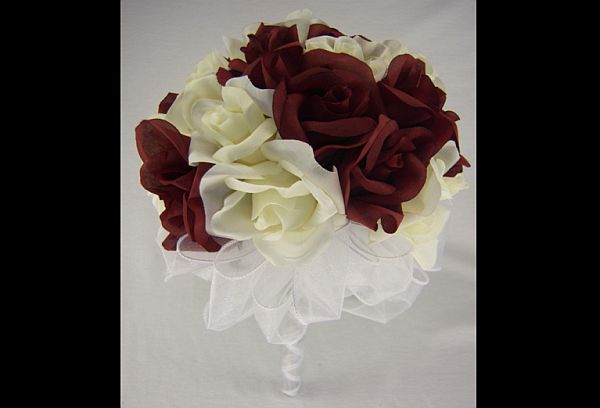 Sophisticated and pristine, this hand tied bunch of burgundy and ivory roses are perfect to match with your bridal trousseau. The sober combination of dark and light shades makes it ideal for bridesmaid's bouquet or wedding centerpieces too. The cluster of three dozen roses will remain forever fresh and never ever wilt. So, this brilliant bouquet will also act as the constant memoir of your nuptial.
Wild silk floral cascade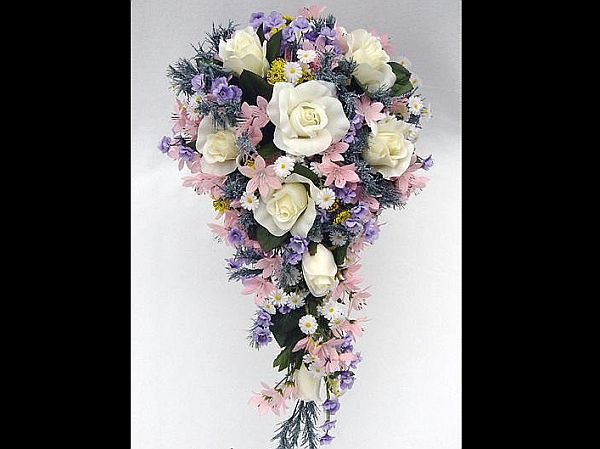 This ever fresh wild flower cascade will be a perfect keepsake item when your wedding is over. It's ever new look will always remind you of the merriment of your wedding. This silk flower bouquet reflects amalgamation of colors. The variegated color palette in this bridal wedding flower bouquet is by virtue of the pale pink Shasta daisies, blush pink miniature lilies, blue colored lupine, lavender flora and the ornamental gold rods. The eye catching mix and match color of this floral cascade goes well with any wedding, be it a royal, casual or a theme wedding.
Ivory silk roses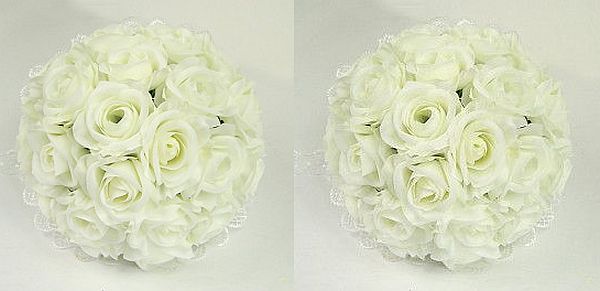 If you have planned to have the most traditional wedding then the selection of flowers should also be wise and matching. We suggest you to restrict yourself to roses only. Be specific to get hold of ivory colored roses exclusively that will be in apt unison with your ivory colored bridal gown. This collection of ivory colored silk roses can be your ideal. The conglomeration of three dozen silk roses arranged in hand ties bouquet will give your entire bridal attire a royal lift.
Silk Stephanotis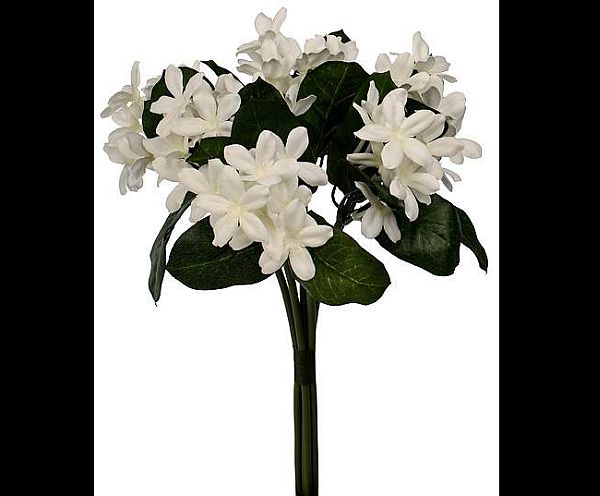 If you love to be different then you must have planned to be out of the lot on your wedding too. We have a tip for your wedding flower selection. Get hold of Stephanotis. It is rare, beautiful and harmonizes amazingly with the white color of the bridal gown by virtue of its all white tone. The hint of pale pink brush strokes on the petals complements the blush of the bride to be in the most subtle manner. But if you think that the availability of Stephanotis will be challenging then these life like silk Stephanotises will do the needful.
Silk poppy bouquet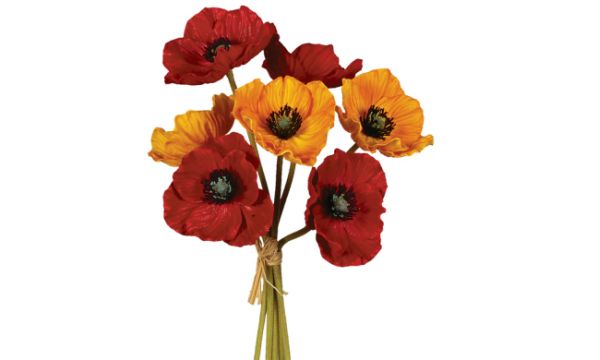 Poppies stand for bubbly charm, amusement and playfulness. If all these are synonymous to your personality too then a bunch of fresh poppies are ideal for you on your wedding. These silk poppies are mirror images of the original ones. So, you can cast a spell of frolic in your wedding by arranging these silk poppy stems into a bridal bouquet. The red and orange colors of these silk poppies stand for passion, romance and love. Thus, they are the perfect wedding flowers to complement your bridal look.
Silk hydrangea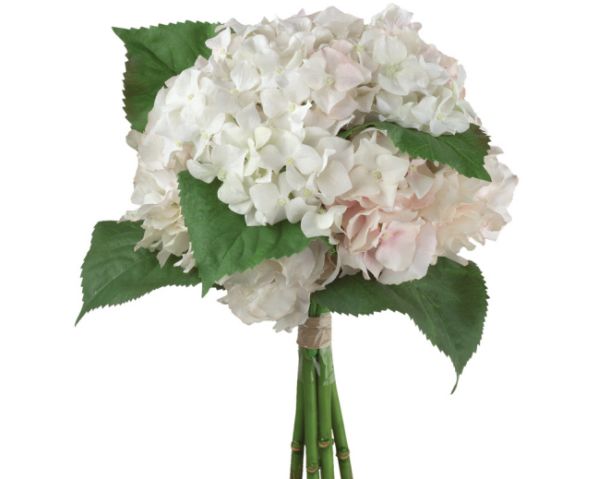 Hydrangea had always been hot favorite among brides to be on their wedding. So, if you belong to the same race but wish to preserve your bridal bouquet for days to come then these silk versions are your ideal pick. The pale white tone harmonized perfectly with the all white attire that you sport on your D-day. Further, the green polyester leaves capture the feel of freshness forever.
Silk yellow tulips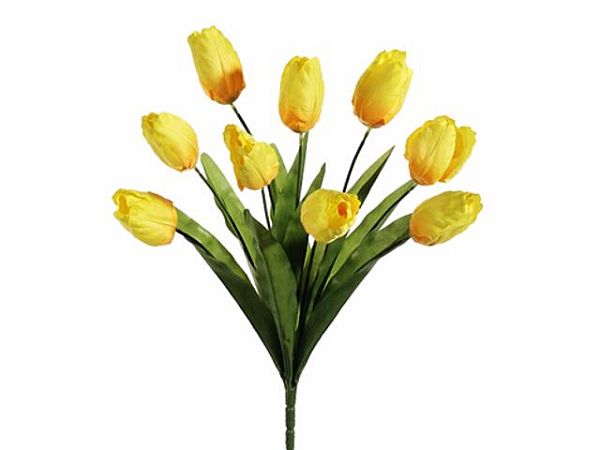 If your wedding date falls on a romantic day of summer then a bunch of yellow tulips will capture the look of the sunny bride to be most impressively. These 17" fresh green stems with glaring yellow hue are perfect tones for a spring summer theme wedding. You would never have to spend a fortune to have your entire wedding decoration done with these yellow tulips as they are economical than their real counterparts.
Silk germanium and raspberry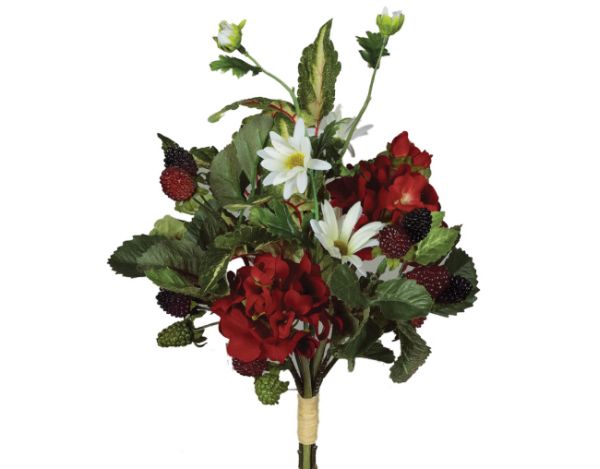 A bouquet comprising of fruits and fauna will be an innovative thing for any wedding. But you can shop for that innovation without much labor. All you need to do is to get hold of an artificial bouquet that contains fresh germaniums and plump raspberries. We bet you cannot make out that it is not real. rather, the prevalence of red hues in the bouquet will symbolize love and passion while white will stand for purity and peace. So, this bouquet will be the best weapon for the bride to be to depict a lot without a word.