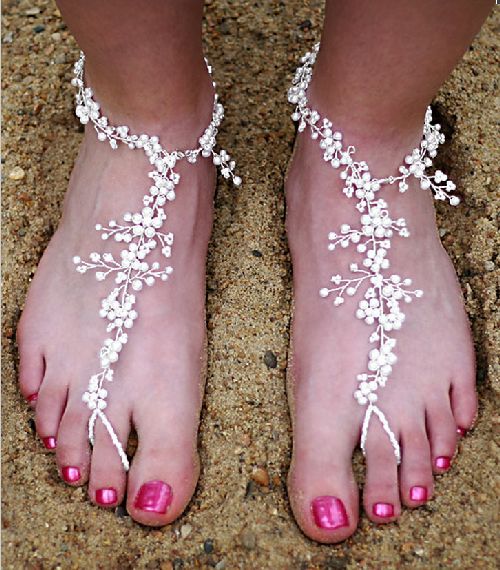 Be it a beach side party or the big day of your life, leaving her footprints on the sand of time is every woman's dream. When it comes to wedding, every move has to be perfect. Nothing can be better than wearing shoes which will not only dazzle your feet but also keep your walk comfortable as ever. If your wedding is on the beach side then it becomes more important to have a comfortable pair of shoes. So, here we bring you some of the most beautiful and stylish pair of beach wedding shoes to keep things simple and sophisticated.

1. Beach Foot Lace Sandals – Pearls and Rhinestones
PRICE : USD 65.99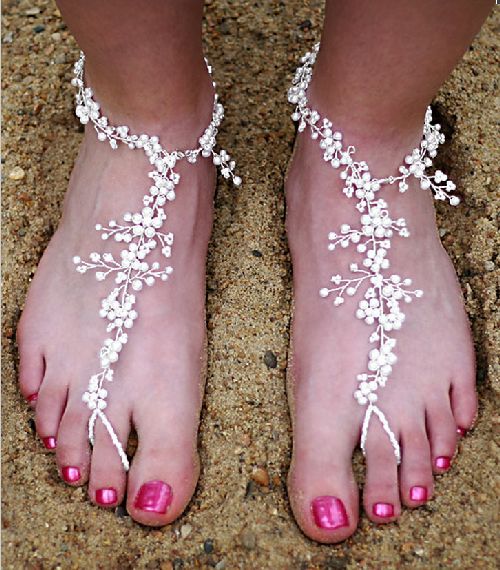 Let your feet dazzle on your wedding day with these beautiful and exotic beach foot lace sandals. These are made in silver with white pearls and clear rhinestones. It features 3 loops in back to adjust the length or size and measures 14.5 inches end to end. These beach foot lace sandals are one of the great things to own if you are planning your wedding at the beach side. These can be a great option that can be taken in your honeymoon too.
USP
The lace that bejewels your feet and ankle with rhinestone and pearls looks beautiful and romantic.
PROS
This can be taken for your honeymoon as well.
It measures 14.5 inches from end to end.
2. Blue Shoes Beach Wedding Tiffany Wedding Shoes.
PRICE : USD 184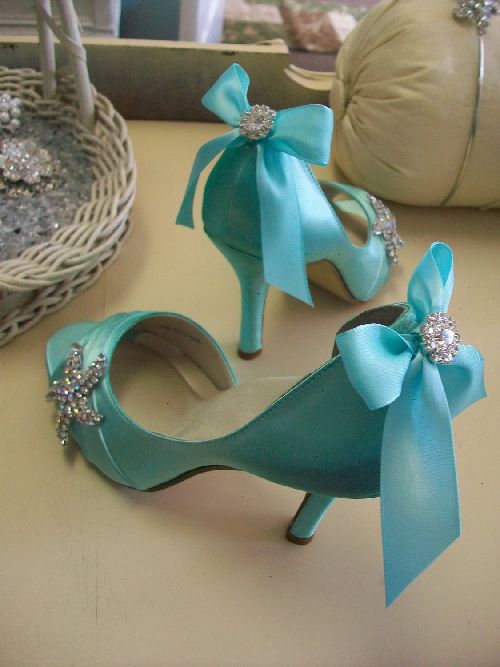 Let your toe peep out and dazzle in blue hue as you walk the aisle. These gorgeous shoes in blue shoes remind you of the sea and its sole in beige recollects your days on the beach. The mermaid bow on the back with sparkling Swarovski crystals in its center looks stunning while the alluring starfish on the side of the toe studded in Swarovski crystals enhances the look of your pedicure feet. The satin ribbon that enhances the heels gives a feminine touch to the sandals.
USP
The dazzling starfish in the front and the beautiful satin bow with studded crystals look uber classy and feminine.
PROS
This can also be worn for various other functions.
The design of these sandals is very flirty.
3. Second Glance Fashions White Rhinestones Flip Flop Wedge Heel Shoe
PRICE : USD 44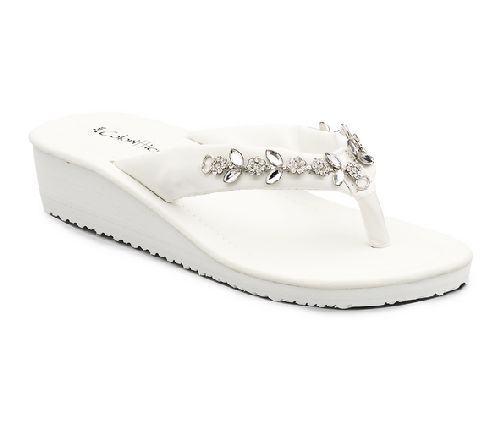 Slip on to style without compromising on comfort with these sexy and stylish wedge flip-flops. Stunning white colored flip-flops feature 1 ½ inches height with a platform measuring ½ inches. Made from synthetic material, these white smooth flip-flops are the perfect beach wedding shoes. Featuring a cushioned wedge sole and soft upper with an intricate rhinestone embellishment, these are sure to dazzle your feet.
USP
The stunning embellishment and intricate detailing on the upper part looks very pretty and complements your wedding trousseau.
PROS
These are available in various different sizes.
The shoes are very comfortable.
4. Pink Beach Ivory Ivory Bridal Shoes
PRICE : USD 89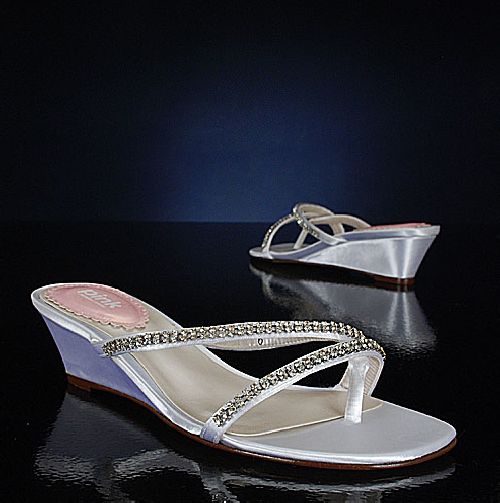 These simple and stunning beach wedding shoes by Pink are great for a bride who prefers low heels. The wedge heel is best for beach side weddings as it gives a stable walk to the bride. The rhinestone bejewels the shoes and lets your feet dazzle on your big day. The pair comes in a dye able white satin or ivory satin. Both the bride and the bridesmaid can wear these sandals.
USP
The strappy sandal with wedges provides comfort and lets your feet dazzle with rhinestone that bejewels this sandal on the toe.
PROS
Both brides and bridesmaid can wear this pair of sandals.
The dye-able white version of these shoes can be dyed to any color of your choice.
5. White Open Toe Beaded Summer Satin Bridal Shoes
PRICE : USD 59.99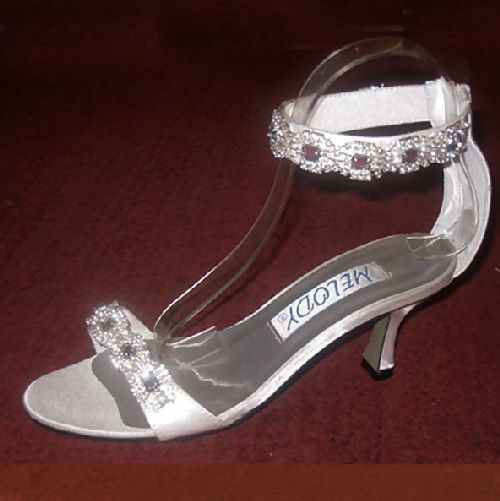 Let your feet sparkle in these beautiful summer shoes in white. These 2.76 inches high heels are not just comfortable but they look stylish as well. The toe and ankle are studded with crystals and gemstones to enhance its look and sophistication. Ideal for a beach wedding these can also be a great bet for prom nights.
USP
The bejeweled toe and ankle makes your feet look sexy and stylish.
PROS
It can also be worn for prom nights.
6. Fashionable Silver Boho Flat Beach Wedding Shoe
PRICE : USD 190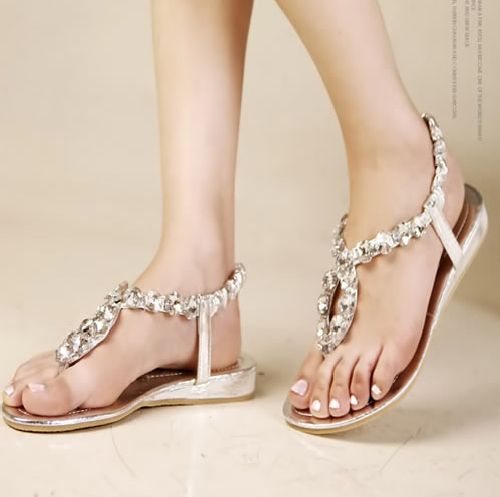 Those who do not want to wear high heels on their wedding can opt for these gorgeous pair of Boho flat shoes which can be ideal for your beach wedding. Available in various sizes, these shoes feature glossy silver which is fully accented with sparkling rhinestones. The elastic sling back of these shoes make it easy to wear and remove. It delivers a highly in vogue boho look and gives you a chic appeal.
USP
The silver upper that is sparkled with rhinestones looks beautiful and glamorous.
PROS
You can wear it for the evening prom party as well.
7. Fashionable Apricot Flat Beach Wedding Evening Party Bridesmaid Sandals Shoes
PRICE : USD 229.99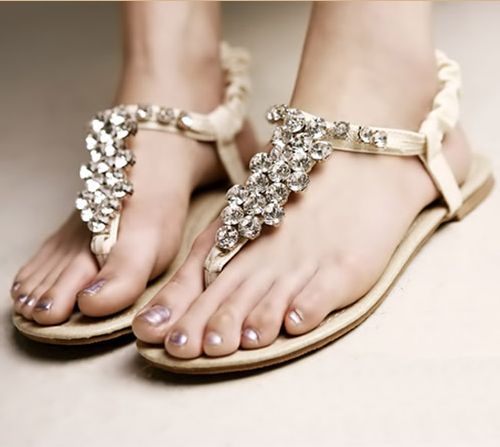 Let your feet do the talking while you walk the aisle with these gorgeous beach wedding shoes. Studded with crystals at the top, these shoes have light apricot color that will definitely match your wedding trousseau. Available in various sizes, these sandals will certainly amaze everyone and make your feet look sexy.
USP
The crystal studded top of these shoes look beautiful and glamorous.
PROS
You can wear it for different occasions.