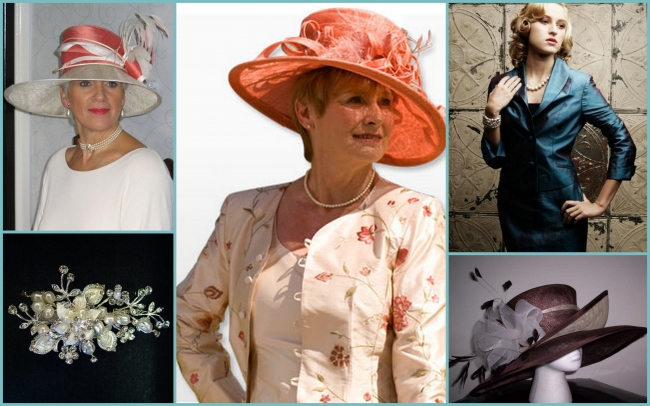 Style tips are for everyone, including the mother of the bride. It is quite an obvious fact that the mother of the bride is the most important person at the wedding ceremony. It is up to her to look her best as much as it concerns the bride. Being the mother of the bride is as important as being the bride. The family's elegant dressing goes without saying. After the bride and groom, it's the parents whose clothes are noticed and spoken about. Especially on such a grand occasion, you have to state the panache and character of the family to strangers at the wedding. If you are wondering about what to wear as the mother of the bride, look no further. Provided below are a list of some handy style tips.
1. Go for dresses and not suits
Even if you have suits studded with rhinestones or sequins do not go for them, instead, try a dress. It is always better to not be gaudy and to go for a stylish look. even the most simplest of clothes could have you stand out in the crowd. a brooch would be nice to add to the plain dress with simple stunning shoes. Too many embellishments do not look good all the time. If you can afford it, wear a custom dress. You can get the dress made from your personal tailor. It is a good practice to consult the personal shopping department of the department stores to assist you in selecting the dress.
Tip: Try out a singular or double color dress with a hat and a coat depending on the weather. You could add a brooch and some pearls. Pearls are the best thing for panache on an old lady. You could try out a skirt, shirt and coat too. Make sure the skirt and dress length comes till the knees or about half an inch above the knee.
2. Hats and Fascinators
If you are planning to wear hat, try lots of hats of different shapes and styles and choose one which will flatter your face. A hat in the summer definitely looks great. hats have and will always be in fashion no matter what. A hat with a birdcage veil would do to. you could also go for a fascinator just in case your hairstyle is not apt for the hat. Fascinators are as easy to wear, come in a variety of styles and are very colorful.
Tip: Normally they say they say the fascinators are for the young ones at the wedding. Who said you were old. You could wear a fascinator in order to join the crowd. A hat would do fine with just about anything. If your daughter is getting married in the summer, definitely go for the hat. It should not have too much work on it.
3. Shoes
You need to be very careful while selecting shoes. It is advisable that you opt for low to mid-height heels. You should wear high heels only if you are used to wearing them. Try on shoes you which will go exactly with the dress you plan to wear.
Tip: Shoes should be such that they do not take all eyes away from your dress. Never get studded shoes when wearing a simple suit. Choose the shoes which would go with any color, preferably black heels or beige or a silver. It could be an open toe, but go for closed shoes. Do not go for stilettos.
4. Jewelry
You can wear jewelry in gold, silver, or pearl which goes with your outfit. You can try jewelry from designers like Yarwood-White. Do not go for matching chokers and earrings, they are out of fashion. Try mixing and matching your jewelry. If you plan to wear big necklace go for tiny earrings. Or you can just wear chandelier earrings and no other jewelry.
Tip: Pearls as mentioned above are the best to wear at your age. Yo could go for a simple singular silver chain or gold depending on the dress and the rest of the accessories. Do not wear too much or too little.
5. Bags
You need to decide on the type and size of the bag you will carry on the wedding day. For this keep into consideration the things you will have to carry on the wedding day. Carrying a clutch is also a good idea.
Tip: A big bag never looks too good especially for a n occasion like a wedding when you are going to be on your feet most of the time. being the mother of the bride have a clutch or a small purse for necessity items and make sure it goes well with the dress. Again having a embellished bag is a bit too much. Its should also suit the jewelry your wearing.
6. Work on a glow and Makeup tips
Do not go for mineral makeup as it does not suit older skin, it gives the appearance of dry and matte skin and not glowing skin. You can go for products that make your skin glow. You can try restoring serum from Dior or Boots Skincare. Wear less makeup and let your natural glow shine. This will make you look soft and pretty. Use soft shades like pale pink or beige and avoid shimmer.
Tip: Go with your daughter while she is getting her make up done and get yours too. Never apply more than usual. the best look is the natural look. get you faces cleaning and pores opened up in order to look fresh. makeup should be lovely neutral colors depending on your skin tone.
7. Let your hair loose or tied in a bun
In order not to look old you should avoid up dos. Instead try for a loose and casual hair style. You can blow dry and leave you hair loose if you have long hair.
Tip: Mostly the mother of the bride wears a hat so there are no chances of letting your hair loose. unless you have very short hair, then either the hat or the fascinator would do. If your hair is shoulder length then also keeping it open and neatly set would do. If you have long hair, it would be feasible to keep in a bun.