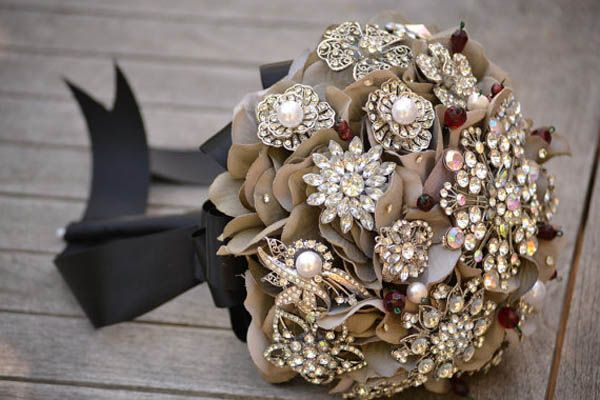 The first thing that pops to mind when we hear the word 'bouquet' is flowers. This is especially true when we speak about weddings. But did you know that flowers aren't the only items used to create beautiful bouquets? They can also be made out of brooches for a glittering effect. These brooch bouquets, while not as common as those made from flowers, are equally stunning and can style up an outfit like no other.
Classic heirloom pearl brooch bouquet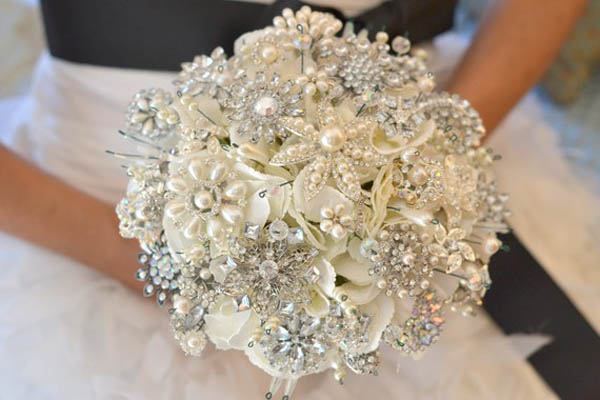 This stunning piece features pearls and rhinestones in a classic design. It's set in silver using freshwater pearls and Swarovski rhinestones that have been carefully hand-picked and attached. Measuring about 9 to 10 inches in diameter, it can be made to order and the price varies depending on the size. A bouquet measuring 7 inches costs about $320 while an 8-inch version sells for around $470.
Remaining balance brooch bouquet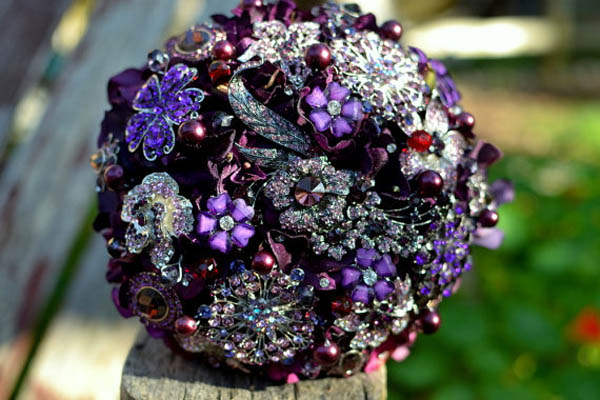 Designed by Noaki, this brooch bouquet follows a purple color theme that's fit for a princess. Using purple and blue stones and wine-colored beads, the bouquet is a dense assortment of almost every type of brooch. Noaki hand makes every piece of her bouquets so you can be guaranteed that what you order is a one-of-a-kind piece.
Champagne rose brooch bouquet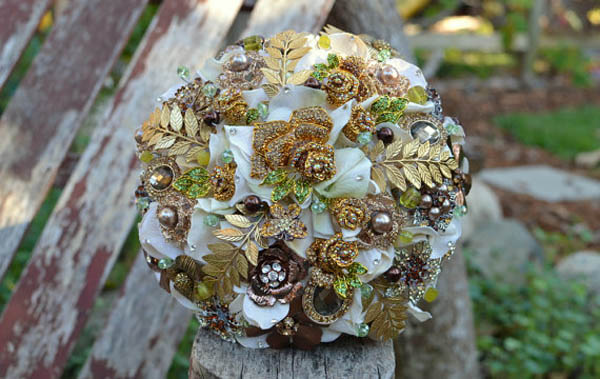 This beautiful bouquet follows an arrangement of hand-picked rhinestones in topaz colors that are set in gold with golden leaves cascading down. Bits of green stones for the leaves complement the gold theme while faceted glass beads and freshwater pearls have been added for a denser effect. The bouquet is 8 inches in diameter and costs $460. Brides looking to get their hands on one can also customize their orders.
Heirloom jeweled bouquet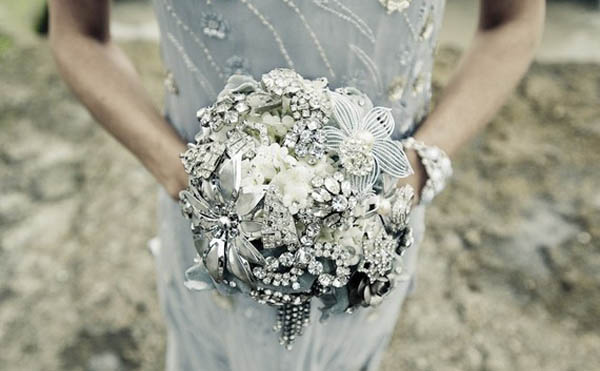 Noaki's heirloom jeweled bouquet is another stunning item that features brooches that have been passed down for generations. Brides who have their own jewelry pieces that they want incorporated into their bouquet can place a special request and have it made in almost the same style. This particular piece is a somber reminder of the sacredness of marriage while lending your wedding a regal and classic style.
Gray brooch posy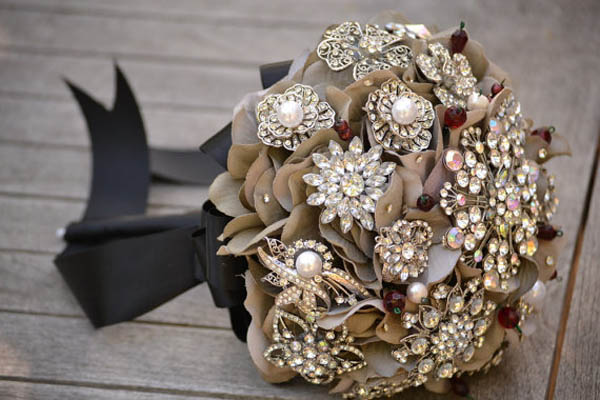 This pretty gray brooch posy is made to order and costs $300. Crafted using pearl and silver rhinestone jewelry, the sober color is a nice complement to an ivory and gray color-themed wedding. Bits of Swarovski rhinestones have been added to the petals to give it an extra sparkle while red accents add just the right amount of color to the bouquet. A black ribbon with a jeweled accent adorning the handle completes the look.
Lomantic blue and the shining silver rose brooch bouquet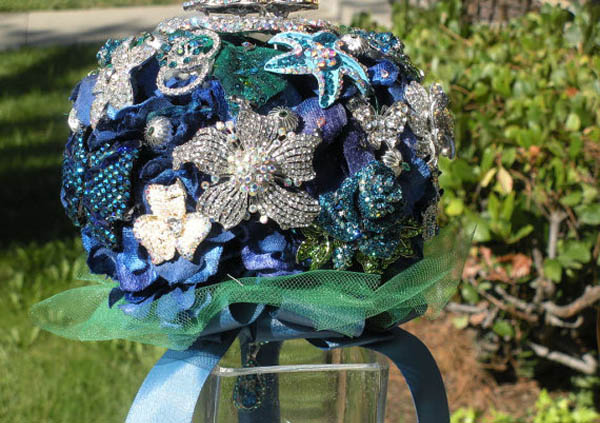 Fresh colors adorn this brooch bouquet that sells for $399, reminding you of the seas and the sky. Silver and blue have always perfectly complemented each other and this jeweled piece is testament to that. Swarovski crystals adorn the green leaves while silver rose jewelry brooches steal the show. Blue rhinestones in varying shades bring the bouquet to life.
Best of Bling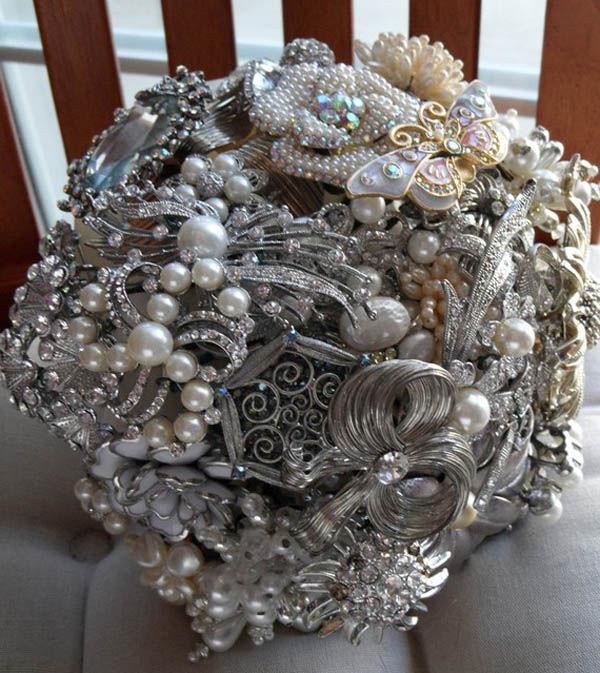 If you prefer something that's more bling, then this brooch bouquet by Amanda Heer is the perfect choice. Made using beads and pearls, it's a whimsical piece for a fairytale wedding. Silver stones set into pretty brooches make it ideal for a young bride while the metallic accents add a touch of sheen. It sells for $375.
DAZZLING BLUE II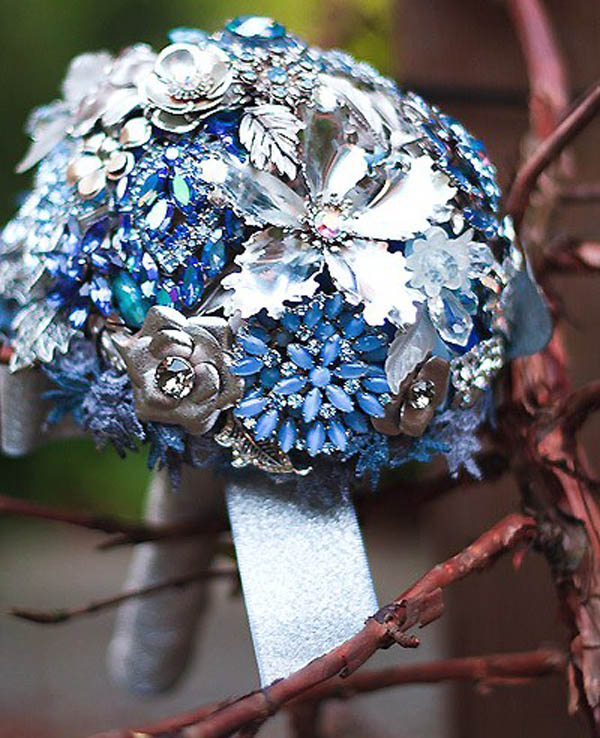 Go vintage with DAZZLING BLUE II, a bouquet that features vintage brooches, enamel and earrings. Blue and silver is the color theme for this sparkling posy whose materials are sourced from Sarah Coventry. The bouquet is set against a blue felt layer with a silver Guipure lace surrounding. The handle is wrapped in metallic ribbon adorned with a bow and finished off with a piece of AB rhinestone.
Brooch bouquet by Nicolasa Cicero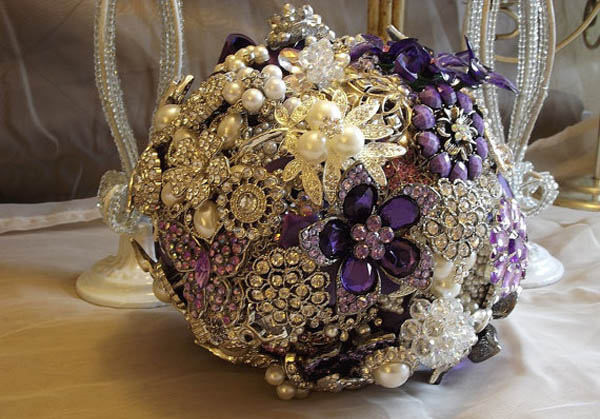 This next brooch bouquet is regal and stunningly beautiful. It measures 10 inches in diameter and features ivory pearls, purple rhinestone jewelry, silver glass pieces and silver stones. The bouquet is perfect for a grand wedding and if the color combination isn't to your liking, you can order one customized to your specifications. It costs an affordable $150.
Rich brown brooch bouquet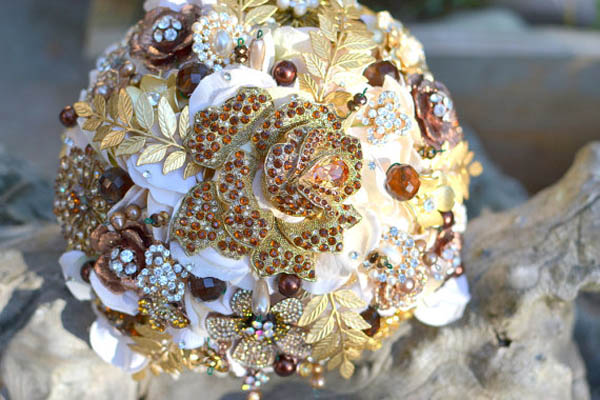 A rich earthy brown bouquet set against a background of white cloth flowers sells for $237. Designed by Noaki, the bouquet features gold accents in the form of leaves, glass pearls, Swarovski crystals and topaz colored rhinestone jewels. Brides can also order matching corsages if they so desire. The bouquet sells for $237.
Sapphire rose brooch bouquet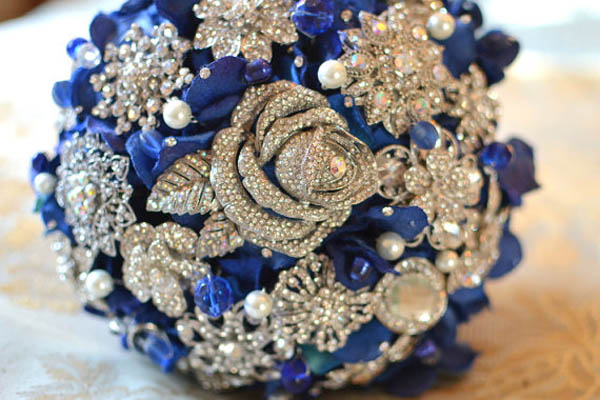 Silver and pearl rhinestones adorn this lovely bouquet with filler flowers in sapphire blue adding depth. Faceted glass beads have also been wired in for a touch of sparkle while Swarovski rhinestones on the petals bring out the essence of this gorgeous piece. A blue ribbon adorns the handle along with jeweled accents. It sells for $160.
Ruby red heirloom brooch bouquet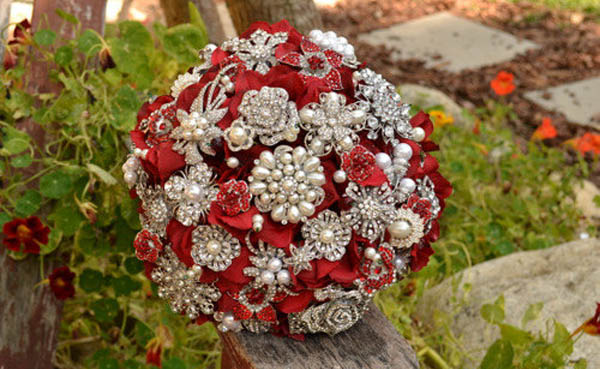 Measuring 9-10 inches in diameter, the ruby red bouquet will perfectly contrast an ivory wedding dress. It's set in silver and is adorned with freshwater pearls, clear rhinestone jewelry, Swarovski crystal rondellas and glass beads. The bouquet costs $310 and can be further embellished with ostrich feathers and leaves.
Gold leaf brooch bouquet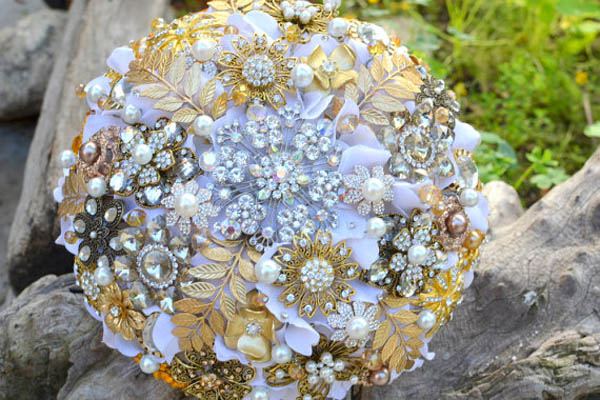 If you're planning a garden wedding or want to have it in the midst of the woods, this gold leaf brooch bouquet costing $300 is perfect. Set against white cloth flowers, the bouquet is embellished with hand-picked rhinestone and gold jewelry, glass beads and tiny Swarovski crystals on the flowers. You can also customize the colors to go with your wedding theme.
Amanda Jane brooch bouquet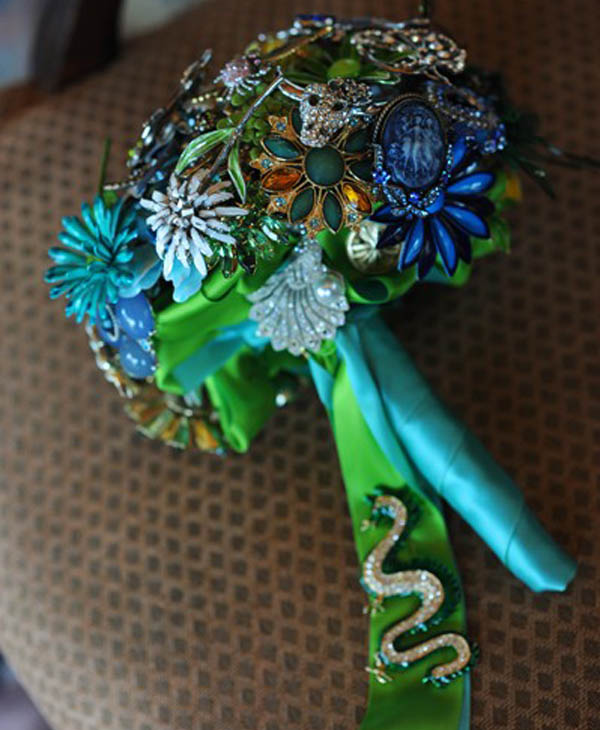 Over 11 inches in diameter, this Amada Jane Heer-designed bouquet is vibrant and colorful. Set against a green background, silver, blue and green jewelry pieces adorn the posy which features a blue ribbon-wrapped handle and a cascading green ribbon topped off with a dragon jeweled piece.
Purple and silver rhinestone brooch bouquet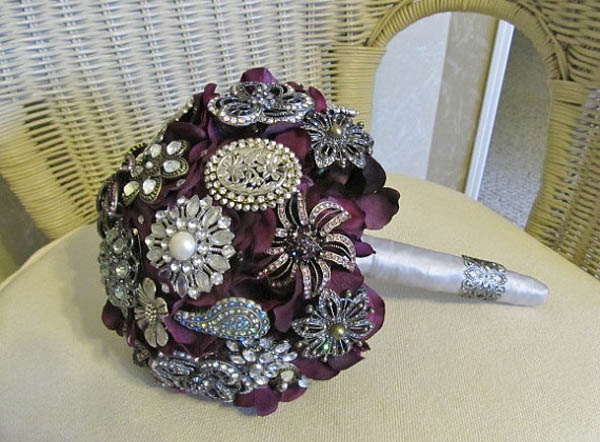 Linda is the brains behind this purple and silver bouquet. 7.5 inches in width and 12 inches in length, t features 32 rhinestones and purple colored brooches. Swarovski crystals adorn the petals of the flowers and the handle is wrapped in an ivory ribbon which is finished off with a silver jeweled piece. It sells for $150.