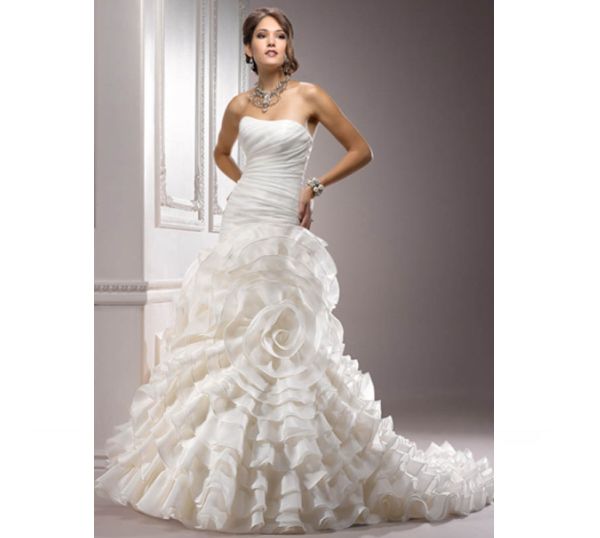 A beautiful wedding gown is the primary attraction of any wedding. Every woman looks for a gown which make her look elegant and beautiful. For that, you can just pick any masterpiece of any designer's collection. A number of brands are available in the market, which will attract your attention. But you should choose the one, which perfectly fits you and your budget of course. Here are some amazing designers gowns every bride-to-be would want to own.
Maggie Sottero Wedding Dresses – Style Addison V7151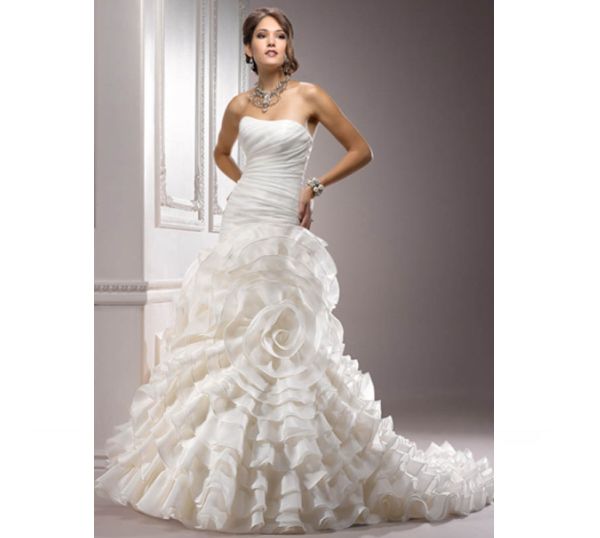 It's a romantic dress with the combination of sophistication designed by Maggie Sottero. Maggie Sottero is one of the best bridal designer worldwide. This masterpiece has lots of layering with rose featured on it. The look of the skirt is enhanced by its corset back. It is an ideal dress for the girls who love laces and want something different. If you want to look like a fairy tale princess then this gown is perfect for you.
Vera Wang Strapless Ball Gown with Satin Corset Bodice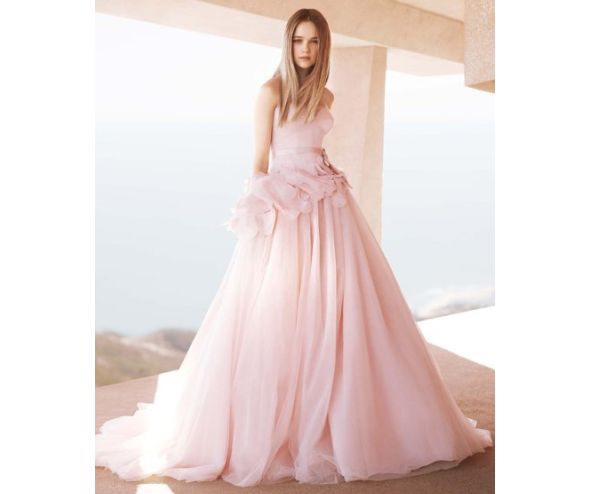 This strapless gown has a satin corset with full tulle skirt. It has organza petals on it with a symmetric peplum. It is available in 3 shades ivory, blush and white. It is available in size 0 -14. This masterpiece is available in selected stores only at a nominal cost of $1248.
Maggie Sottero Strapless Gown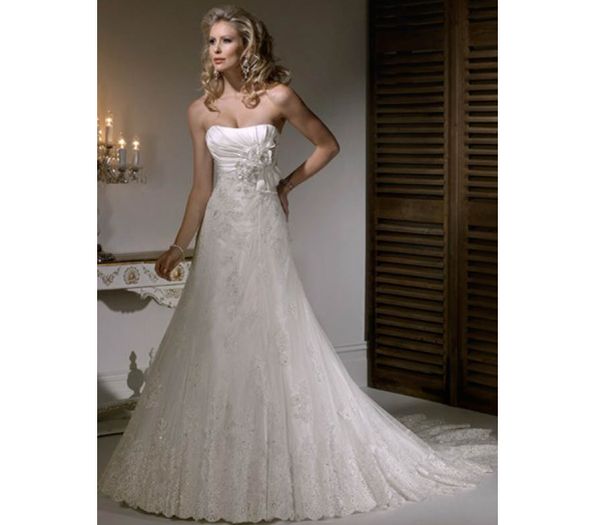 This strapless gown is made up of shimmer satin. Motifs on it are made up of beaded laces and swarovski crystals. It is available in diamond white, white and alabaster. You can easily get a gown of your size. 0-28 sizes are available in this design.
Vera Wang Twill Gazar Mermaid Gown with Grosgrain Sash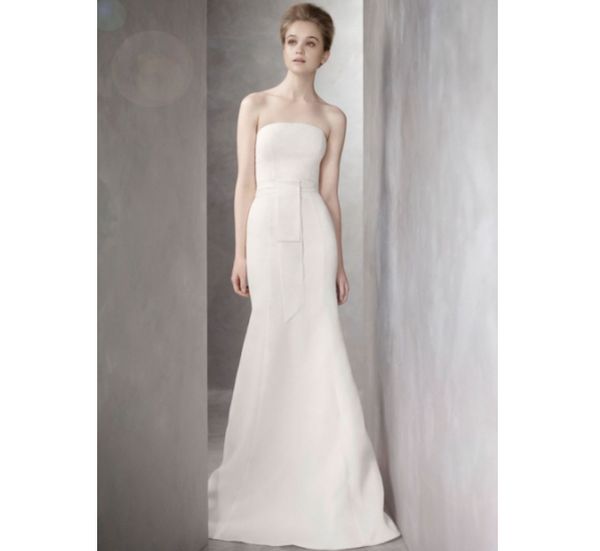 This mermaid gown is with grosgrain sash. The back of the corset is made up of fine net. It has floral corsage detail on it. You can personalize it with accessories and sashes. It is available in sizes from 0-14. The garment has side zip and it is fully lined. If you have nicely toned legs and thighs then, you will look stunning in this outfit.
Maggie Sottero Wedding Dresses – Style Azriel Marie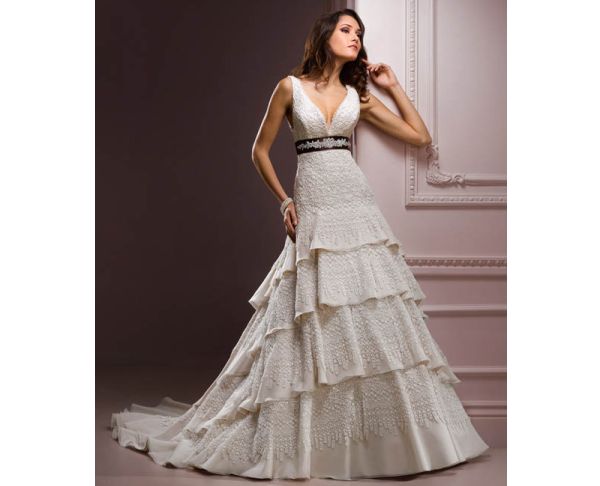 Classic elegance has been the vision while designing this gown. The fabric used is chic organza, which has been beautifully used. This fabric has enhanced the cascading tiers design of the dress. The A-line skirt has been made of vintage laces and crystal tulle. Swarovski crystals has been used over its detachable satin ribbon. The deep V neck will flatter your curvy body. This gown is also available with a strapless scoop neckline. It is available in various color combination ; White/White Ribbon, Ivory/Ivory Ribbon, White/Black Ribbon, Ivory/Chocolate Ribbon, Ivory over Light Gold/Light Gold Ribbon and Ivory over Light Gold/Chocolate Ribbon. The sizes for the same are available from 0 to 28. This beautiful gown will cost you $ 1849.
Vera Wang One-Shoulder Basket-Weave Organza Gown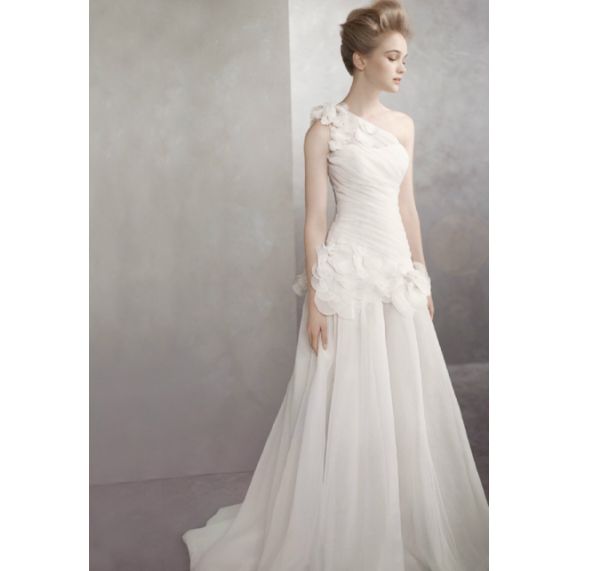 This one shoulder basket weave organza gown is with draped bodice and dropped waist. Organza petals on the gown enhances the elegance of the outfit. The texture is crisp and it has sheer quality. Soft white and ivory are the two shades in which it is available. It is available in different sizes varying from 0-14. The worth of the gown is higher then its cost. Its cost is just $1028. It has full lining with a side zip.
Judd Waddell A-line strapless wedding gown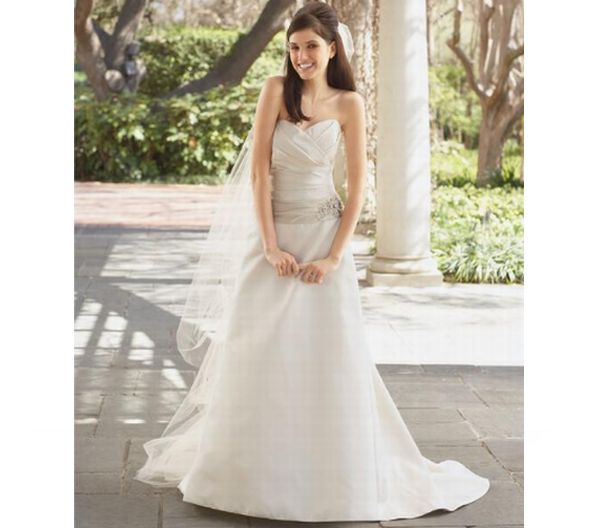 This elegant A line silhouette is strapless. Fitted bodice and flared skirt are the features of an A-line silhouette. If you want to hide your lower body flaws then it can be best for you. If you are a full figured woman then go for A-line style. It will lengthen the whole body without drawing attention on the waistline. It is an unique dress which is traditional with fun element filled in it. The material used is so fine that, it makes the gown hangs nicely. If you have to walk or dance in grass then this gown is perfect for you.
Judd Waddell Wedding Dress 2011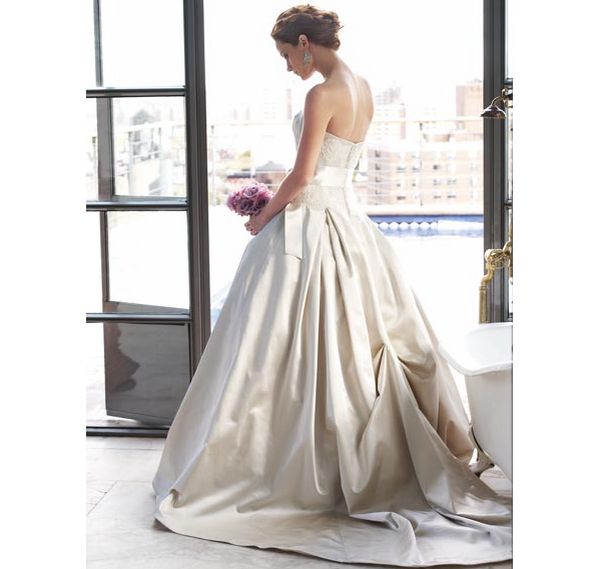 If you want to be center of attraction on your wedding day then, 'Judd Waddell Gown' is perfect for you. Its details add personal statement to your style. The features like lace medallion at pick-up train and draped neckline makes it unique. The lace used is beaded. Satin ribbon sash adds to its beauty.
Galina Signature Organza Ball Gown with Ruffled Skirt and Beading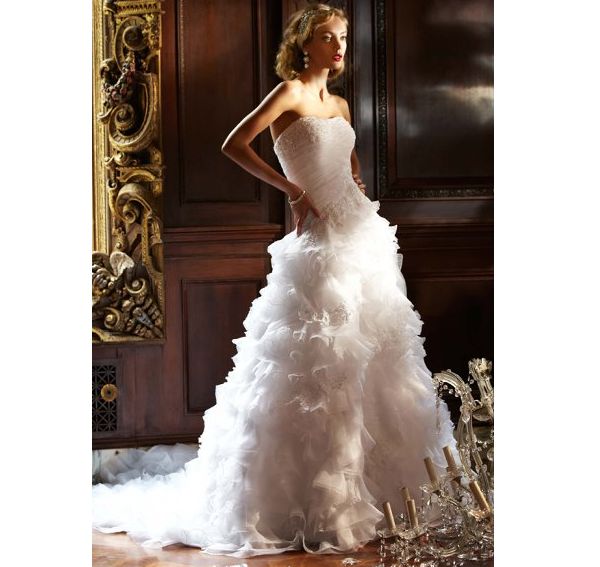 This is the best gown which you can wear on your life-changing occasion. It is a strapless gown made up of organza. It is best fabric to combine romance and drama. It has a stunning ruffled and pleated skirt. White and Ivory are the two shades in which it is available. It comes in different sizes varying from 0-14. The outfit is fully lined with back zip.It will give unique look with a touch of elegance.
Oleg Cassini Lace Fit and Flare Gown with Floral Details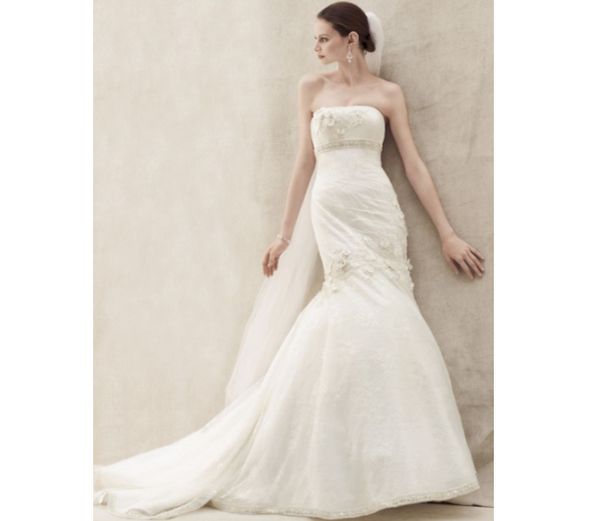 The sensuality of this laced gown will make you look more magnificent your wedding day. It will add glamor to the theme of your wedding. If you want classic elegance coupled with high fashion then this lace fit-and-flare gown is perfect for you. It is a romantic dress with sophistication in its design. Floral details has been crafted on the bodice and the skirt. A touch of sparkle is added to it by its beaded empire waist. Beading along the hemline complements it very well. The stunning curves are enhanced by fit-and-flare silhouette. This garment is fully lined with back zip. It is available in white and ivory.