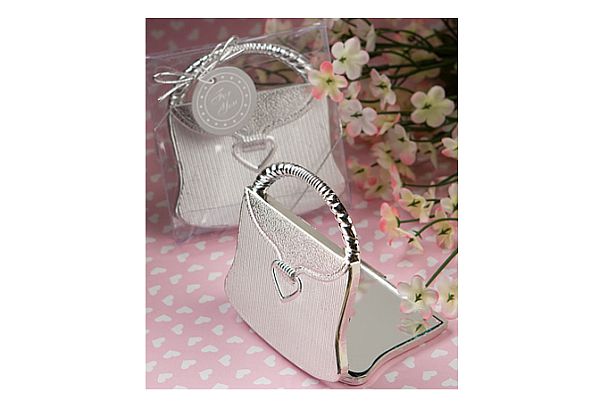 A great wedding celebration is incomplete without wedding favors. One of the simplest ways to add a touch of elegance to your wedding is through unique and stylish wedding favors. Guests often love to receive the souvenirs which they can treasure forever. Wedding favors reflect the couple's appreciation and gratitude to all the friends and family for their utmost presence in this beautiful celebration. According to your budget, you can plan the wedding favors to be lavish and costly or you can simply try home-made and inexpensive wedding favors. Read on to explore the best wedding shower favors and your excellent choice will definitely put a smile on each and every guest's face.
Purse Design Mirror Compact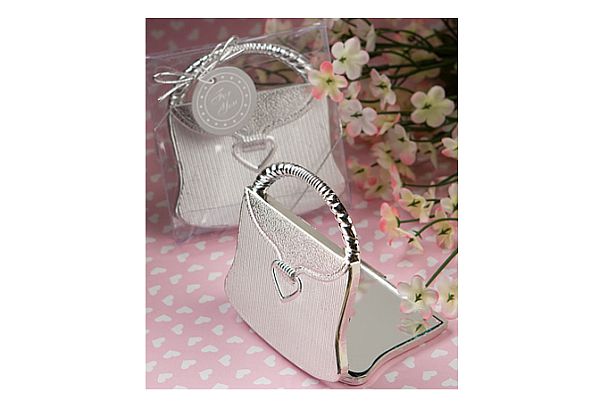 This elegant, pretty Purse Design Mirror Compact functions as a bold fashion wedding favor for your guests which can be used to put their own little purses inside it. Your guests will be surprised at revealing the secret of two handy mirrors inside the purse. Each of them measures 3 by 3 inches and is plated with a shiny silver color. The outer compact cover of this pretty purse is molded with plastic. The handles are shaped with a hinged opening which discloses the interiors of having dual-sided mirror. This favor is packed in an acetate box along with a silver bow tied to it. A silver tag stating "for you" is also attached to the box.
Personalized Expressions Collection Purse Hooks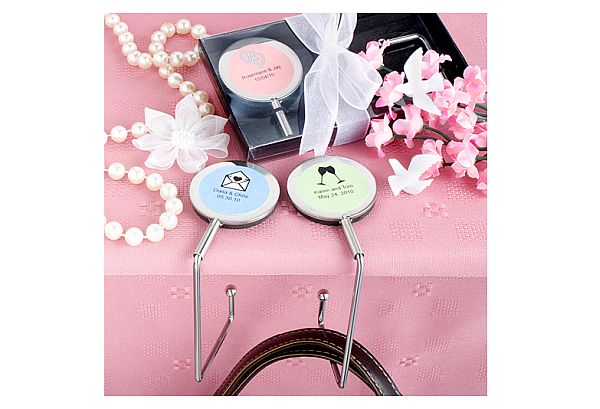 The guests will definitely feel enthusiastic to receive this wedding favor. On receiving this favor, the guests no longer panic of where to put their purses. The reason for this is the hook that secures the purse by the side where the guests are seated. The purse hook favors are made of silver, each measuring 4-1/4 inches long and 2-1/2 inches wide. A round weighted stabilizer supports the hook and carries a personalized label of your choice. This wedding favor is packed in a clear sleeved box wrapped with a white organza ribbon and bow.
Chrome Key Chain with Crystal Heart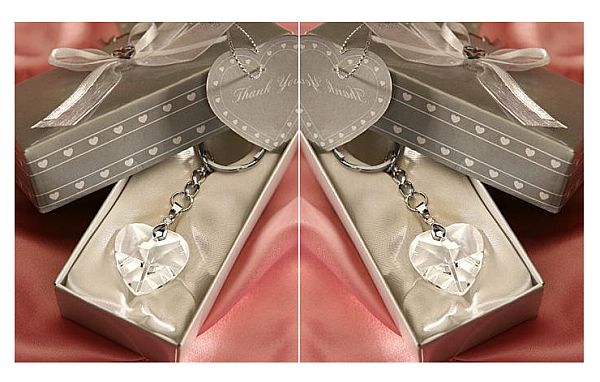 Win the heart of your guests by giving them this romantic key chain. These keychain favors serve as a key ingredient to your wedding shower. The key chain is made from chrome and has a 3-dimensional crystal heart pendant which recalls the sweet memories of your wedding celebration. This lovely favor measures 3-3/4 inches by 1inch by ½ inch in size. This comes beautifully packed in a silver deluxe box that is tied with a heart shaped organza bow and a thank you tag.
Stainless Steel Coffee Scoop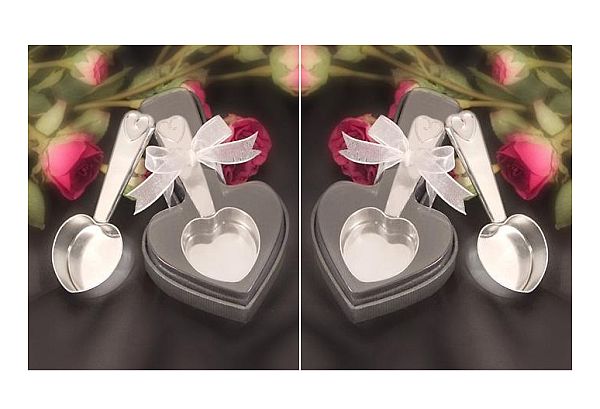 The wedding shower participants will be thrilled with this token of appreciation for attending the celebration. This cute favor adds a cheering experience to your guest's morning routines. The scoop is made of stainless steel with its tip embossed with a heart design. It measures 3-1/2 inches long and 1-1/2 inches wide. It is wrapped in a deluxe box resembling the shape of the scoop which also carries an organza bow and a thank you tag attached to it.
Personalized Sunscreen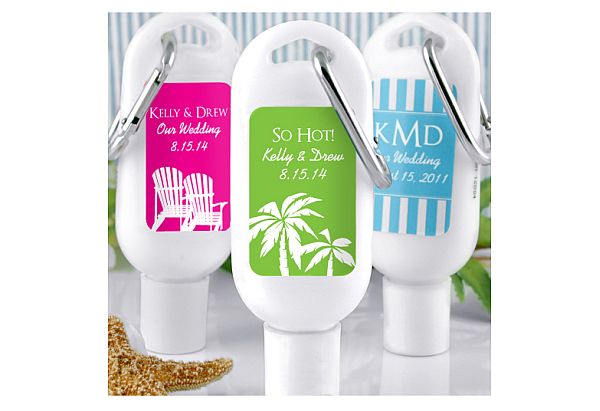 Personalize your wedding favors with this sunscreen. The perfect size and the fun carabiner clip makes this sunscreen convenient for traveling. Your loved ones can go out in the scorching sun without any fear. This attractive container has a SPF 30 sunscreen and contains the natural ingredients such as vitamin E, organic Aloe Vera and sunflower oil to protect the sun-exposed skin. This favor is ideal for tropical destination weddings or any beach themed wedding. Each refillable bottle contains 1½ ounces of fresh, scented sunscreen and carries self-adhesive labels.
Exquisite heart shaped curio box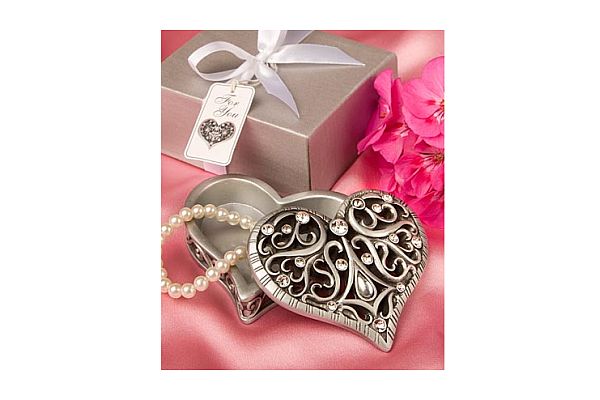 This is an exquisite wedding favor for the guests to treasure forever. The two piece heart shaped box is made of pewter-colored resin and has a removable lid. The hollow base is ideal for storing jewelry, coins, etc. The box is intricately sculptured with scroll design while the lid has glistening rhinestones on it. This favor is delightfully wrapped in a silver textured box accented with a white satin ribbon and a heart design tag.
Pocketbook Shaped Treat Bag in white woven rattan

Your guests will definitely take home this bag filled of your wedding memories. Unlike the usual purse which is used to fill the essentials, this fashionable purse is designed to fill with fun things that your heart desires such as treats, candies, etc. This stylish bag measures 2.75 inches by 2 inches. Pocket shaped treat bag in white woven rattan is held by white satin handles and is beautifully decorated with a white satin bow. A fine round rhinestone is attached to the center of the bow which accentuates the bag. You can easily peep into the contents of the bag through the wide weave at the center of the bag. This bag is gift wrapped in a poly bag.
Sweet-Scented Sandalwood Fan Favors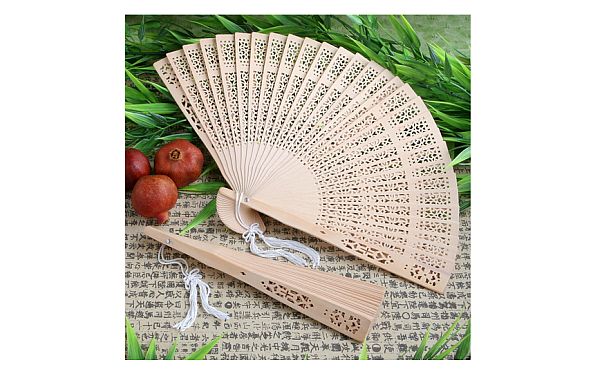 This incomparable sandalwood fan favor will make your guests to be its fans as it offers unique features. A pleasant sandalwood fragrance is released as you keep the fan waving. The fans are easily foldable, each measuring 8 inches by 14 inches. The panels of the fan are intricately carved and its handle is attached with a white tassel. You can add an elegant touch to this favor by tying personalized tag onto this favor which carrying names and the date of the wedding shower. This sandalwood fan favor is gift packed in a white box and is ideal for summer occasions, garden parties or outdoor weddings.
Cross Design Keychain Favors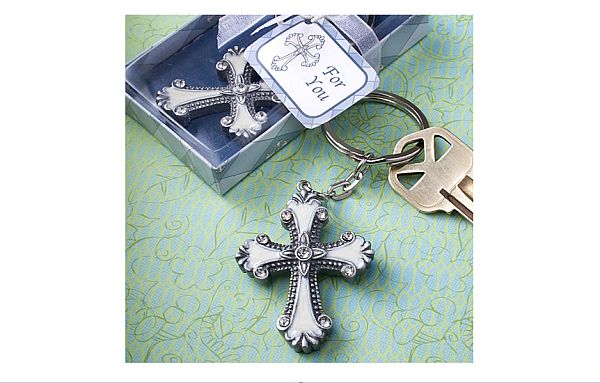 The cross keychain favors remind your guests of a big day. Each key-chain is 3½ inches long and carries a spectacular pewter colored poly resin cross. The cross is 1 5/8 inches long and 1¼ inches wide and has chrome finished silver metal chain with a ring at its top. Radiant rhinestones and beads enhance the beauty of the cross. This item is elegantly packed and tied with a white organza ribbon and a matching tag attached to it.
'Teacups and Tealights' Miniature Porcelain Tealight Holders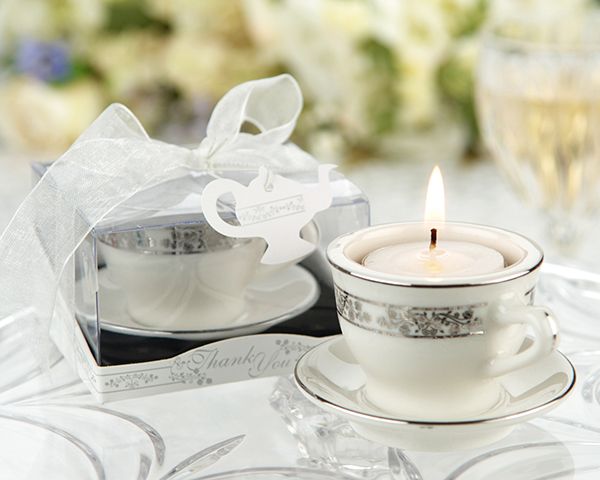 Your guests will be truly delighted on getting this wonderful wedding shower favor. The porcelain china tea cup perfectly fits on to the saucer attached to it. The size of the teacup is just enough to hold a single tea light. The porcelain cup is accentuated by excellent silver pattern. The tea lights are included with the package, which is beautifully wrapped and tied with organza ribbon and carries a pretty teapot shaped tag on it.