Following the 'Matrimony Day' that is celebrated on April 14th, Bharat Matrimony which is one of the biggest matrimonial marriage services in India thought of doing something memorable. So they created the world' largest wedding photo album measuring 5.18 meters in length and 4.26 meters in its width! The album was unveiled in Chennai and it contains 256 selected photographs of the married couples across India and now it has bagged a place into the 'Guinness Book of World Records'. The previous record of largest wedding album was 5 meters (length) by 4 meters (width) which was a creation of Johnson's Baby China and was showcased in Beijing, back in 2008. You got to have a big drawer to fit a wedding album that large!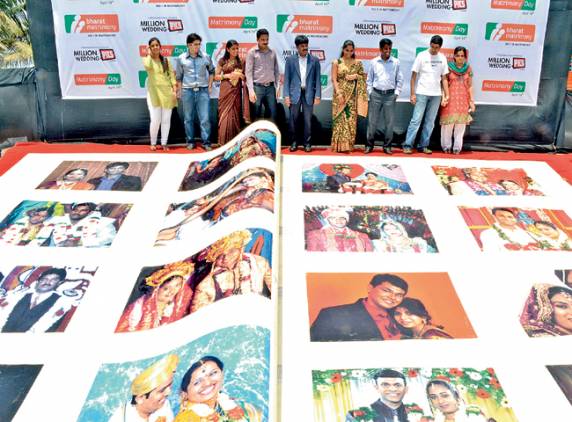 The credit for creating this world's largest wedding photo album goes to Mr. Murugavel Janakiraman, who is the founder and present CEO of Bharat Matrimony organization. To achieve this mammoth task, a team of 15 odd people was formed who had to spend 1600 hours to make it up to the Guinness World Records. Talking about the weight of the album; it weighs astonishing 1000 kilograms! The singular pages of the wedding photo album comprise of 4300 square feet area and are made up of fiber sheets.
The idea concept behind this creation was to shower some light on the wedding traditions as well as to show the integrity of wedding institution. The initiative to create this wonder started a year before, when the company invited people to share their wedding photographs to a site named millionweddingpics.com. Among the pictures that were uploaded by the users 256 were selected to become a part of the wedding album. By doing this memorable gesture the company hopes that it will motivate people to get wed. Well for now they surely have motivated the spirits of the people whose wedding photographs have become a part of the photo album.
Via: deccanchronicle