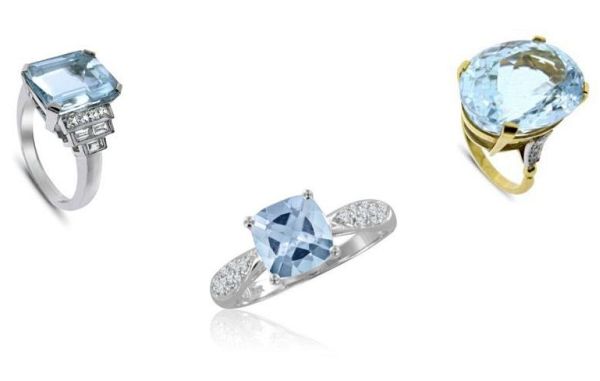 Talking about the aquamarine engagement rings, they do have a history and a fantasy to know about. It is believed that the aquamarine is gathered by the mermaids in the deep oceans. While 'aqua' means water, 'marine' means sea. But even if you do not have much of the interest in the old stories that were told by the sailors, still then you cannot deny the fact that the aquamarine is a gorgeous looking stone that can entice any of the soul! Each of the aquamarine stone is different in its own way. You will see a wide range if the shades among them. So if you have an aquamarine engagement ring with you, to propose your love then there is nothing as magical as that. Go ahead and look below to find out the magical aquamarine engagement rings that we have come up with.
9ct White Gold Aquamarine Oval Engagement Ring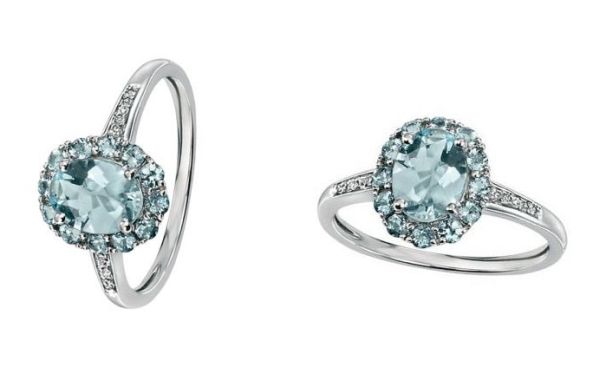 This is a British hallmarked solid 9 carat white gold engagement ring that features a naturally mined aquamarine oval and the round diamonds. It has on channel set diamonds on its shoulders. The clarity of the diamonds is SI1 with the H color. This is a delicate ring that is sure to turn out the beauty of any wedding finger to the maximum. A wise and a wonderful choice to make.
Revoni 14ct White Gold Swirl Engagement Aquamarine Ring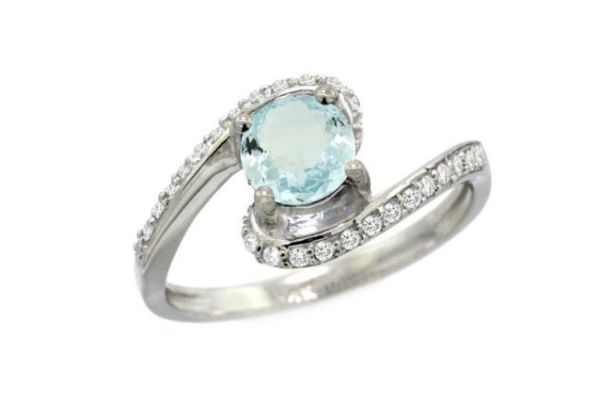 Yet again an another white gold beauty, this is a Revoni 14 carat white gold swirl engagement aquamarine ring that is exquisite. It has a very unique design to itself. The diamond is elegantly held in the setting of the white gold. The diamonds are 0.24 carat and are brilliant cut. The aquamarine stone is 0.80 carat. This is an excellent choice for those who want to look for a better and inexpensive alternative for the blue diamond engagement rings. It will cost you $1,146.
9K Yellow Gold Ladies Opal & Aquamarine Cluster Engagement Ring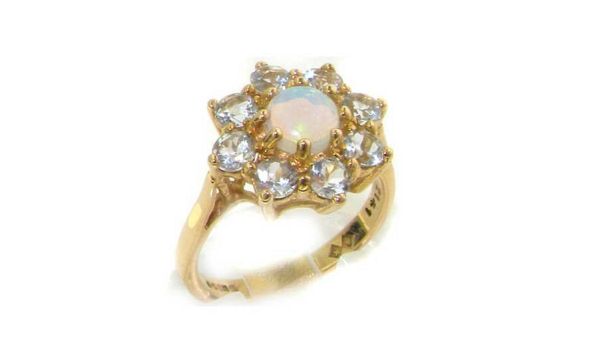 Available in sizes ranging from 5 to 12 this is a beautiful cluster ring that makes a nice choice as an engagement ring without a doubt. It is built from the 9 carat yellow gold that goes perfectly with the design elements and the aesthetics of the ring. The very nice ice blue aquamarines look so charming that they form an ocean in themselves. This is ring that any lady on earth would love to have as her wedding or engagement ring.
Quality 18k Solid Gold Aquamarine Diamond EngagementRing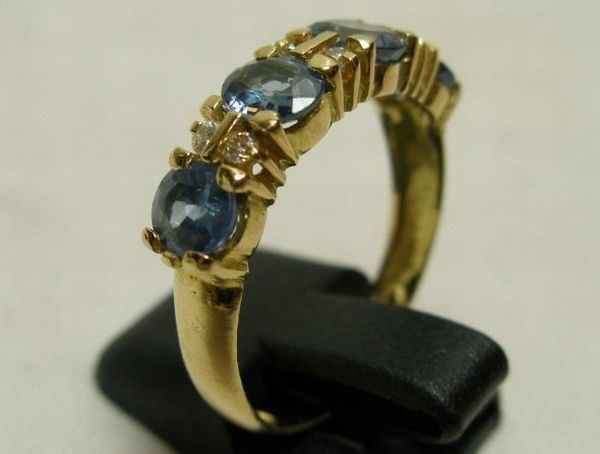 Made up from the 18 carat yellow gold that is high on the standard this is an engagement ring that can also be used like a wedding band. There are four huge aquamarine gems set to the ring structure. Well that's not all; there are six small diamonds integrated to the ring to bring out the beauty of the ring in a pretty great style. Each of the aquamarines is 0.20 carats and has an individual prong setting.
9ct. Gold 1.42ct Aquamarine Square & Diamond Engagement Ring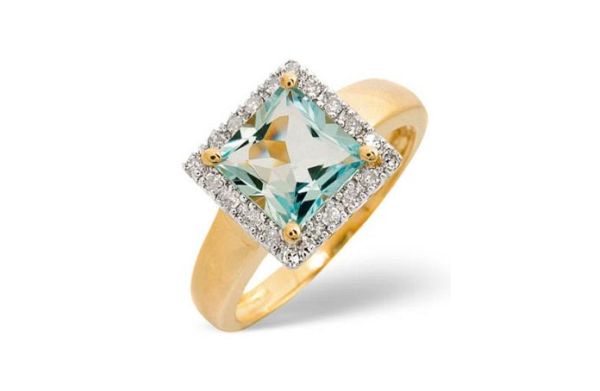 Priced at just $790, this is a ring carrying a superb quality and design. The structure of the ring has been made with the 9 carat gold and there is a square shaped aquamarine stone set to the center of the ring that is 1.41 carats in weight. The stone is all genuinely mined. The width of the ring is great at 10 mm. The clarity is SI1 and the color is H. There are crystal clear small diamonds towards the outer periphery of the large aquamarine stone. One better thing to know is that it is British hallmarked.
Octogon Aqua & Diamond Engagement Ring 4.68ct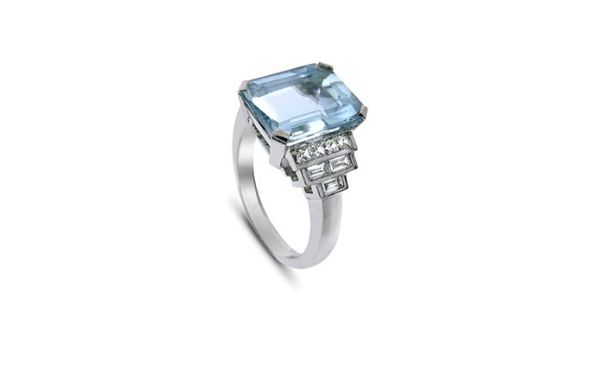 Named as 'Octogon Aqua & Diamond Ring' this is an exquisite ring that is just a ring that you must give to your lady if you are planning a beach themed wedding. It has a 4.68 carats aqua claw that is set in the white gold of 18 carats. French cut and the baguette cut diamonds are further fused into the step down of the ring so as to have a total weight of 0.50 carats. What more can we say to appreciate its elegance?
Cushion Natural Aquamarine and Diamond Engagement Ring in 14k White Gold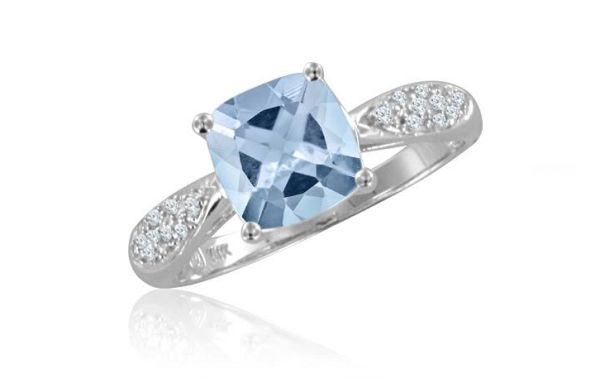 Cushion natural aquamarine and diamond ring in 14k white gold looks too gorgeous. The diamonds used in the ring are lustrous and have a naturally procured 7 by 7 mm aquamarine gem that is all cushion cut. This is a perfect ring for the engagement purpose and if you are looking for something that give you a mixture of a vintage look and the modernity to its core then just go for this one!
9ct. Gold Aquamarine Ovals & Diamond Trilogy Engagement Ring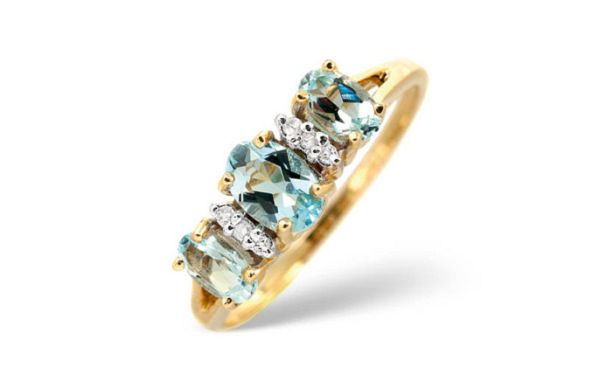 Born with the trilogy of the aquamarine stones, this engagement ring is very truly named to be so. It has a width of 6mm and has a center stone that measures 6 by 4 millimeters in dimension. The ring is British hallmarked and has 9 carat yellow gold with the additional diamonds to compile its structure. It is thus a good three stone engagement ring for those who love this design and the idea concept.
Oval Aqua and Diamond Dress Engagement Ring 30ct Approx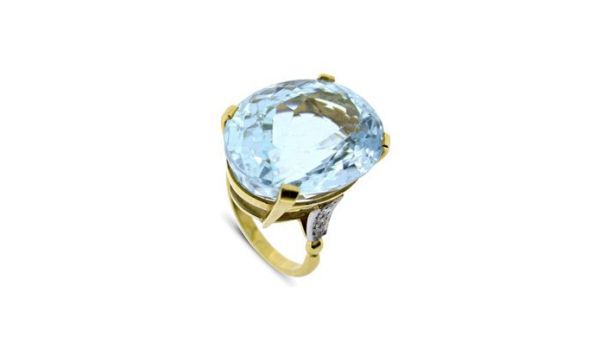 This is a very apt mixture of the sophistication with style and luxury. This ring has a structure of the white and the yellow gold put together. The impressive aspect of the engagement ring is the aquamarine gem that weighs for an astounding 30 plus carats. Whoa! To let you know further, this is a ring that has been exclusively prepared with expert hands with no industrial touches at all and it has a very comfortable setting.
9ct White Gold Huge Aquamarine Pear & Diamond Engagement Ring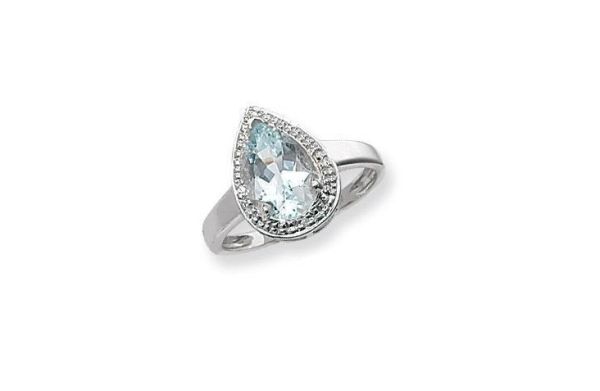 This ring has the combination of the pearl engagement ring and the aquamarine ring. The basic structure is that of the white gold that is of 9 carats. A single and large pearl-shaped aquamarine stone lies beautifully to the center of the engagement ring and is accented with some more surprise diamonds. Well another masterpiece that will adorn your wedding finger.