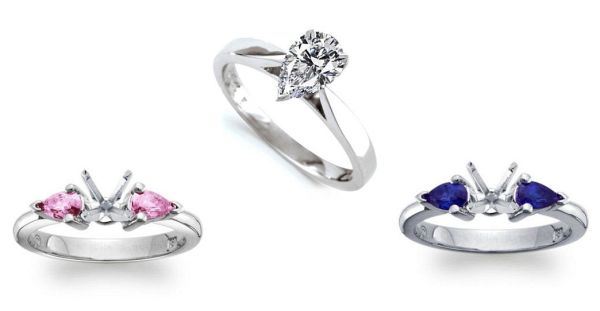 Picking an engagement ring can be quite tricky. Finding the perfect one can take something from a few days to even a month! You need to decide on the type of band, whether gold, silver or platinum, whether you want a simple band with out stones or the type of stone you want. Getting the best ring takes a lot of research and a lot of patience to scroll through all those online stores. Here we have a guide which is basically going to give you can idea of the best pear shaped engagement rings available.
Pear shaped diamond engagement ring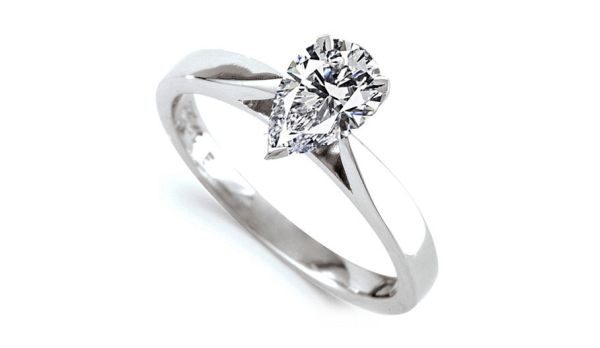 This rings screams out style and sophistication. The three clawed engagement ring has a solitaire pear shaped diamond as the center of attention. This IGI certified diamond is is a 0.72 carats one which has VS2 clarity. The band is in an 18 carat white gold. This is one of those rings which aren't completely studded with diamonds but it is sure to take your breathe away the minute you set your eyes on it.
A beautiful pear shape Wedfit diamond engagement ring set in platinum with 3 Claw setting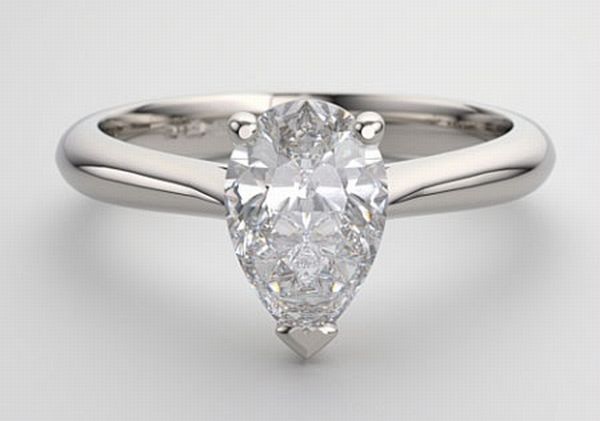 If you plan on going big with the ring then this one is the perfect fit for you. It has a claw shape which highlights the beautiful pear shaped engagement ring. In fact you can customize the diamonds from anything in between 0.45 carats to 1.30 carats. The ring is set on a beautiful platinum band. So if you want your girlfriend to say yes the minute you ask her to marry you, this ring will guarantee you that!
18ct Diamond Pear Shape Engagement Ring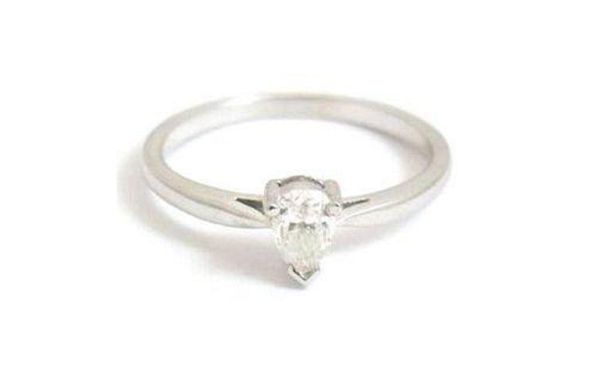 For those of you who don't want a lot of sparkle in the ring, then this is probably the best one for you. This is a 0.32 carat pear shaped diamond which is based on a white gold band. Although it doesn't have a lot of bling, the pear shaped diamond truly sets this ring apart from the rest in the crowd. And for a reasonable price of $849, it truly is a bargain.
WedFit Style Platinum Pear Shape Diamond Engagement Ring with a 16 Stone Channel Set Ring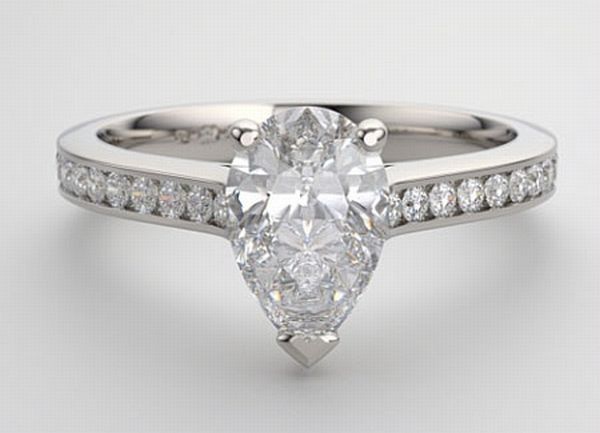 If you have a lot of money to spare and you want a ring which just sparkles and blinds you from afar then you have found the right one! This pear shaped diamond has a three claw setting and is wrapped in 16 more diamonds! You can adjust the carats according to your needs from anything in between 0.50 carats to 1.35 carats. So if you want the ring that shines, then by shelling out $3,000 this ring could be yours!
Classic Pear Shaped Sapphire Engagement Ring Setting in Platinum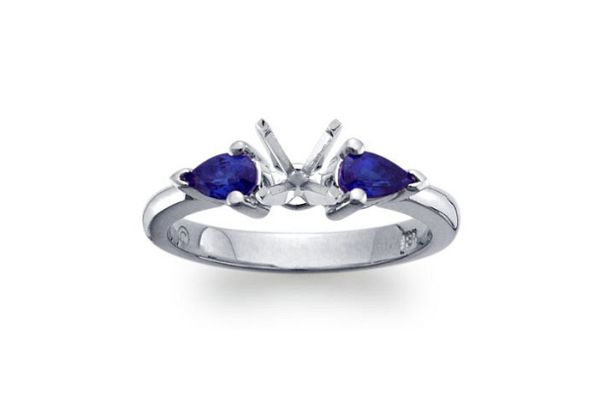 This ring is quite the classic one. This isn't your average ring which is glistening with diamonds. You have two pear shaped emeralds here. You could also add a diamond to the center to complete this platinum ring. This is truly the ring which is going to blow your girlfriend away and which might even end up being a family heirloom in the future!
VS 1.83CT Pear Cut Diamond Accent Engagement Ring

This hand crafted pear shaped diamond ring is basically centered on one stone. It also has two baguettes on the side to define the center even more. You get the highest clarity and color with these VS diamonds. The main stone consists of 1.25 carats and the side stones are made of 0.58 carats. So for $4,300 you get the most amazing diamond studded ring to propose with.
18k Blue Diamond Pear Shaped Ring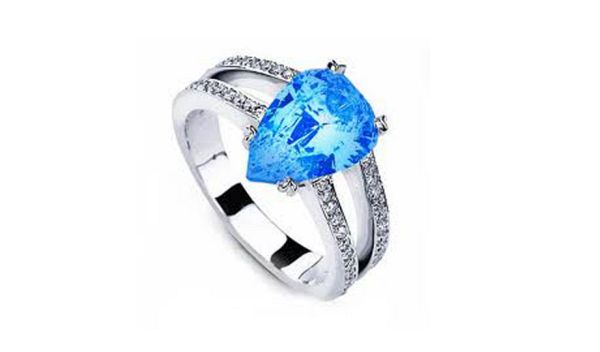 We've talked a lot about the usual diamonds and emeralds for the previous rings. If you want to get your bride to be something a little out of the box then blue is the color for you! This blue diamond ring looks stunning when you wear it, especially when the light hits the solitaire. So at $2,500 you get an 18k diamond ring which is a little different compared to the usual conventional engagement rings. You can also customize the band by choosing from either white gold or yellow gold. In fact the ornate wooden box which it comes it gives you another twist from the usual norms.
Classic Pear Shaped Pink Sapphire Engagement Ring in 14k White Gold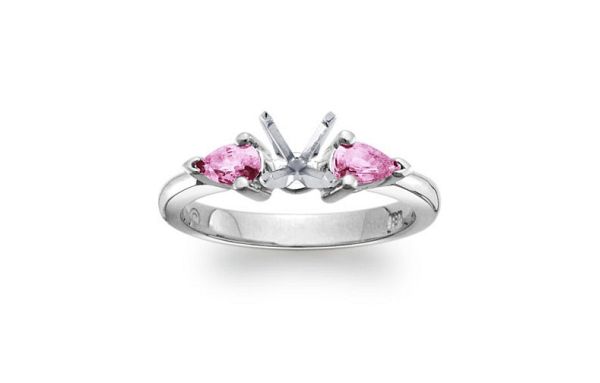 We've talked about the emerald pear shaped engagement ring. This is the sapphire counterpart. This ring is the one which is completely affordable one yet elegant in its own way. This 14 k white carat gold truly does scream elegance with the two pink shaped sapphires. Also at $999 this makes the most affordable yet beautiful engagement ring on the list.
Oval Diamond Engagement Ring Pear Shape Side Stones 0.48 tcw in 14K White Gold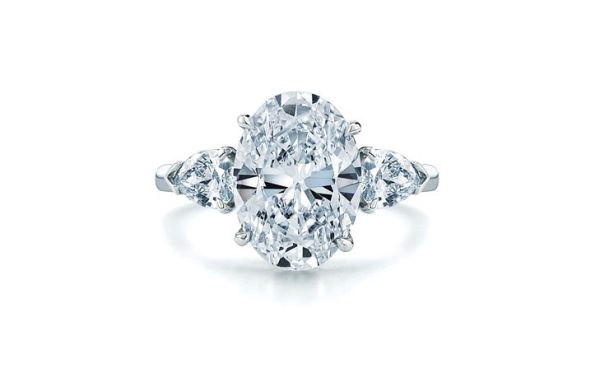 Moving from the more simple sings to the blinged out ones. This diamond engagement ring had a matching pair of diamonds which are pear shaped on either side. You can add a diamond of your choice to the center to make it sparkle even more! You can basically custom make the oval diamond in the center and add up to a 2.0 carat diamond.
Platinum set Diamond Single Stone Pear shaped Ring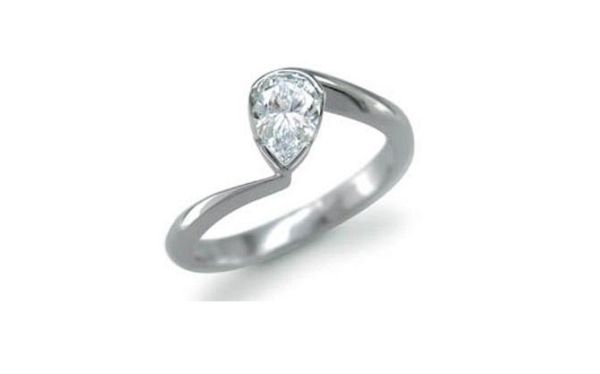 Now, we've saved the best for last. This ring might cost a fortune but it's worth every single penny. If you are looking for a ring which is a little out of the ordinary but has the usual diamonds then you don't have to look any further. This 0. 56 carat diamond ring has the most amazing clarity of level D and is set in a platinum band. Now if you notice, the band, isn't your usual type. The shape is a bit different but the ring is made in such a way that the light reflect perfectly making the diamond shine. This ring might be a little pricey at $3,500 but when you see it in front of you, you won't hesitate before getting it.