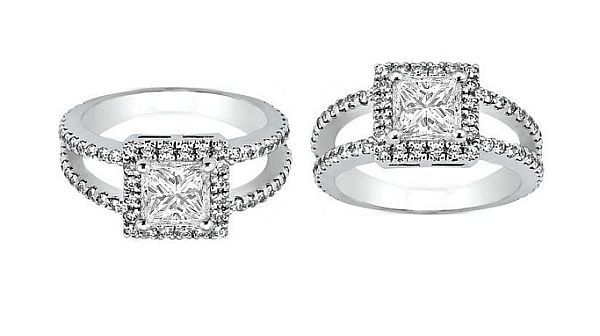 The engagement ring is truly a symbol of your love towards that special girl. This ring is a representation of your commitments to spend the whole life together, so a lot of thought should be given while buying an engagement ring. Though, there are a lot of types in an engagement ring – antique engagement Ring, Emerald cut engagement rings, pave setting engagement rings and princess cut engagement rings – but princess cut style is one of most popular engagement ring style of all. The eternal shine of princess cut diamond engagement ring is something your girl is waiting for. A princess cut is a rectangular shaped diamond that looks very attractive because of its sheer brilliance in design and cut. Take a look on some of the best princess cut engagement ring designs given below.
½ Carat diamond white gold bridal engagement ring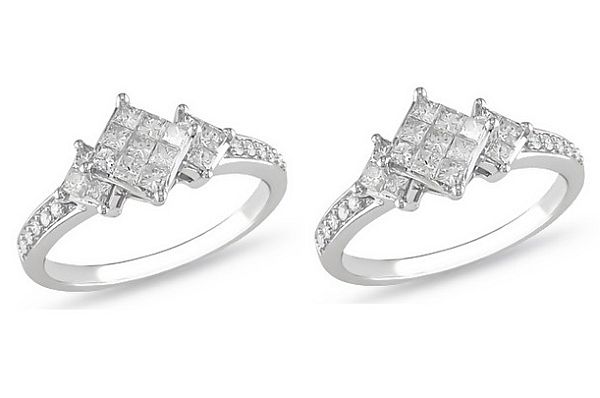 Your girl is a special one and she has got a prerogative to be pampered in an equally special way. Express your deepest love with your love with this amazingly beautiful engagement ring. This engagement ring has a dazzling charm and a ½ carat princess cut diamond studded on it. The ring band has been made-up of lustrous 14k white gold that makes a perfect glow. So don't wait, just go and propose her with this adorable gift of love that she will treasure it forever. You can buy this for $ 650.
¾ Carat diamond 14 white gold engagement ring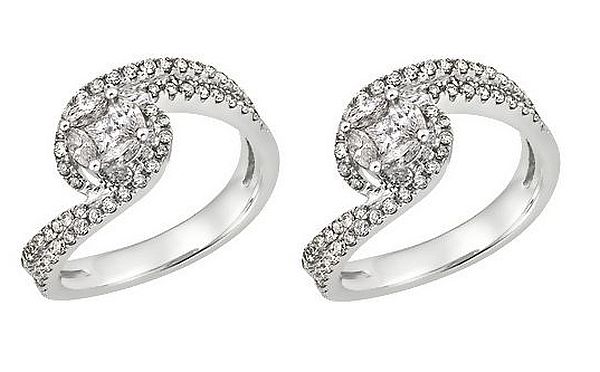 This awesome engagement ring is a beautiful creation from the Adorne Collection and features a vintage inspired bypass design but the ring has been designed in such a way that it looks amazing. Tiny sparkles of diamonds around the ¾ carat diamond are going feel her ski high and she will be yours for the rest of your life. These princess cut, marquise white diamonds with the 14k white gold looks really dazzling and this ring will be a token of your love that your lady will always keep with her.
Tacori platinum diamond semimount for 1 carat princess cut diamond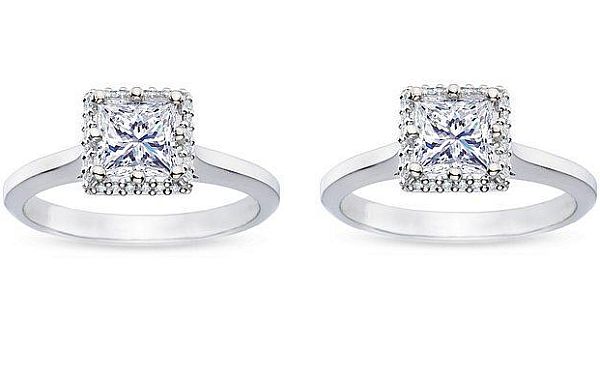 This is the best piece for expressing your true feelings with that special one you always wished to be with. The ring has been adorned with 1 carat princess cut diamond with the platinum band and wow!… will be the first word that is going come out of her mouth, when she sees the ring. A delicate ring, handcrafted in California design is enough to make you sure about the quality of the ring. The price is $1,710.00
½ carat princess cut 3-stone diamond 14K white gold engagement ring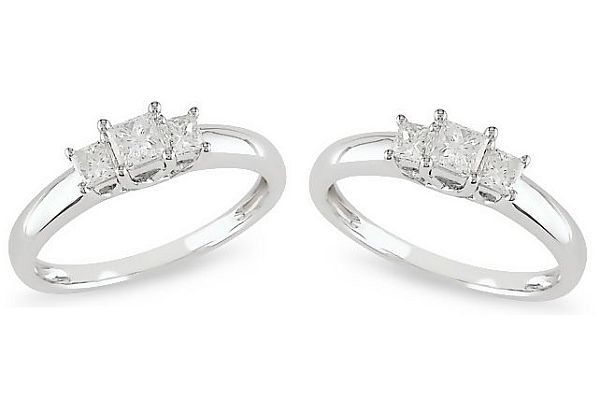 Go with this beautiful ½ carat princess cut engagement ring and steal the show. The engagement ring has 3 stones of princess cut diamond with the 14 k white gold that give a dazzling look to the ring. There has been a beautiful finishing in the ring and princess-cut diamond with two smaller accent stones is going to charm her face . This engagement ring has been prices at $895.00
Tacori 18k white gold diamond semi mount for 1 ¼ carat princess cut diamond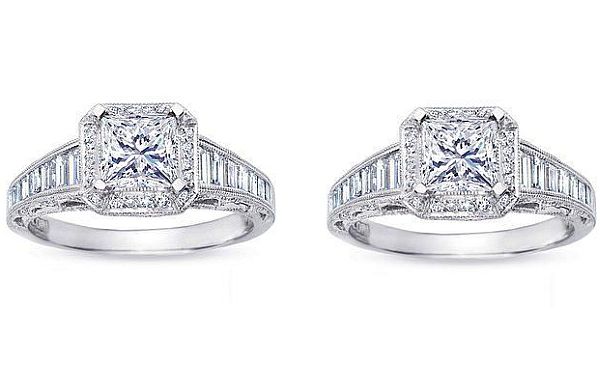 We have another one from Tacori for you. Let the special lady feel like a Princess with the exquisite engagement ring from L'Amour En Rose Collection. This ring features a dazzling princess cut diamond that sparkles beautifully on white gold accented band. An ultimate design has been given to the ring and twinkling round diamonds and pink sapphire modify its beauty to an extreme level.
9ct White Gold ⅓ Carat Princess Cut Diamond Ring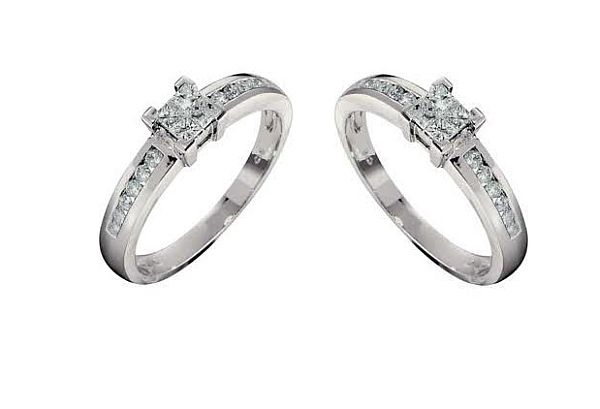 This ring is for those who want to propose in a bit glamorous way as the intricate design of stones around the Princess cut diamond is surely going to win her confidence on you. The array of beautiful diamond stones on the half band of the engagement ring are going to set a kind of illusion of one stone. So reveal those special feelings and promise her to spend the rest of your life with you. The engagement ring has been priced at $449.98
18ct Gold Princess 0.50ct Diamond Engagement Ring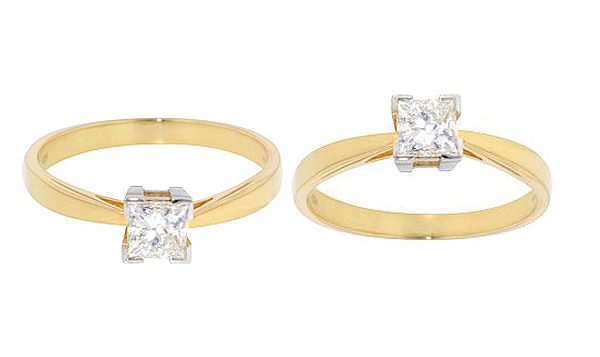 If gold is something you admire then go ahead with this priceless engagement ring that has a beautiful 18ct gold band and 0.50ct of princess cut diamond atop the ring that will shine her face with its dazzling shine and brilliance. Gold is again coming into the fashion and this ring is a great alternative to the round solitaire engagement rings.
Pave Set Split Band Princess Cut Diamond Engagement Ring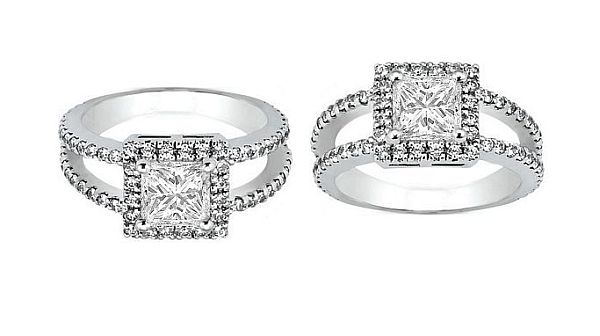 This is an exceptionally beautiful wedding ring and your special one is just waiting for you to come with this priceless gift of your love. This pave set band princess cut diamond engagement ring features with 64 round diamonds pavé set around the stone at the center and give this engagement ring a shinny touch. The wedding band is made up of 14k white gold which matches perfectly with the upper look of the ring. You can also buy this ring for in platinum, yellow and rose pink gold colors.
Princess Cut Diamond Bridge Engagement Ring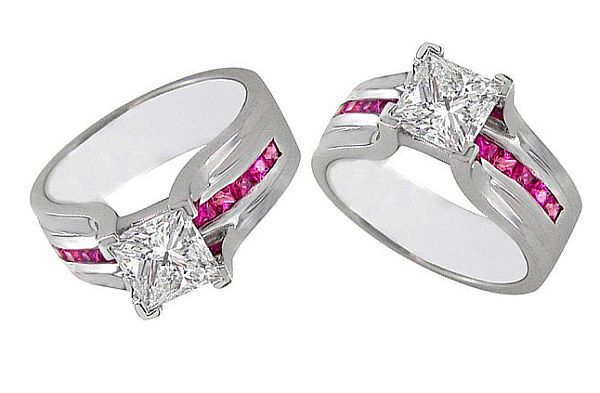 This engagement ring is probably the best of all in design. Best suited for people who want to propose the special girl with a glamorous way. This princess cut diamond bridge engagement ring features 13 square cut Pink Sapphires gem Stones laid out on the bridge and a center diamond of 0.65 carat. The side stone clarity is eye clean and you can buy the ring in yellow rose pink and in platinum colors. The engagement ring has been priced at $ 1554.25.
Cherish Always 14k White Gold 1-ct. T.W. Diamond Ring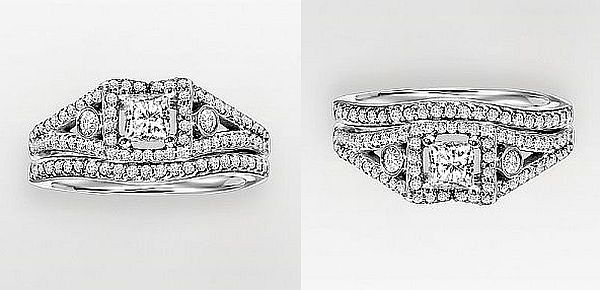 This engagement ring that features 4k White Gold 1-ct. T.W. diamond ring set. An intricate design of the ring comprises round cut diamonds that are surrounded across the princess cut diamond that stands it apart from other rings. She is going to adore the gift of love and will always keep to with her. Though, a little costly and is price at $7,499.99 but love does not see the price as it is priceless.isn't it?