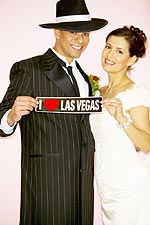 Located in Las Vegas, this Chapel at 1431 Las Vegas Blvd. South is voted by the Las Vegas Review Journal as the best wedding destination; where daily around eighty couples come down to tie their knot for life-time.
Check out the reasons for the vast popularity of the Chapel:
Wedding Packages: those who cannot afford to have grand marriages like the celebrity couples, the chapel offers low-budget packages which include traditional music, limousine, a bouquet and boutonniere and your special moments beautifully captured in a photographers frame. There is also the facility for expensive packages.
Theme Weddings: theme wedding packages are also provided for that special occasion, where you can pick from any of the 4 Elvis wedding packages.
Wedding Sites: there are five wedding sites ready within the area for the couples to celebrate their wedding day. It has the capacity to house 120 wedding guests.