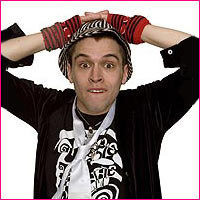 Peter Alexander Bennett better known as Pete and the winner of Big Brother (reality television series broadcast on Channel 4, and S4C in Wales) and a rock n roll singer, has decided to married his green-haired fiancee, Gemma Costain, in an atypical manner in a field featuring tattooists and a drag artist.
The couple will marry near Glastonbury festival, on July 7 in Brighton. Drag queen Jodie Harsh will croon to guests, who will ink themselves with the memories of the day.
Miss Gemma said:
Pete wanted everything to be mental. He even wanted a rave! So I've taken over and have toned it down a bit. I don't want my parents to be too shocked.
So, what are you waiting for sit back and decide something more weird for your wedding.

Source