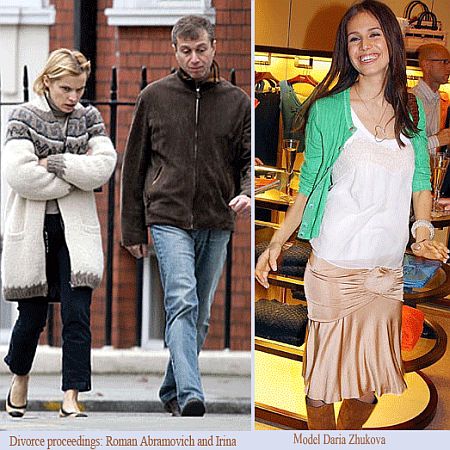 Marriages are made in heaven, we have heard this many a times but sometimes even a divorce can make someones life at par with the heaven.
If the woman seeking the divorce is none other than Mrs Abramovich it is well understood that she will make a fortune out of it.
Roman Abramovich, 40, the billionaire oil tycoon from Russia and owner of the Chelsea Football Club has just divorced after repeated denial that his 16-year marriage was in trouble. Divorce followed when Abramovich was being linked to 24-year-old model and Russian socialite Daria Zhukova.
Britain's second and the world's eleventh wealthiest man, with a fortune of £11 billion, began his business selling plastic ducks in Moscow but was intelligent enough to make a fortune by exploiting postSoviet Russia's oil and aluminium assets.
The details of the divorce settlement is not made public but it is speculated that 39-year-old Irina Abramovich, who was a stewardess when she met her hubby, will get a payout of not less than £5 billion.
Now this is called jumping for the sparrow and getting hold of the moon.